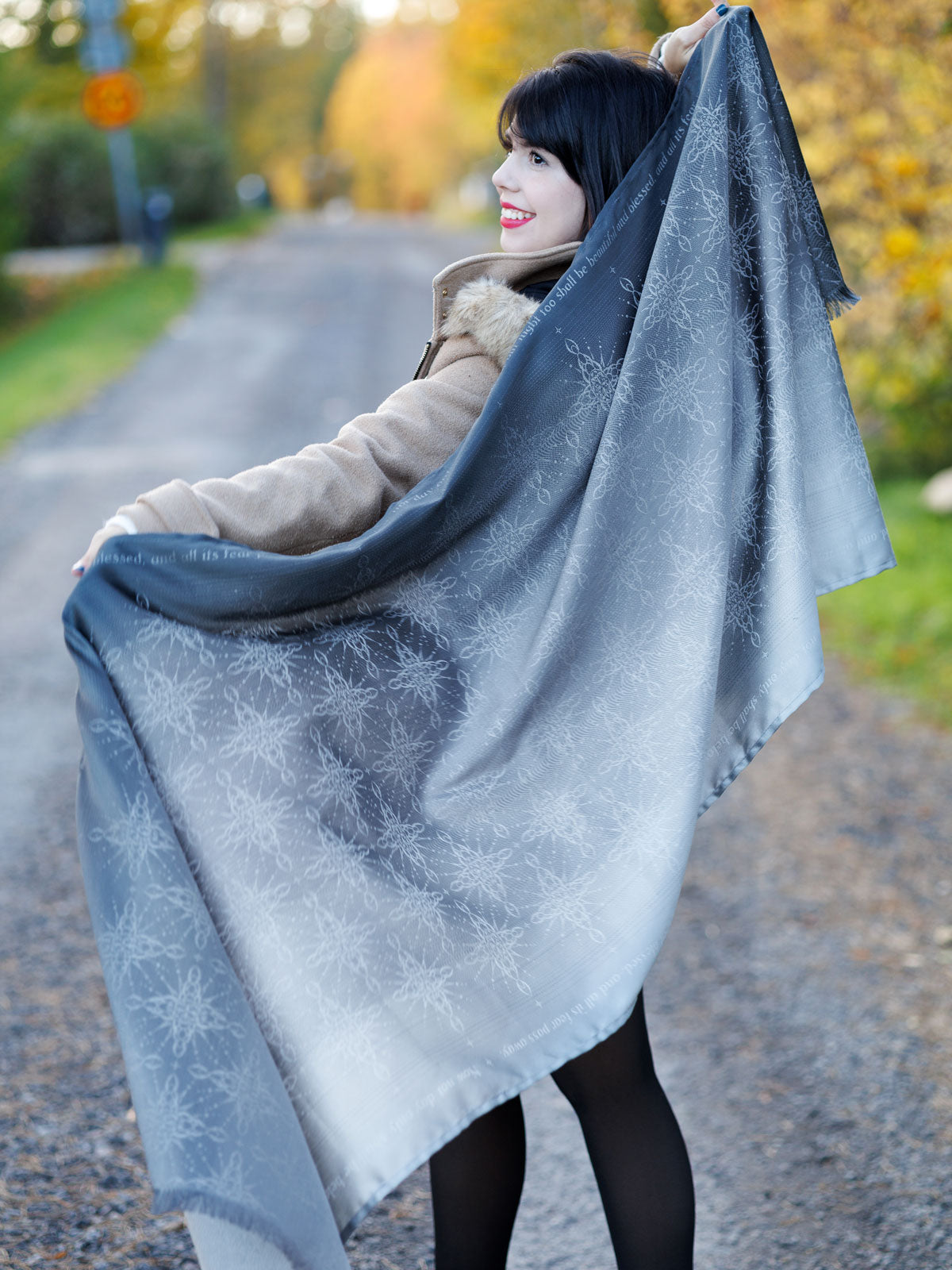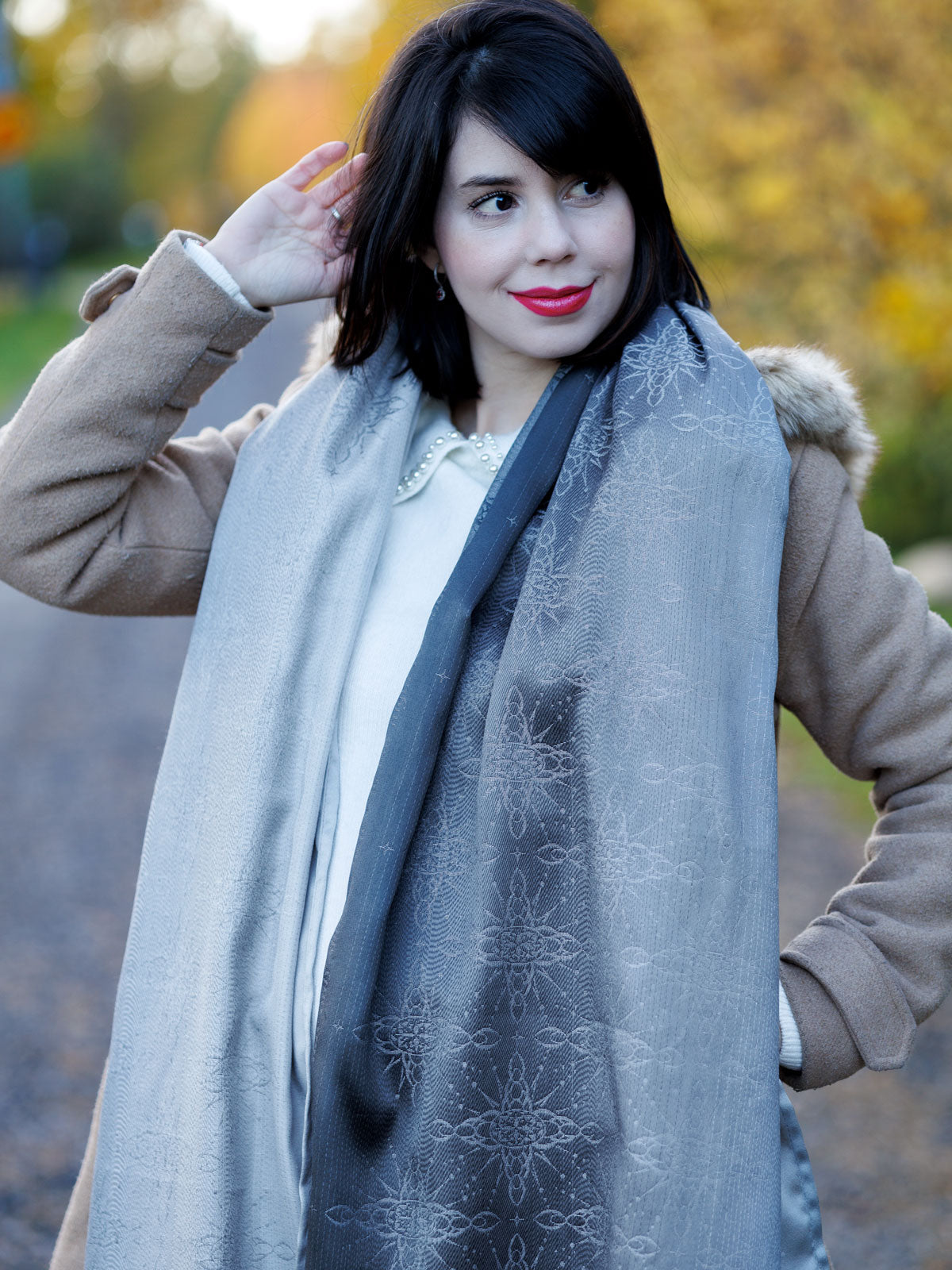 Arwen™ Dew Scarf
✔ Luxurious yarns - Mercerised Egyptian Mako cotton, silk, Tencel
✔ Medium weight scarf  
✔ Stunning shine
✔ Lovely drape 
With effortless... Read more
Arwen
Best sellers
Christmas Shop
Gifts for Middle-earth Fans
Jewel Tones
Lifestyle
Middle-earth
Middle-earth™ Lifestyle
Middle-earth™ Scarves, Shawls, Infinity Loops & Cowls
Neutral Tones
Not in Sale
Scarves, Shawls, Infinity Loops & Cowls
Shop All
✔ Luxurious yarns - Mercerised Egyptian Mako cotton, silk, Tencel
✔ Medium weight scarf  
✔ Stunning shine
✔ Lovely drape 
With effortless drape and a mesmerising shine, this beautiful scarf embodies elegance, sophistication, and a touch of celestial wonder. The silver backdrop of Mako cotton, known for its fine and lustrous fibres, adds a silky smoothness to the touch, making it incredibly comfortable against the skin. 
The Arwen pattern, representing one of the last and greatest elves of Middle-earth, is picked out in silk and Tencel. Silk lends its natural sheen and drape, with Tencel, a sustainable and eco-friendly fabric, adding a touch of modernity to this timeless accessory. 

The text on the border, signifying Arwen's hope for the future, reads - "Now not day only shall be beloved, but night too shall be beautiful and blessed, and all its fear pass away."

Whether worn as a fashion statement, to keep warm on a chilly evening, or simply to add a touch of glamour to any outfit, this scarf is sure to shine brightly and leave a lasting impression.

By using BCI cotton we ensure that our cotton meets the Better Cotton Initiative's high standards of environmental, economic and social responsibility. Our BCI cotton is also organic, meaning it is grown with care and without chemicals keeping the land, and farmers, healthy.
CARE INSTRUCTIONS: Hand washing is recommended, although a silk cycle on a known reliable machine may be used at your own risk. Use a suitable silk detergent. Hang to dry, avoiding direct sunlight and iron on a cool setting.
FABRIC COMPOSITION: 83% Mercerised Egyptian Mako Cotton 15% Tencel 2% Silk
FABRIC WEIGHT: 195gsm
Intricate weaves in premium quality blends, these fine, voluminous scarves beautifully display striking patterns in a stunning range of seasonal colours - an effortless, chic accent to any outfit.
Sumptuous & versatile, our scarves are completed with an on-trend fringed edge.
Drape as a shawl over your evening wear to add easy glamour or layer over everyday outfits as a statement scarf.
Dimensions
Scarves- approx. 200cm x 70cm
Cowls - approx. 70cm wide x 74cm joined to form a loop
Infinity Loops - approx. 70cm wide x approx. 150cm joined to form a long loop
This adaptation of the Evenstar design features a quote from Frodo on the borders spoken to Gandalf at Arwen's wedding party in The Return of the King. Frodo "was moved with great wonder" at Arwen's beauty and filled with a vast sense of hope and optimism for the future, the quote reads:
"Now not day only shall be beloved, but night too shall be beautiful and blessed, and all its fear pass away."
This pattern represents Arwen Undómiel, daughter of Elrond of Rivendell and granddaughter of Galadriel of Lothlórien. Arwen is also named 'Evenstar' as one of the last and greatest Elves to live in Middle-earth. She also bears a necklace called 'the Evenstar' which she gifts to Frodo to aid him to recover from the great weight of carrying the One Ring to Mordor saying - 
"When the memory of the fear and the darkness troubles you ... this will bring you aid."
This design signifies the grace, strength and beauty of Arwen as well as the gift to Frodo.