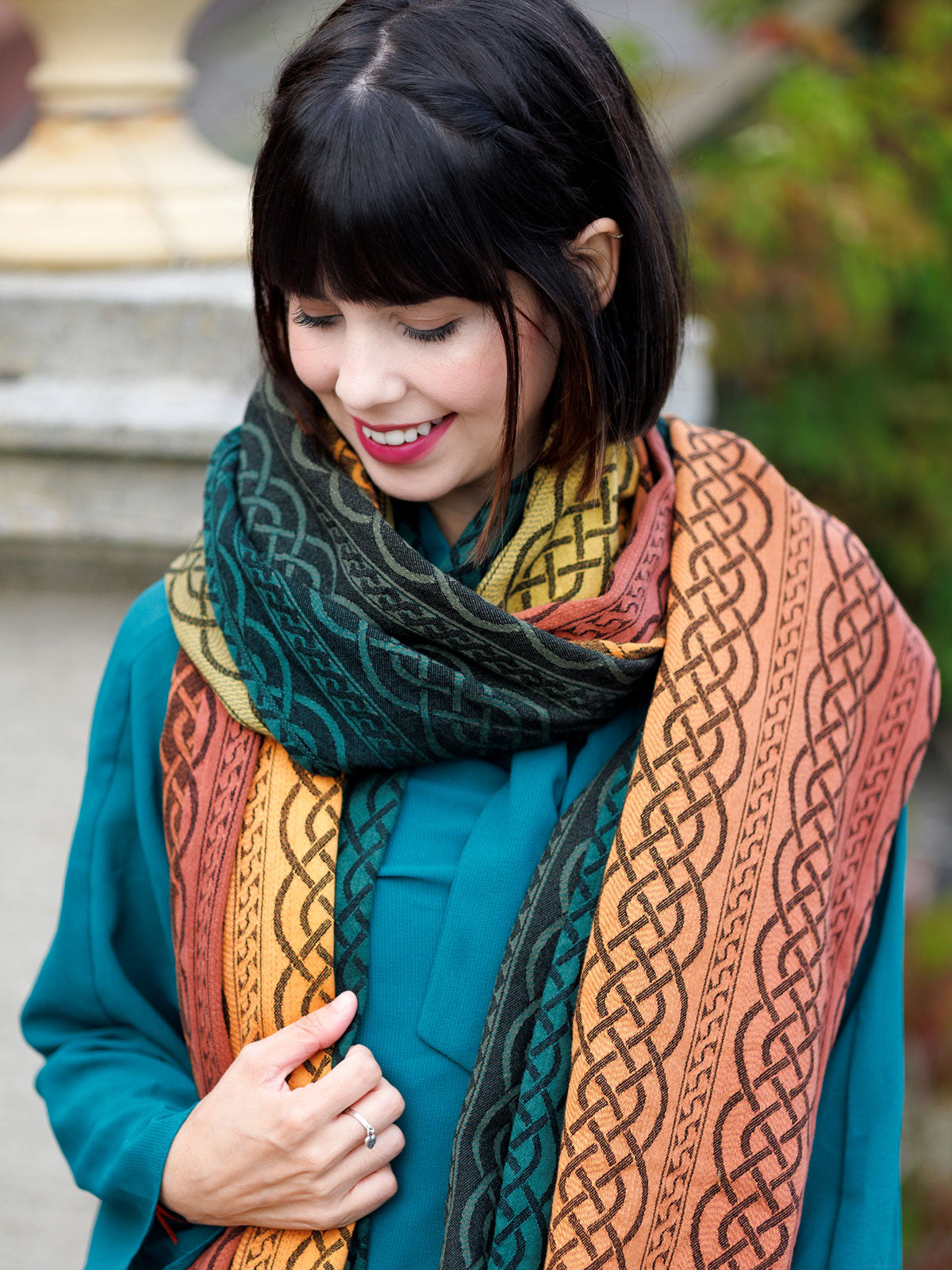 Braid Cerridwen Shawl
Beauty, luxury and celtic charm combine in this autumnal woolly fabric. The weft, a blend of recycled cashmere and fine... Read more
Only 3 left in stock
Autumnal Tones
Best sellers
Jewel Tones
Last Chance
Lifestyle
Luxe Collection
New arrivals
Not in Sale
Pinks/Purples/Reds
Scarves, Shawls, Infinity Loops & Cowls
Shop All
Teals/Blues/Greens
Beauty, luxury and celtic charm combine in this autumnal woolly fabric. The weft, a blend of recycled cashmere and fine merino wool, in black picks out the Celtic Braid pattern on a gradient of earthy fall hues.
Merino lambswool is a superfine mulesing-free merino yarn which is super soft and wonderfully breathable. Blended with recycled cashmere this eco-friendly yarn will fluff up to become lovely and soft.
Named after Cerridwen, the Celtic goddess of transformation, this fabric celebrates nature, the transition of seasons with the traditional Celtic knotwork proudly representing our Scottish heritage.
By using BCI cotton we ensure that our cotton meets the Better Cotton Initiative's high standards of environmental, economic and social responsibility. Our BCI cotton is also organic, meaning it is grown with care and without chemicals keeping the land, and farmers, healthy.
CARE INSTRUCTIONS: Gentle hand wash only. Dry flat. Iron on a cool setting.
FABRIC COMPOSITION: 56% BCI Organic Combed Cotton 22% Extra fine merino lambswool 22% Recycled Cashmere
FABRIC WEIGHT: 286gsm
Oscha Shawls are made of the same finest quality, natural fabric as our baby slings allowing you to wear these beautiful and striking designs, in wonderfully tactile fabrics, whether you are carrying your baby or not. These shawls can be used casually as an extra wide scarf or as elegant evening and wedding wear.
Why choose an Oscha Shawl?
Elegant & versatile, suitable for any occasion.

Jacquard woven & made with organic, responsibly sourced yarns.

Ethically handcrafted in our solar powered Scottish workshop.
Approx. 2.12m x 70cm
This is a natural product with an organic scent, no chemical agents are used in the manufacture of the item or its packaging.