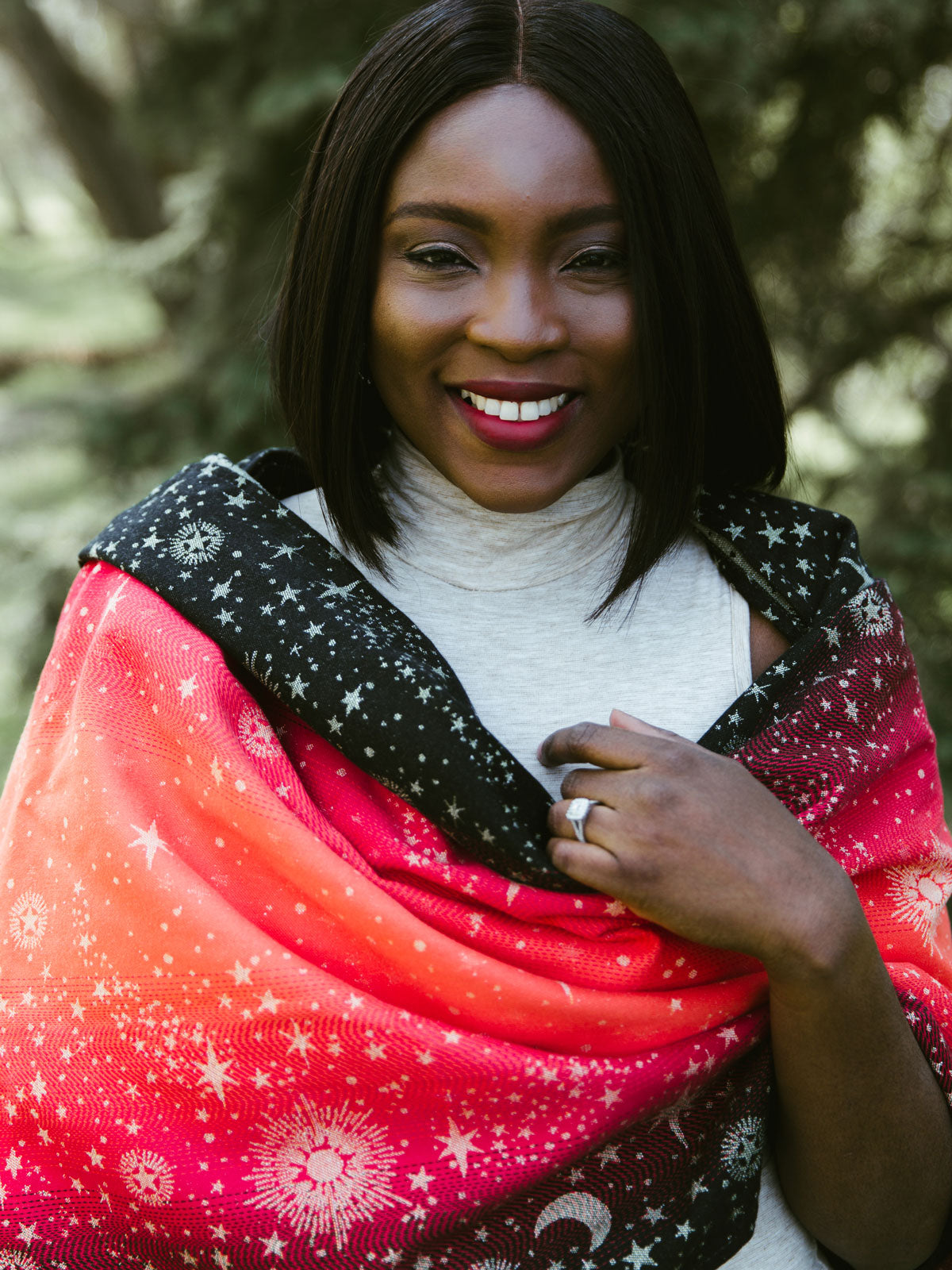 Constellation Infinity Shawl
The star filled constellations adorn a mesmerizing background with a warp running seamlessly from midnight black through firey... Read more
Only 2 left in stock
Autumnal Tones
Best sellers
Bright Colours
Dark Colours
Last Chance
Lifestyle
Not in Sale
Pinks/Purples/Reds
Scarves, Shawls, Infinity Loops & Cowls
Shop All
Wholesale Catalogue
The star filled constellations adorn a mesmerizing background with a warp running seamlessly from midnight black through firey reds to warm oranges, reminiscent of a spectacular volcanic eruption against a starry sky.
Honey toned Superwash Cashwool, alternates with ecru Wild Silk creating a fabric that is both soft and beautiful.
Superwash Cashwool is an easy-care yarn that has been specially spun from merino wool to give the softness of cashmere. Wild silk, naturally nubby and slubby adds a softness & delicate strength to this blend.
This stunning fabric incorporates a slightly modified layout, featuring a captivating 7 colour gradient instead of the 9 colours seen in previous releases of the Ore warp. The off centre mirrored gradient has been designed for maximum impact.
By using BCI cotton we ensure that our cotton meets the Better Cotton Initiative's high standards of environmental, economic and social responsibility. Our BCI cotton is also organic, meaning it is grown with care and without chemicals keeping the land, and farmers, healthy.
CARE INSTRUCTIONS: Hand washing is recommended, although a silk cycle on a known reliable machine may be used at your own risk. Use a suitable silk detergent. Hang to dry, avoiding direct sunlight and iron on a cool setting.
FABRIC COMPOSITION: 60% BCI Organic Combed Cotton 20% Superwash Cashwool 10% Silk 10% Cotton, approx. 61-70cm wide.
FABRIC WEIGHT: 270gsm
Oscha Shawls are made of the same finest quality, natural fabric as our baby slings allowing you to wear these beautiful and striking designs, in wonderfully tactile fabrics, whether you are carrying your baby or not. These shawls can be used casually as an extra wide scarf or as elegant evening and wedding wear.
Why choose an Oscha Shawl?
Elegant & versatile, suitable for any occasion.

Jacquard woven & made with organic, responsibly sourced yarns.

Ethically handcrafted in our solar powered Scottish workshop.
Approx. 2.12m x 70cm
This is a natural product with an organic scent, no chemical agents are used in the manufacture of the item or its packaging.