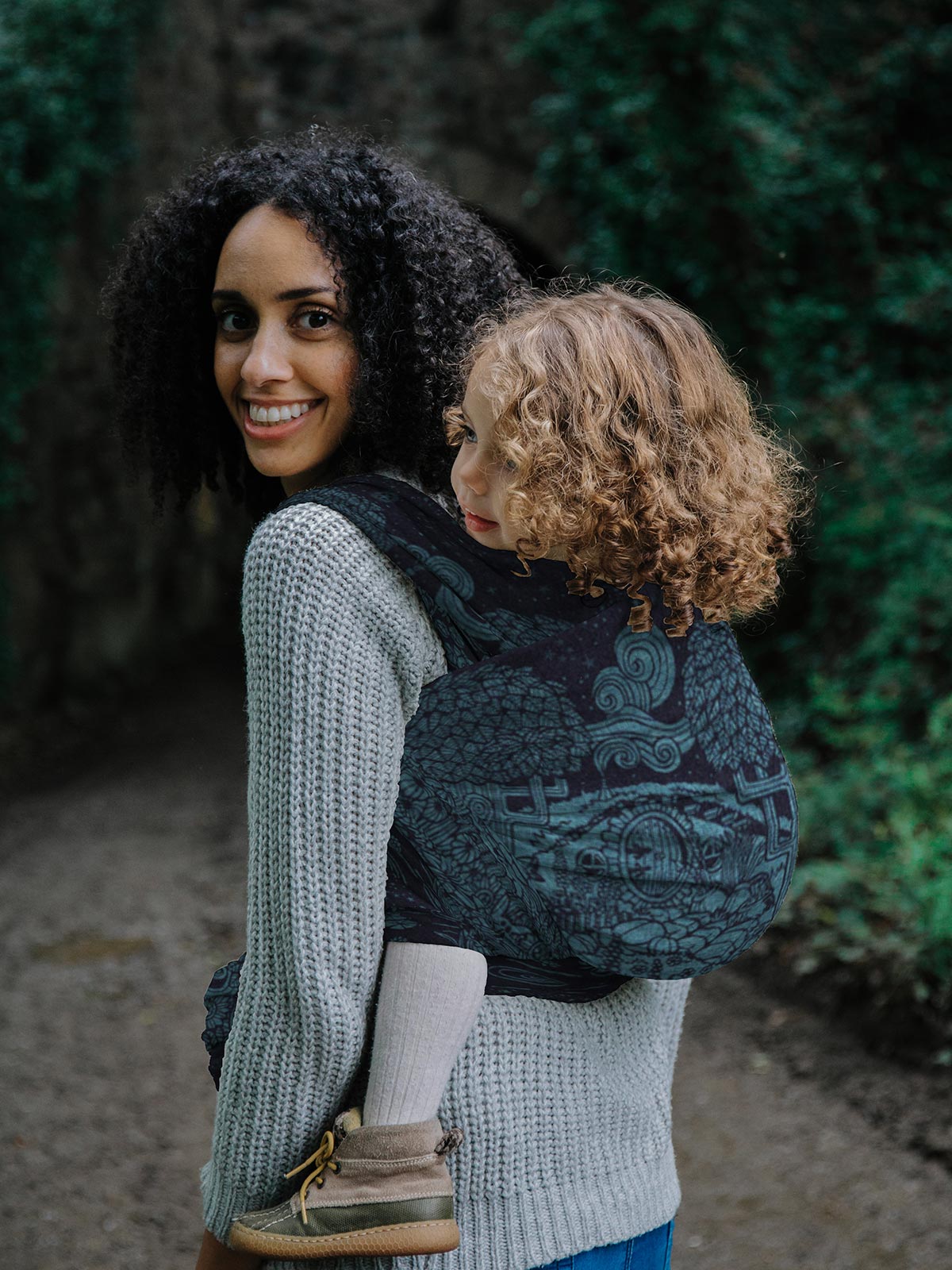 Hobbiton™ Mist & Twilight Spares
✔ Luxe blend - Merino lambswool and Superwash Cashwool
✔ Toddlerworthy
✔ Soft,... Read more
Only 1 left in stock
Best sellers
Best Slings for Cold Weather
Customer Collaborations
Hobbiton
Luxe Collection
Middle-earth
Middle-earth Luxe Collection
Middle-earth™ New arrivals
New arrivals
Not in Sale
Shop All
Teals/Blues/Greens
✔ Luxe blend - Merino lambswool and Superwash Cashwool
✔ Toddlerworthy
✔ Soft, strong, supportive & cushy
This is a unique item that is woven on a Superwash Cashwool warp. Cashwool is a specially spun merino wool that is especially smooth and soft to the touch without any woolly prickle.

Visit Hobbiton by twilight with this beautiful sling that's ideal for wool lovers. The soft Merino lambswool and cotton weft in kingfisher blue, depict the peaceful village of Hobbiton bathed in starlight. The tranquil, sleepy scene is enhanced by the melange Cashwool warp in shades of dark blue reminiscent of the shadows gathering at dusk.

Thick in hand, this blend is perfect for heavier babies and toddlers. The Merino lambswool is strong and supportive with a cush for the shoulders to give you the comfiest carries while the Superwash Cashwool gives softness and support. The temperature-regulating properties of this blend make it nice and breathable, keeping you warm on cold days, and cool in warm weather.

This item is part of the Loch Cashwool preorder and the yarns and pattern were carefully selected by the Oscha Slings Official Preorder group. Other items in the collection can be found here.
Oscha Slings are ethically handcrafted in Scotland.

CARE INSTRUCTIONS: Gentle hand wash only.
FABRIC COMPOSITION: 46% Superwash Cashwool 30% Merino lambswool 24% Cotton, approx. 61-70cm wide.
FABRIC WEIGHT: 324gsm
The village of Hobbiton is where the beloved characters, Bilbo and Frodo Baggins live within The Shire. 
This version of our Shire pattern features different elements including more wildlife and a pond. We also have adaptations of it with different borders you may find across the site.
The Shire is the quiet, secluded home of Hobbits as described in The Hobbit and The Lord of the Rings. It is a lush green countryside of rolling hills where the Hobbits make their homes, 'Hobbit Holes', which are cosy and filled with comforts. There are many gardens:
'for all Hobbits share a love of things that grow.' 
This detailed design depicts this homely description with classic round Hobbit doors, it evokes the pages of a storybook as smoke rises from warm hearths and well-tended gardens teem with life.