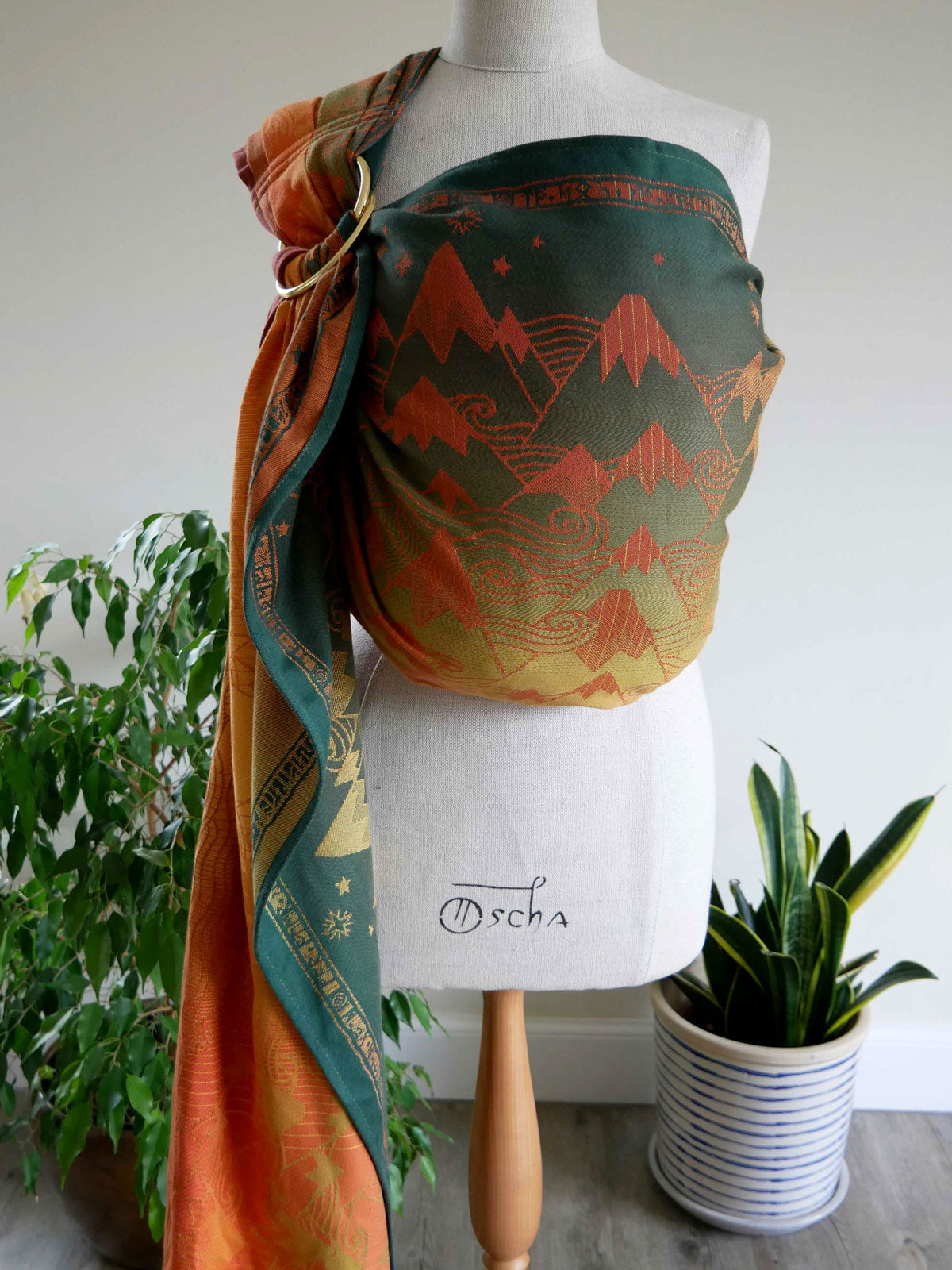 Misty Mountains™ Amber Ring Sling
✔ Great all-rounder 
✔ Supportive
✔ Easy care
✔ Suitable for all seasons
✔ Fade of colours on warp & weft
Autumn comes to... Read more
Only 1 left in stock
Autumnal Tones
Babywearing
Best sellers
Bright Colours
Jewel Tones
Last Chance
Middle-earth
Middle-earth™ Babywearing
Middle-earth™ Last Chance
Middle-earth™ Ring Slings
Misty Mountains
Not in Sale
Pinks/Purples/Reds
Ring Slings
Shop All
Tag Test
Teals/Blues/Greens
Toddlerworthy Slings
✔ Great all-rounder 
✔ Supportive
✔ Easy care
✔ Suitable for all seasons
✔ Fade of colours on warp & weft
Autumn comes to the Misty Mountains of Middle-earth. The peaks rise majestically against the horizon as the sun sets on the vibrant greens of late summer and the warm oranges and golds of fall. The play of colours across the warp and weft glow, creating a stunning vibrancy and visual impact.
This wrap is soft straight from the bag, mouldable in hand while also being strong and supportive, something the cotton yarn is known for. Great for all ages, easy to wrap and easy care this is a great choice for beginners and experienced wrappers alike.
Encapsulating the beauty of a beloved fictional world and the majesty of the changing seasons this stunning fabric captures the eye and the imagination.
By using BCI cotton we ensure that our cotton meets the Better Cotton Initiative's high standards of environmental, economic and social responsibility. Our BCI cotton is also organic, meaning it is grown with care and without chemicals keeping the land, and farmers, healthy.

*Please note the top of this fabric is the green side, ring slings will have this side at the top if the correct left/right-hand option is chosen.
**Ring slings will feature gold rings.
Oscha Slings are ethically handcrafted in Scotland and come with a Peace Of Mind Guarantee.
CARE INSTRUCTIONS: Wash at 30 degrees. Do not use bleach or fabric softener. Tumble dry warm. Ironing is recommended.
FABRIC COMPOSITION: 100% BCI Organic Combed Cotton
FABRIC WEIGHT: 282gsm
Oscha Ring Slings are elegant and quick to use, perfect for short trips and for children who like to be up and down often. Learn all about Ring Slings here.
Why choose Oscha Ring Slings?
Unique hand drawn designs in beautiful colours.
Jacquard woven & made with organic, responsibly sourced yarn.
Newborn to preschool.
Available in two unique shoulder styles.
Quick & simple to use with an elegant look.
Ethically handcrafted in our solar powered Scottish workshop.
Packing up small and light, our beautiful baby slings are an amazing tool for the busy parent. Check out the video below to see how quick and easy our Ring Slings are to use. 
Which shoulder style should I choose?
Our stylish Ring Slings come in two shoulder options: Highland Pleated and Gathered. Visit our Size Guide for more information.
All of our fabrics are weight tested up to 45lbs (or about 5 years old).
Our comfortable baby carriers bring many wonderful benefits to parents and children. Learn more about the benefits of carrying.
This is a natural product with an organic scent, no chemical agents are used in the manufacture of the item or its packaging.  
The formidable mountain range, which cuts across Middle-earth is shown in a lovely illustrative story-book style with flowing mist and a starry sky. The verse sung by Thorin Oakenshield & Co. in The Hobbit™ runs along the borders in runes:
"Far over the misty mountains cold
To dungeons deep and caverns old
We must away, ere break of day,
To find our long-forgotten gold."