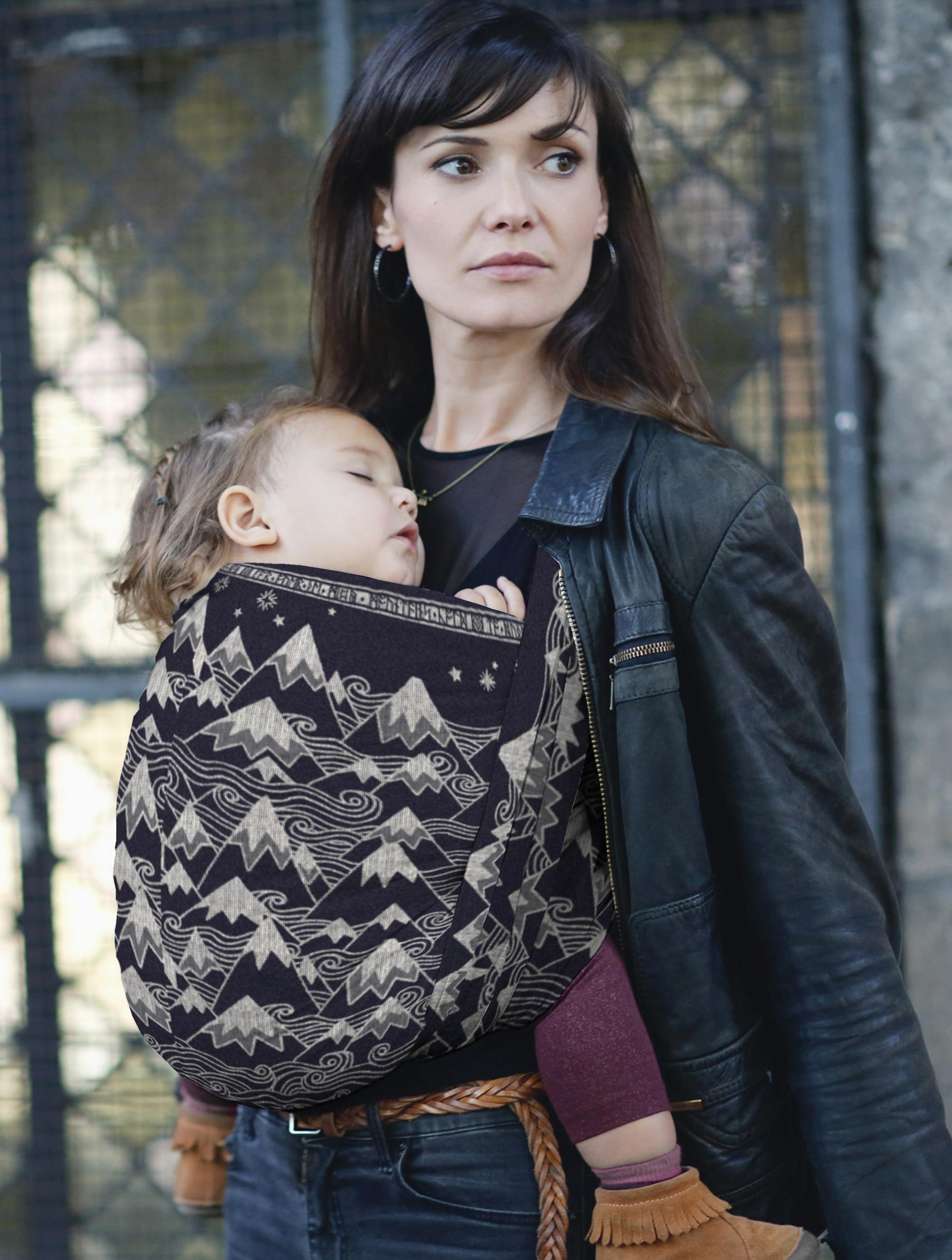 Misty Mountains™ Nenuial Spares
✔ Luxe no cotton blend - Wensleydale pure new wool and Superwash Cashwool
✔ Toddlerworthy
✔ Strong, supportive & cushy

The Misty... Read more
Best sellers
Best Slings for Cold Weather
Customer Collaborations
Luxe Collection
Middle-earth
Middle-earth Luxe Collection
Misty Mountains
Not in Sale
Shop All
Teals/Blues/Greens
✔ Luxe no cotton blend - Wensleydale pure new wool and Superwash Cashwool
✔ Toddlerworthy
✔ Strong, supportive & cushy

The Misty Mountains rise majestically from the swirling mist that shrouds them on this stunning wrap, named after the Sindarin name for Lake Evendim, the Lake of Twilight. True to the name, the snowy tops appear to shine in the moonlight giving an ethereal feel to this twilight vista.
Thick in hand, this beautiful blend is ideal for wool lovers. The pure new wool comes from Wensleydale sheep, famously from the Yorkshire Dales, and is smoother than most other British breeds and kemp free.

The Wensleydale wool is a durable yarn which makes for a strong and supportive wrap, perfect for heavy babies and toddlers. The Misty Mountains are picked out in its glorious natural wool colour. The softness and support of the Superwash Cashwool adds a gentle cush for the shoulders and the temperature-regulating properties of this blend make it nice and breathable, keeping you warm on cold days, and cool in warm weather.

This is a unique item that is woven on a Superwash Cashwool warp. Cashwool is a specially spun merino wool that is especially smooth and soft to the touch without any woolly prickle.
This item is part of the Loch Cashwool preorder and the yarns and pattern were carefully selected by the Oscha Slings Official Preorder group. Other items in the collection can be found here.
Oscha Slings are ethically handcrafted in Scotland.
CARE INSTRUCTIONS: Gentle hand wash only.
FABRIC COMPOSITION: 66% Superwash Cashwool 34% Wensleydale pure new wool, approx. 61-70cm wide.
FABRIC WEIGHT: 294gsm
The formidable mountain range, which cuts across Middle-earth is shown in a lovely illustrative story-book style with flowing mist and a starry sky. The verse sung by Thorin Oakenshield & Co. in The Hobbit™ runs along the borders in runes:
"Far over the misty mountains cold
To dungeons deep and caverns old
We must away, ere break of day,
To find our long-forgotten gold."