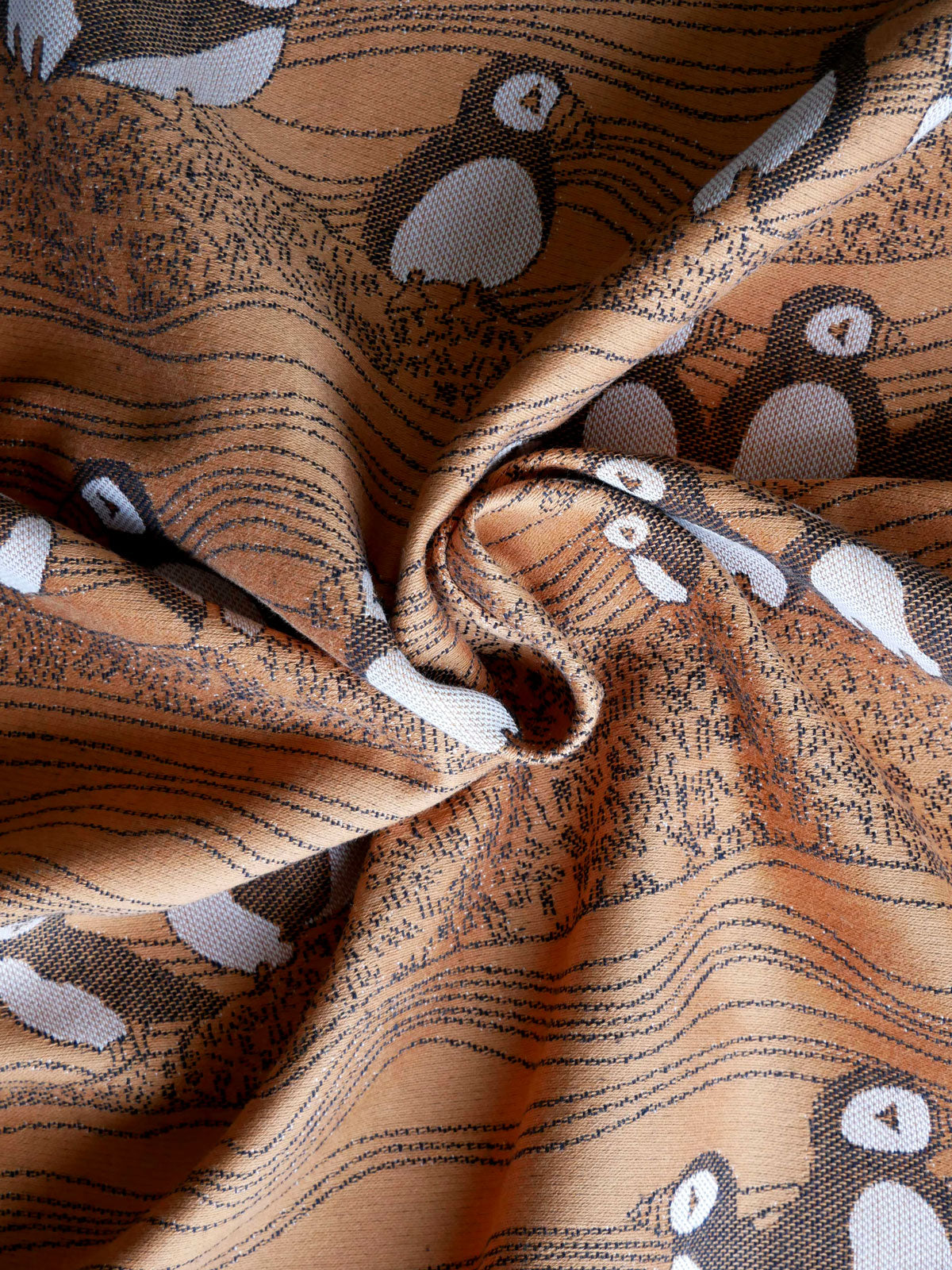 Puffins Hoy Fabric Pieces
The rugged landscape and beauty of the Old Man of Hoy, a towering sea stack off the coast... Read more
Only 1 left in stock
Autumnal Tones
Best sellers
Fabric Pieces for Crafting
Jewel Tones
Lifestyle
Not in Sale
Pinks/Purples/Reds
Shop All
Wholesale Catalogue
The rugged landscape and beauty of the Old Man of Hoy, a towering sea stack off the coast of Orkney, is showcased in this fabric. The honey-coloured background symbolises the warm tones of the sandstone cliffs where a lively colony of puffins call home. The puffins are depicted with black eco cotton, bringing out the distinct outlines and features, with their stomachs and faces in ecru organic combed cotton.
Woven using our Hybrid technique, this allows us to use multiple colours to highlight different areas of the pattern, the finer yarns and denser weave structure create a supportive and unique fabric. 
Eco cotton is made up of 40% BCI Organic Cotton & 60% Recycled Cotton. The recycled cotton comes from pre consumer & post consumer cotton scraps which are blended and spun together to create this recycled yarn.
By using BCI cotton we ensure that our cotton meets the Better Cotton Initiative's high standards of environmental, economic and social responsibility. Our BCI cotton is also organic, meaning it is grown with care and without chemicals keeping the land, and farmers, healthy.
CARE INSTRUCTIONS: Wash at 30 degrees. Do not use bleach or fabric softener. Tumble dry warm. Ironing is recommended.
FABRIC COMPOSITION: 80% BCI Organic Combed Cotton 20% Eco Cotton , approx. 61-70cm wide.
FABRIC WEIGHT: 292gsm
Perfect for crafters, this is a fantastic opportunity to purchase a piece of one of our iconic fabrics. 
Why choose Oscha Fabric Pieces?
Perfect for crafters!
Jacquard woven & made with organic, responsibly sourced yarns.
Ethically handcrafted in our solar powered Scottish workshop.
The fabric pieces come unhemmed in either 0.5m, 1m or 1.5m long x approximately 70cm wide (see details and care tab for exact width of each fabric).
*Please note our fabric is only available in the lengths you select, multiple purchases will be sent as separate pieces.