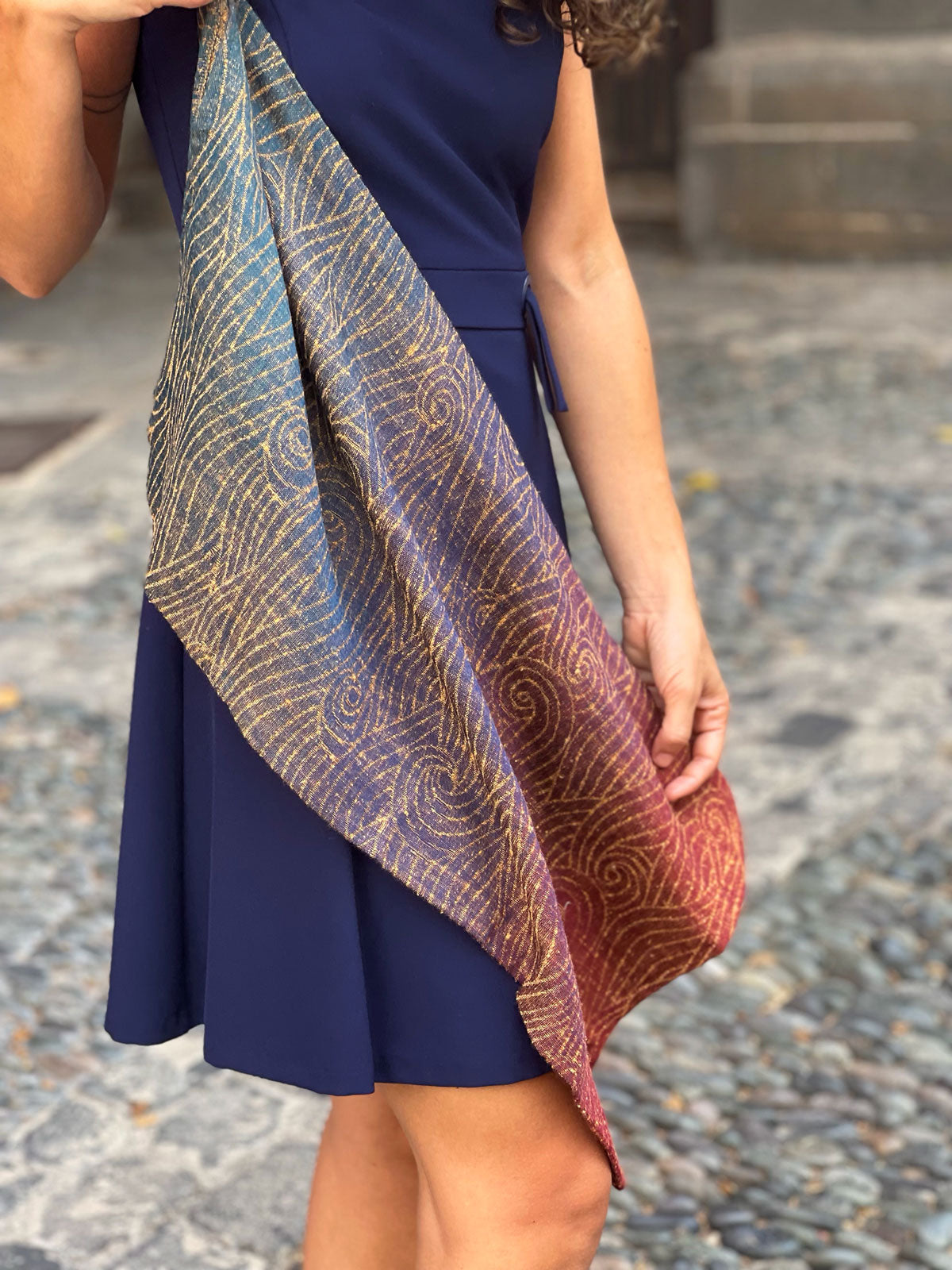 Rei Riku Cowl
✔ Lightweight Ceò scarf  
✔ Luxurious yarns - Peace silk & mercerised Egyptian Mako cotton
✔ Soft & drapey  
✔ Elegant 
The luxurious... Read more
Best sellers
Christmas Shop
Jewel Tones
Lifestyle
Not in Sale
Scarves, Shawls, Infinity Loops & Cowls
Shop All
✔ Lightweight Ceò scarf  
✔ Luxurious yarns - Peace silk & mercerised Egyptian Mako cotton
✔ Soft & drapey  
✔ Elegant 
The luxurious combination of Peace Silk and mercerized Egyptian cotton creates a striking contrast between the rustic and the refined, resulting in a scarf that exudes a uniquely artisanal charm. Celebrating the harmonious blend of nature and human artistry, this is a perfect choice for both everyday wear and special occasions. 
Deep, earthy hues of blue, purple and burgundy create a mesmerising play of colours that evoke the raw beauty of gemstones found deep within the Earth. The rolling waves are picked out in the natural tones of peace silk with characteristic nubs and slubs that speckle the yarn giving a unique texture and look to each scarf.
Peace silk gets its name from the production process in which the butterfly flies away from the cocoon before it's harvested. This ethical yarn has a very low water footprint and is made from silk leftovers that would otherwise go to landfill. Its natural colours come from the amount of tannins in the leaves that the moths eat.
By using BCI cotton we ensure that our cotton meets the Better Cotton Initiative's high standards of environmental, economic and social responsibility. Our BCI cotton is also organic, meaning it is grown with care and without chemicals keeping the land, and farmers, healthy.
CARE INSTRUCTIONS: Hand washing is recommended, although a silk cycle on a known reliable machine may be used at your own risk. Use a suitable silk detergent. Hang to dry, avoiding direct sunlight and iron on a cool setting.
FABRIC COMPOSITION: 44% Mercerised Egyptian Mako Cotton 56% Natural Red ERI Peace Silk
FABRIC WEIGHT: 144gsm
Intricate weaves in premium quality blends, these fine, voluminous scarves beautifully display striking patterns in a stunning range of seasonal colours - an effortless, chic accent to any outfit.
Sumptuous & versatile, our scarves are completed with an on-trend fringed edge.
Drape as a shawl over your evening wear to add easy glamour or layer over everyday outfits as a statement scarf.
Dimensions
Scarves- approx. 200cm x 70cm
Cowls - approx. 70cm wide x 74cm joined to form a loop
Infinity Loops - approx. 70cm wide x approx. 150cm joined to form a long loop