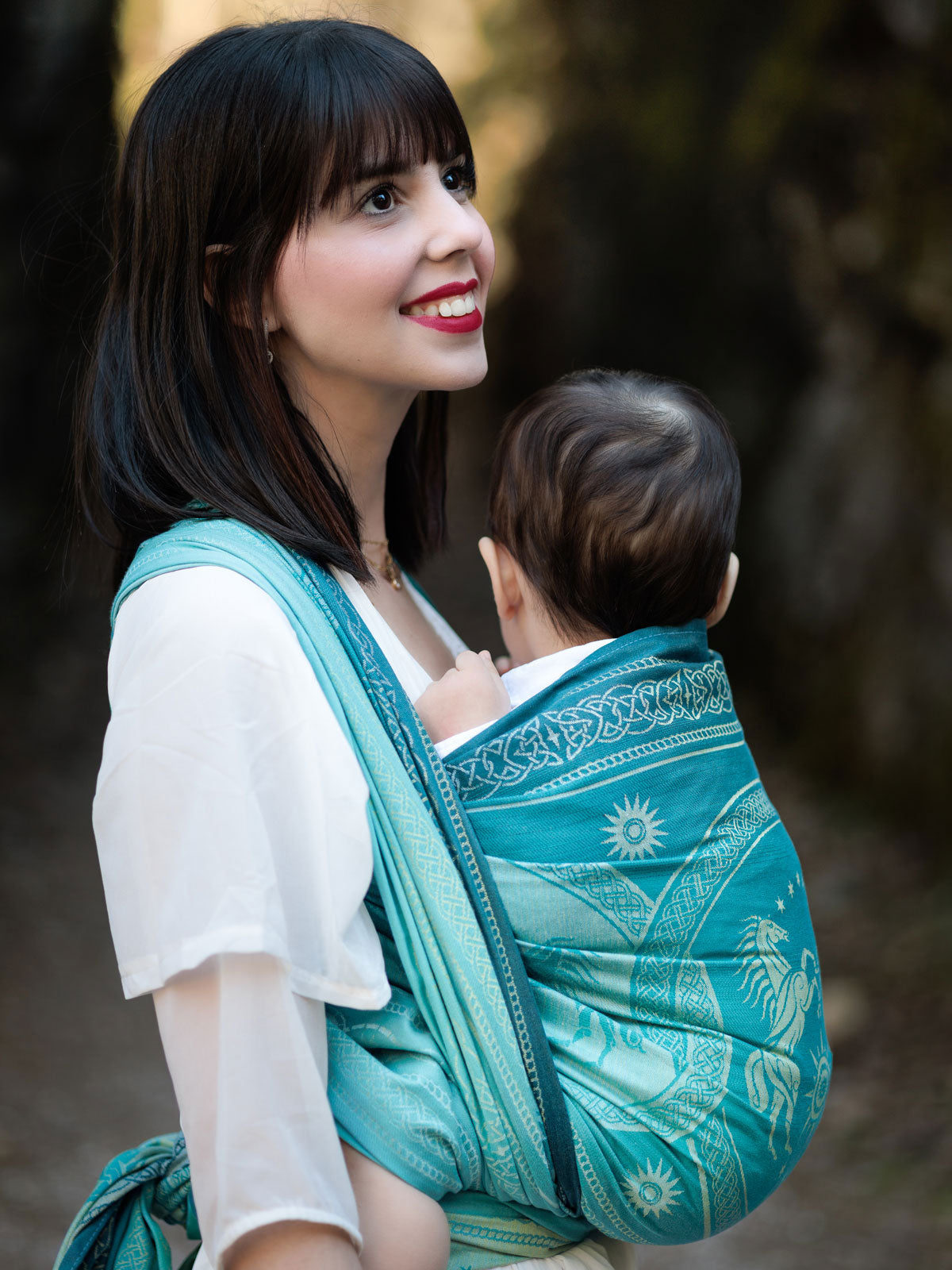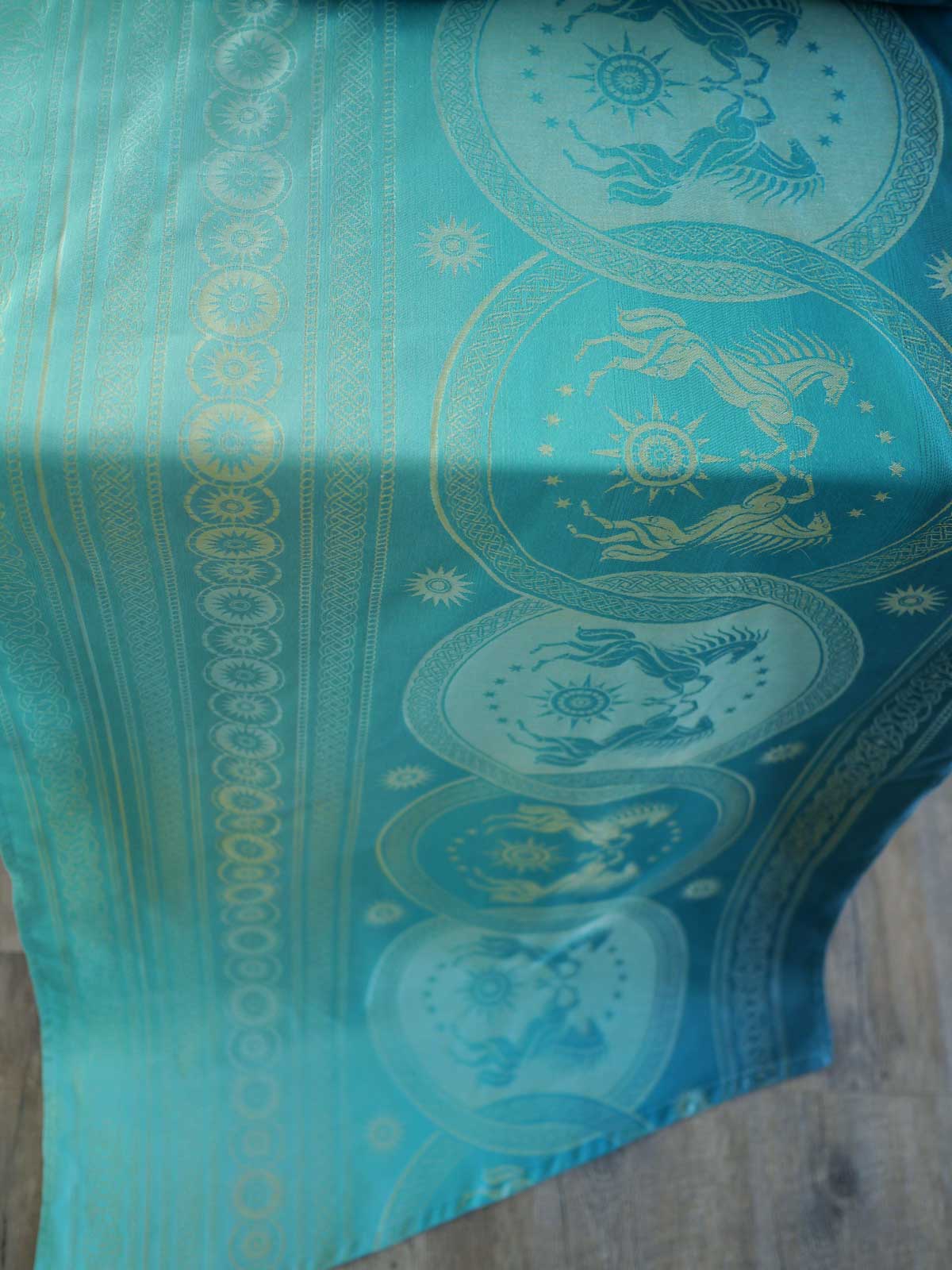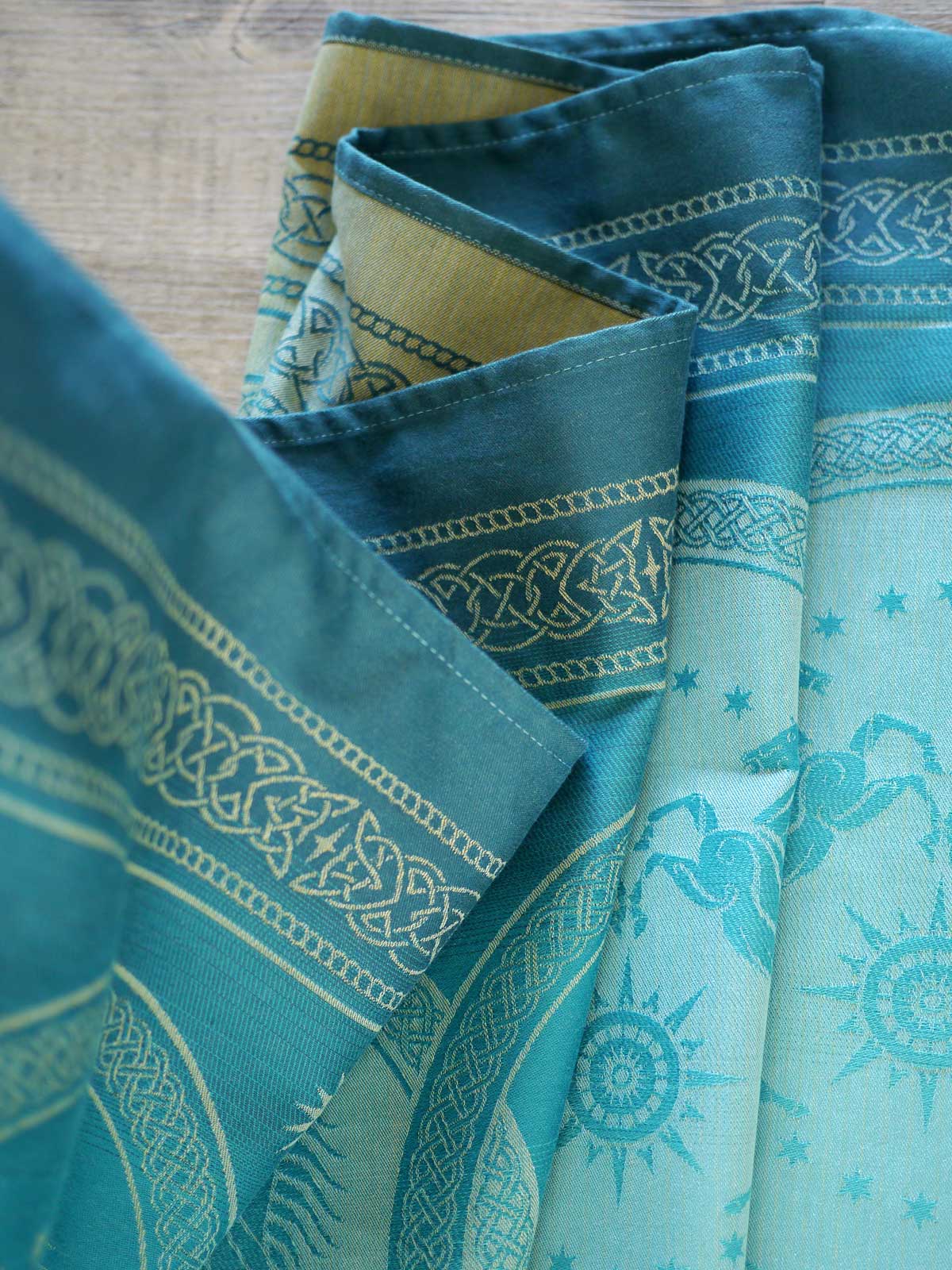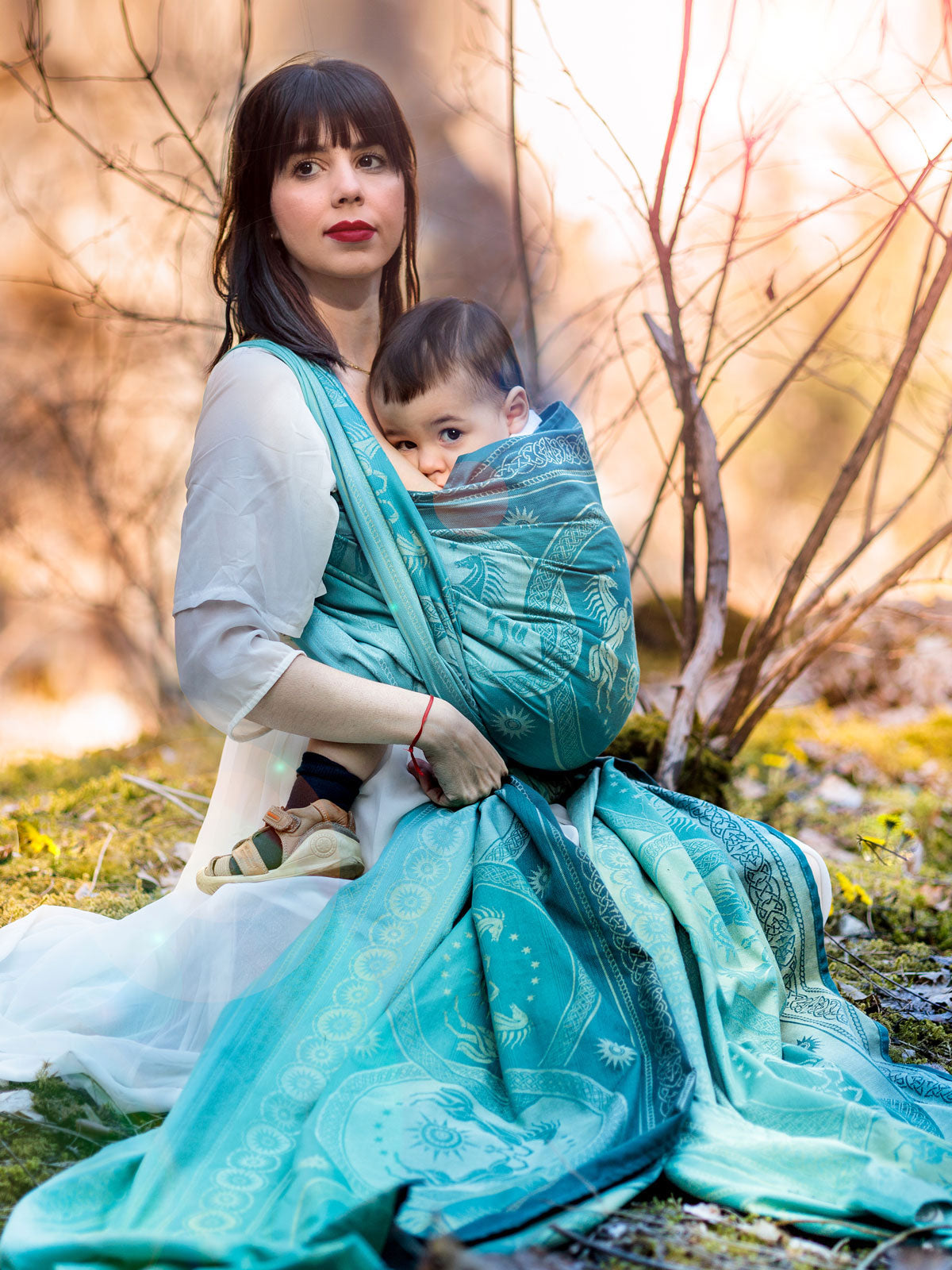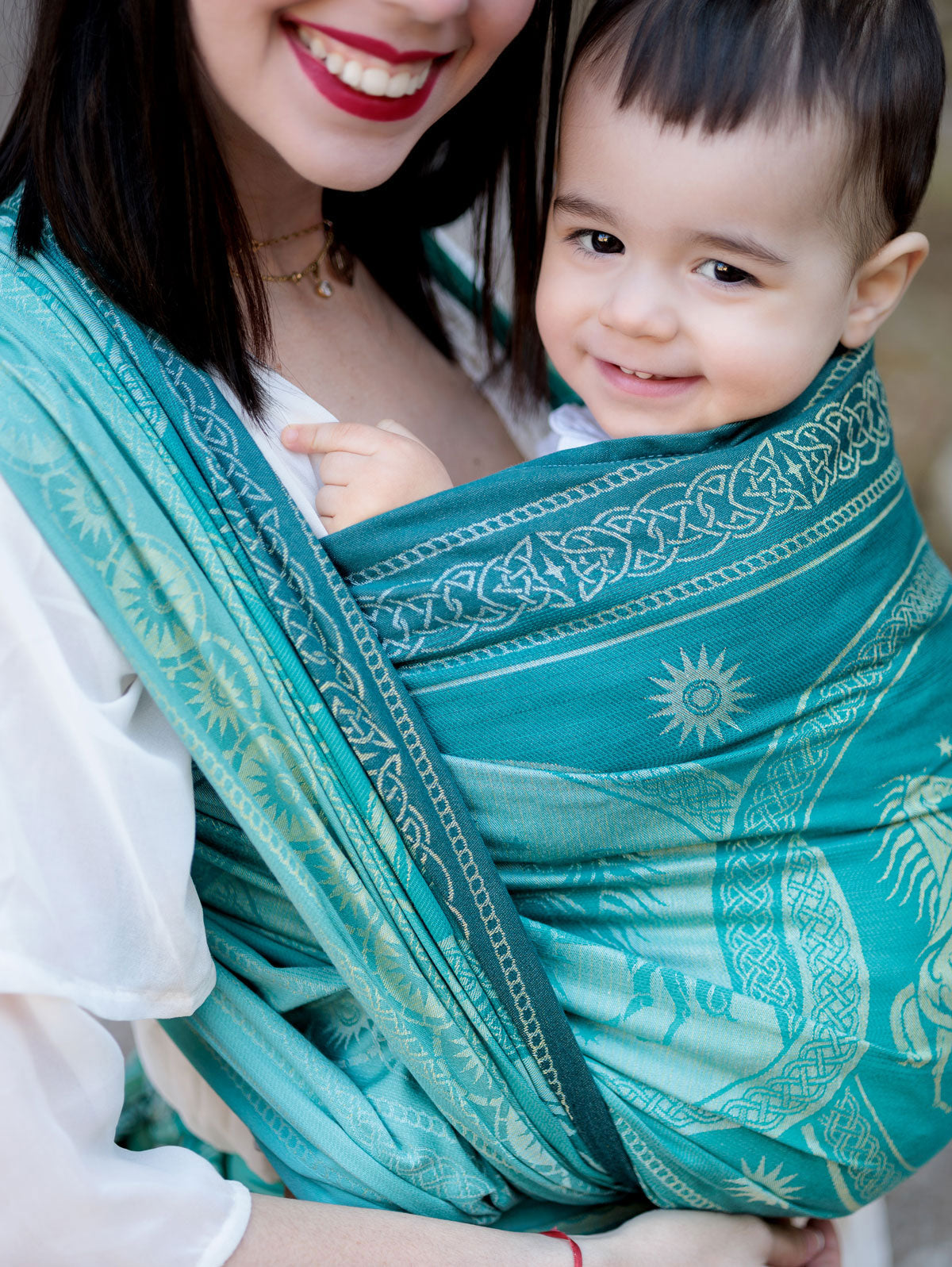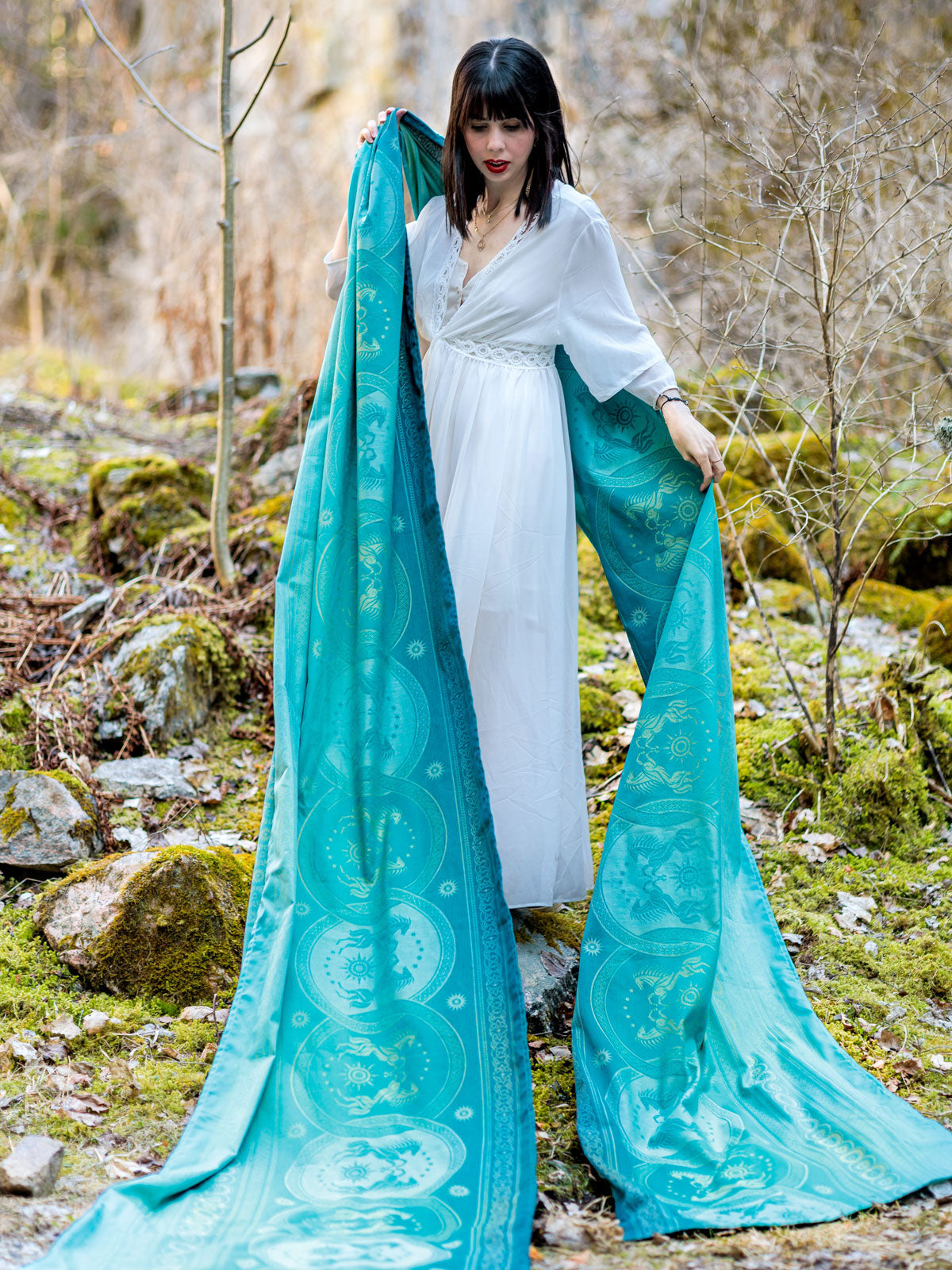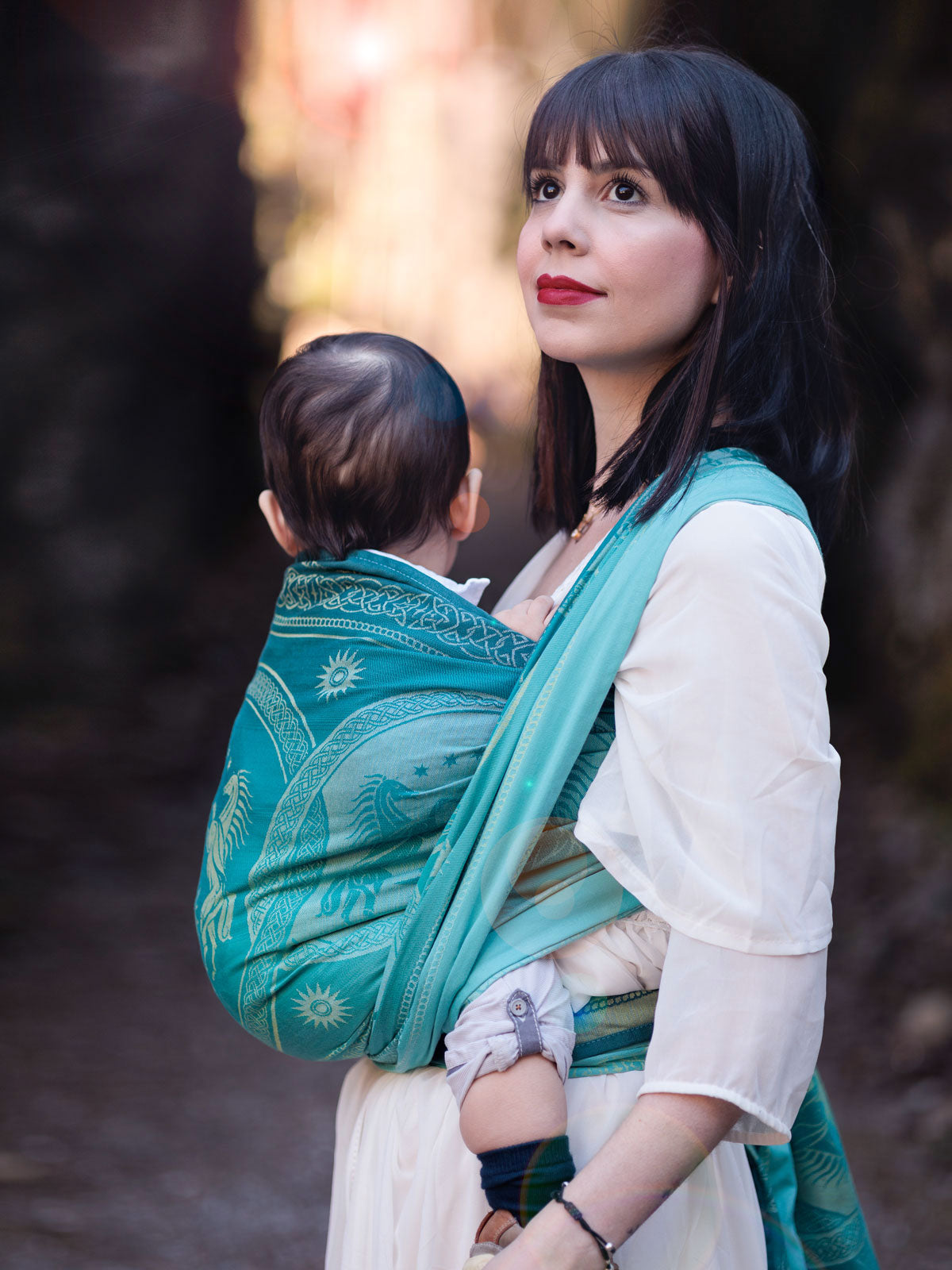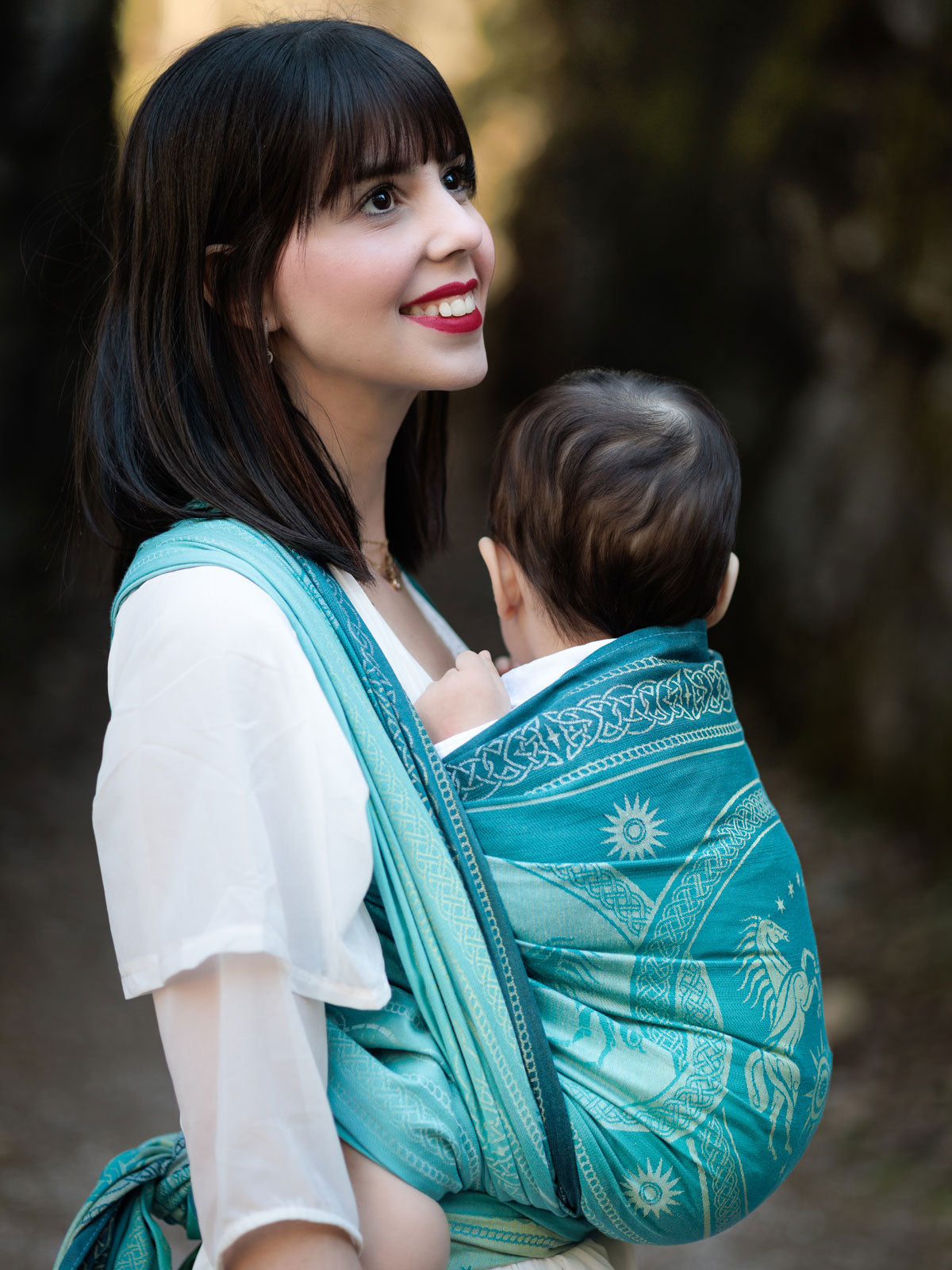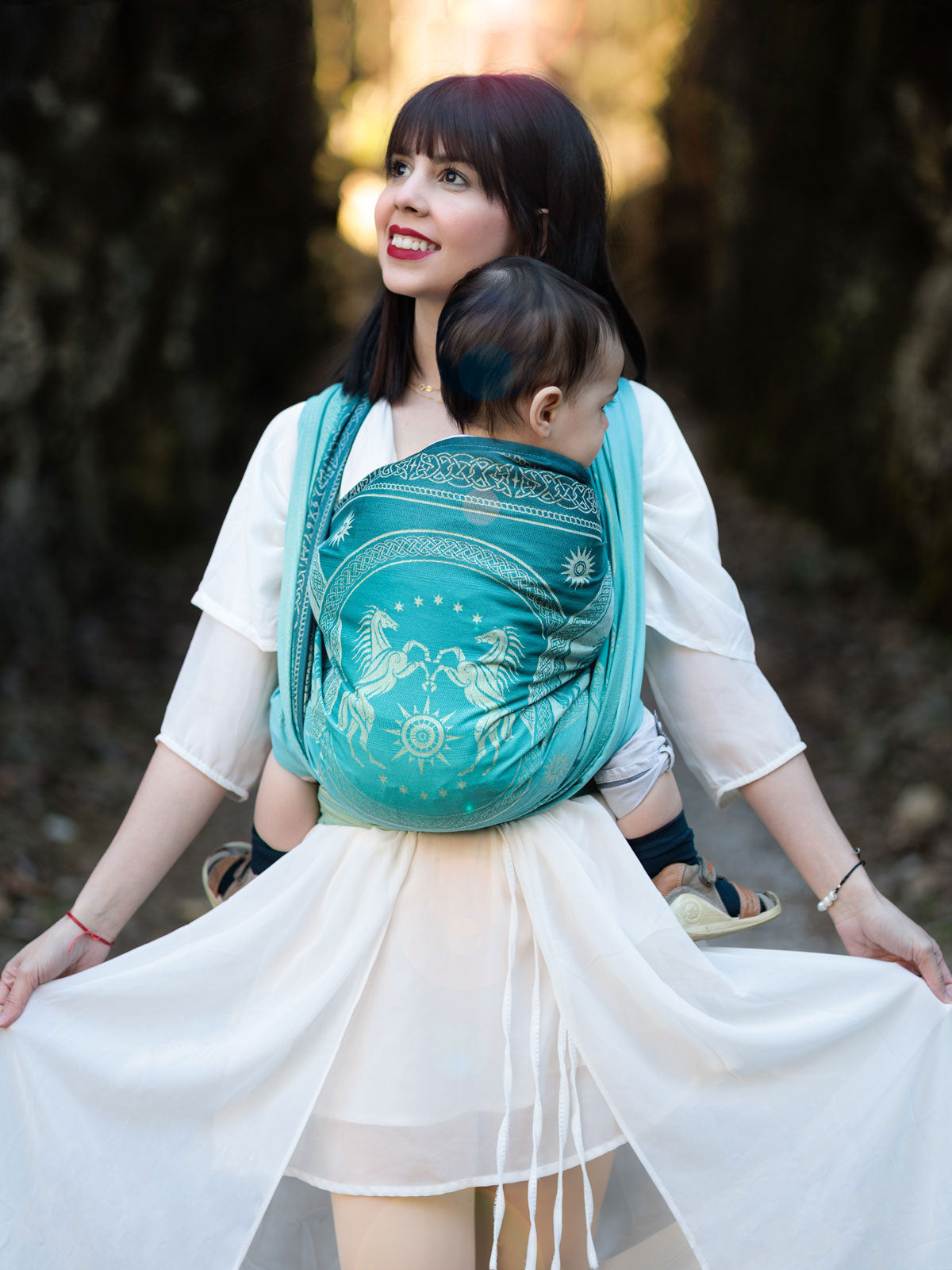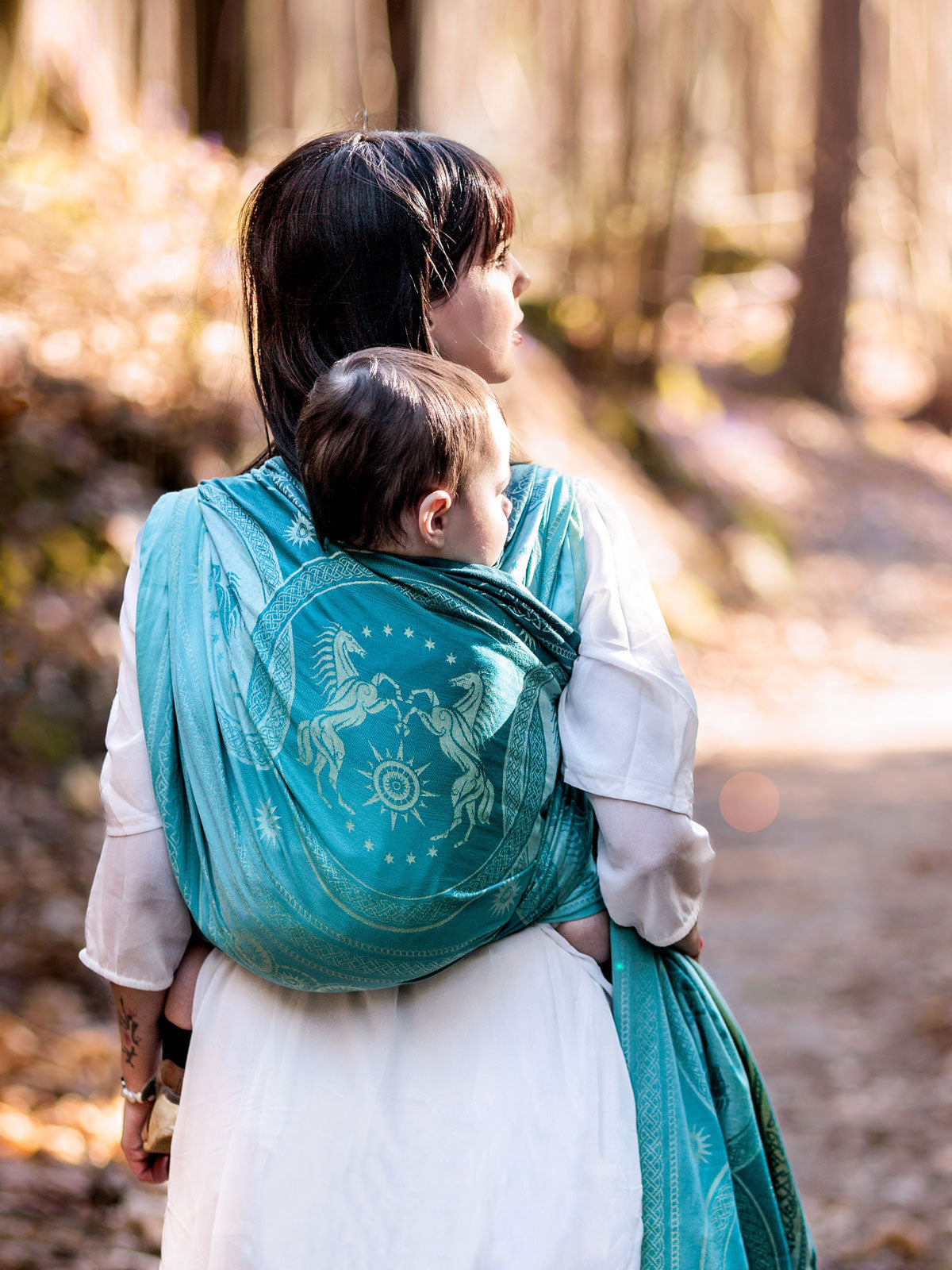 Rohan™ Rise Baby Wrap
✔ Lightweight & breathable
✔ New Tencel silk blend
✔ Very soft but strong and supportive
✔ Newborn friendly & Great all-rounder
This... Read more
Only 1 left in stock
Baby Wraps
Babywearing
Best sellers
Best Slings for Hot Weather
Gifts for New Parents
Jewel Tones
Last Chance
Middle-earth
Middle-earth Gifts for New Parents
Middle-earth™ Baby Wraps
Middle-earth™ Babywearing
Middle-earth™ Last Chance
Newborn Friendly Slings
Not in Sale
Rohan
Shop All
Teals/Blues/Greens
✔ Lightweight & breathable
✔ New Tencel silk blend
✔ Very soft but strong and supportive
✔ Newborn friendly & Great all-rounder
This design, inspired by the riders of Rohan, is given a regal look with the stunning gradient of teals and the gold and silvery hues of the weft yarns. The intricate elements of this pattern shine in this blend.

Woven with a new blended Tencel and silk yarn, the fabric feels light and thin but the dense weave gives wonderful strength and support. Velvety soft and drapey in hand this blend has lots of glide making it easy to tie. The lightweight fabric is perfect for warmer weather and for those who like a thinner sling. 

This sling is also woven with BCI organic cotton, by using BCI cotton we ensure that our cotton meets the Better Cotton Initiative's high standards of environmental, economic and social responsibility. Our BCI cotton is also organic, meaning it is grown with care and without chemicals keeping the land, and farmers, healthy.
Oscha Slings are ethically handcrafted in Scotland and come with a Peace Of Mind Guarantee.
CARE INSTRUCTIONS: Hand washing is recommended, although a silk cycle on a known reliable machine may be used at your own risk. Use a suitable silk detergent. Hang to dry, avoiding direct sunlight and iron on a cool setting.
FABRIC COMPOSITION: 72% BCI Organic Combed Cotton 25% Tencel 3% Silk, approx. 61-70cm wide.
FABRIC WEIGHT: 228gsm
Oscha baby wraps are a length of woven fabric specially designed to allow you to comfortably carry your child from newborn to toddlerhood. Learn all about wraps here.
Why choose the Oscha woven wraps?
Unique hand drawn designs in beautiful colours.

Front, back and hip carries - the most versatile baby carrier style.

Newborn to preschool.

Soft-Touch Finish - requires less breaking in than other wraps.

Jacquard woven & made with organic, responsibly sourced yarns.

Ethically handcrafted in our solar powered Scottish workshop.
Infinitely adjustable, our woven wraps can be tied in a variety of ways. Check out the video below for a quick demo on how to tie a baby wrap.
How do I choose the right size wrap?
Our baby wraps come in different sizes, find the right size for you with our Size Guide. All of our fabrics are weight tested up to 45lbs (or about 5 years old).
Our comfortable baby carriers bring many wonderful benefits to parents and children. Learn more about the benefits of carrying.
This is a natural product with an organic scent, no chemical agents are used in the manufacture of the item or its packaging.  
The Rohan design symbolises the culture and iconography of the Rohirrim, as described in The Lord of the Rings - proud people with a strong monarchy, known for their skilled cavalry and horse training.
"I have been among them," [said] Aragorn. "They are proud and wilful, but they are true-hearted, generous in thought and deed." 
The design took inspiration from tapestries depicting historical tales which were said to line the halls of Meduseld (the Hall of the King of Rohan), as well as descriptions of the banner of Rohan and Théoden's shield. 
The pattern contains Celtic knot-work, interlocking shield-like formations, which reference the proud warrior tradition of the Rohirrim, as well as sun & star emblems and a rearing horse icon as we might imagine their banner to contain.