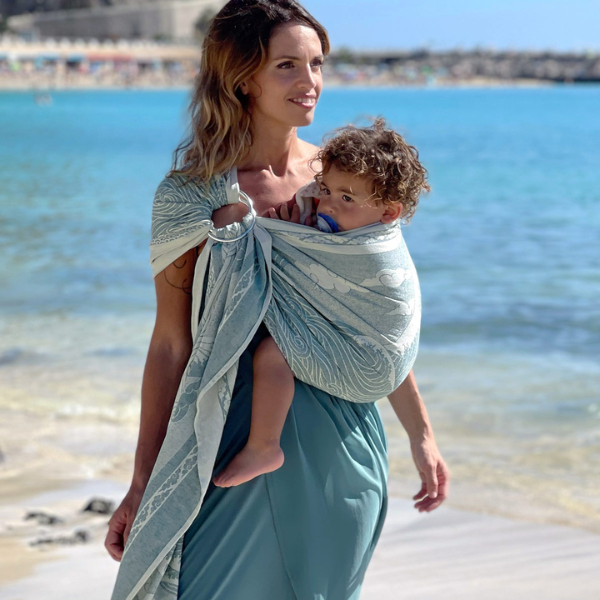 What is a Ring Sling?
Oscha Ring slings are crafted from our specially woven sling fabric and feature unique hand drawn designs. The sling is secured on the shoulder through a set of safety tested rings. Comfortable, and quick to use, they have a low learning curve and are ideal for children who like to be up and down often.
Oscha Ring Slings have been approved by the International Hip Dysplasia Institute as a 'Hip Healthy' product, this means it will hold your child in the 'M' position which is optimum for hip development.
Read on to find out more about what an Oscha Ring Sling is, what makes them so special and how to use one.
New to Ring Slings? Our FREE online course will tell you everything you need to know.
Ring Slings: A Simple Sling for Newborns and Toddlers
Newborns can be carried for longer periods on the front and as they grow you can transition them to your hip for a comfier carrying experience.
If you have an active toddler who likes to be up and down often then ring slings are a great choice for you as they are quick and easy to retighten often.
Oscha Ring Slings are weight tested up to 45lbs (or about 5 years old), they are suitable for newborns weighing 8lbs+ and can be used with even smaller babies after seeking the advice of a healthcare professional.
Benefits of a Rings Sling & Quick Demo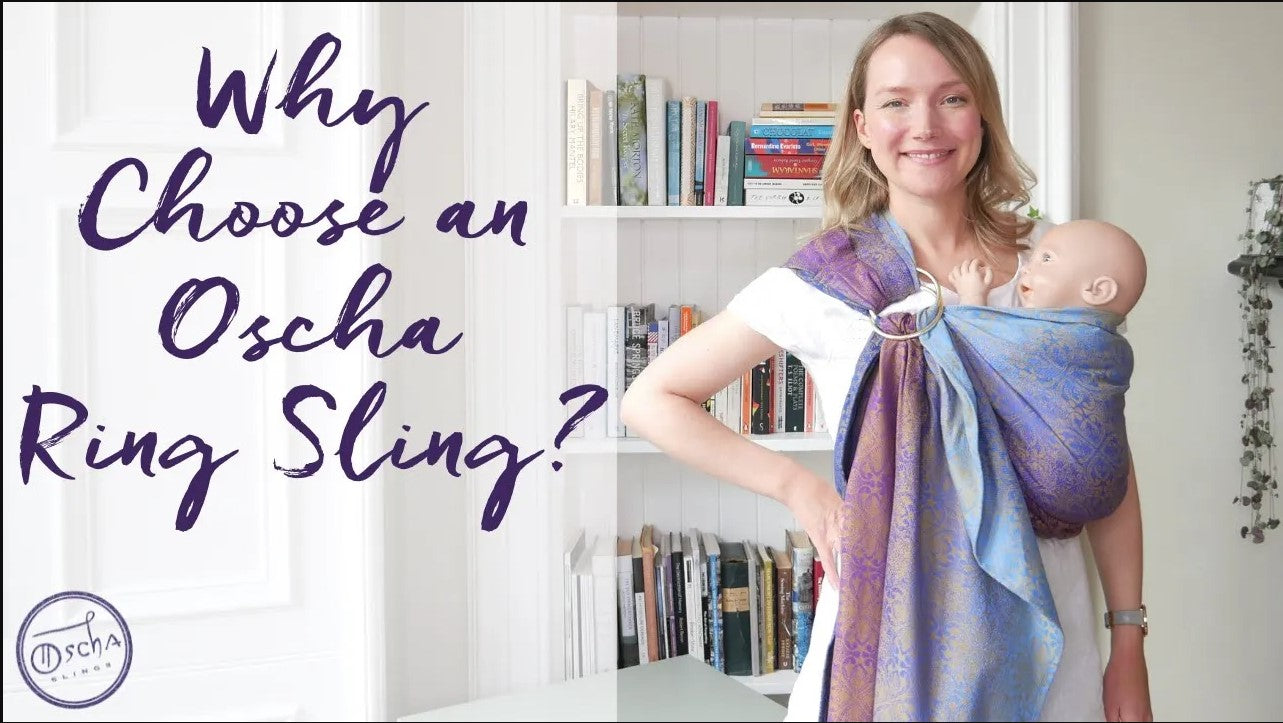 Choosing a Ring Sling: Which Style is Best for Me?
When choosing an Oscha Ring Sling you have two decisions to make: Highland Pleat or Gathered shoulder style, and do you want to carry on your left or right shoulder?
Let's start by choosing the shoulder style. Below you will find the comparison between Highland Pleat and Gathered shoulder styles.
Highland Pleat
Designed by Oscha, inspired by traditional kilts, this shoulder style features fans of pleat work.
Gathered Shoulder Style
A simple style featuring a large loop of fabric going through the rings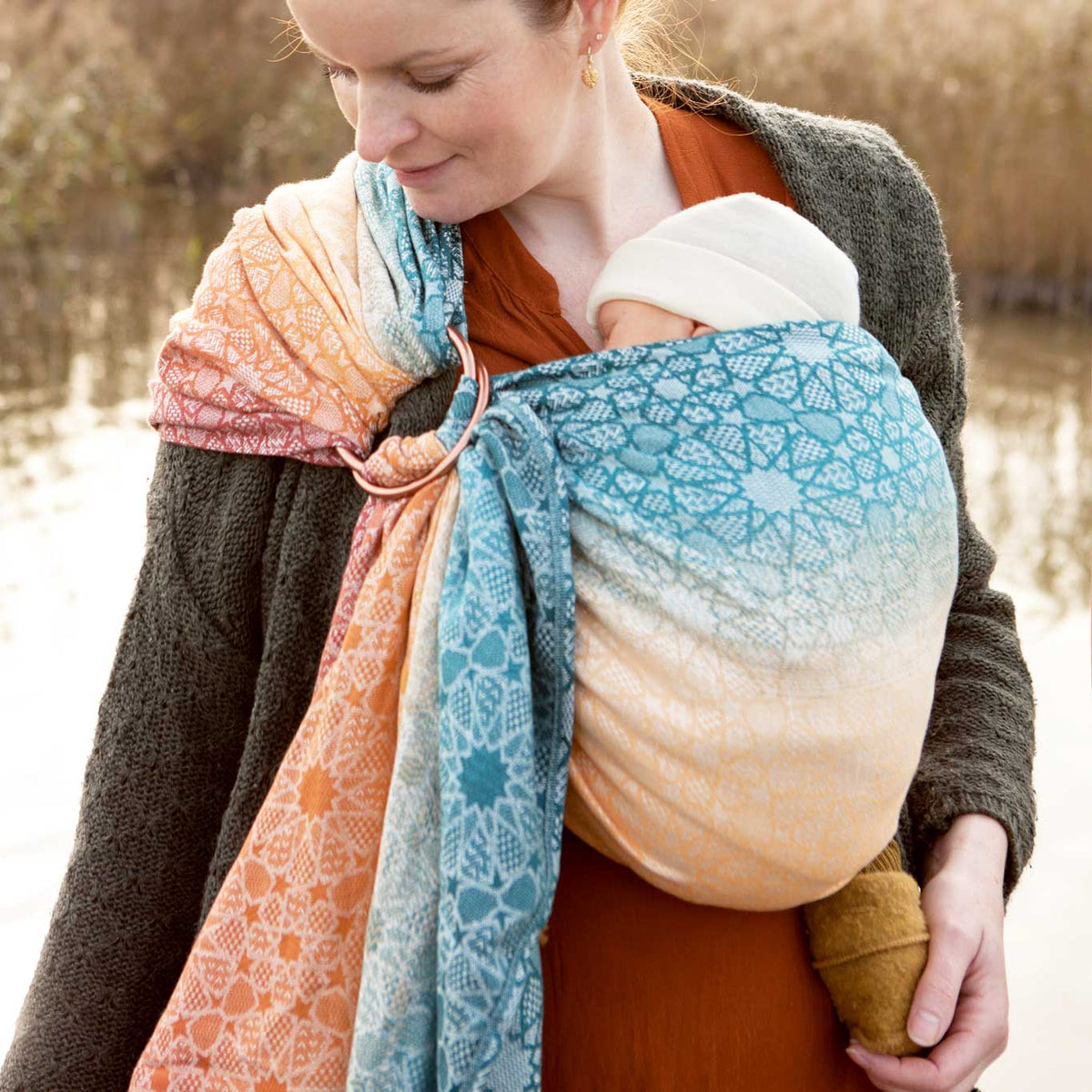 ✓ Fabric can be spread down upper arm
✓ Good weight distribution
✓ Well known and loved shoulder style
See Gathered Ring Slings
Need a Longer Sling?
Our standard length should suit nearly everyone, however if you are Plus Sized and know you would like a longer swishy tail then you can opt for a Long Ring Sling - order through our Made to Order & Preorder listings or message us to request one be made up for you from in-stock fabrics.
Left or Right Shoulder Ring Sling?
Left & Right Shoulder ring sling options are offered so that the fade of colours and/or the pattern will sit as pictured when worn on that shoulder. So they are only offered if there is a 'right way up' to the fabric.
If you want to carry your baby on your right hip, choose a left shoulder sling and vice versa as the rings sit on the opposite side to your child.
Most wearers will prefer to carry their little one on the hip which they naturally pop them onto when not wearing a sling.
Okinami Gloriole is a great example of a directional design: both the pattern and the colourway are directional.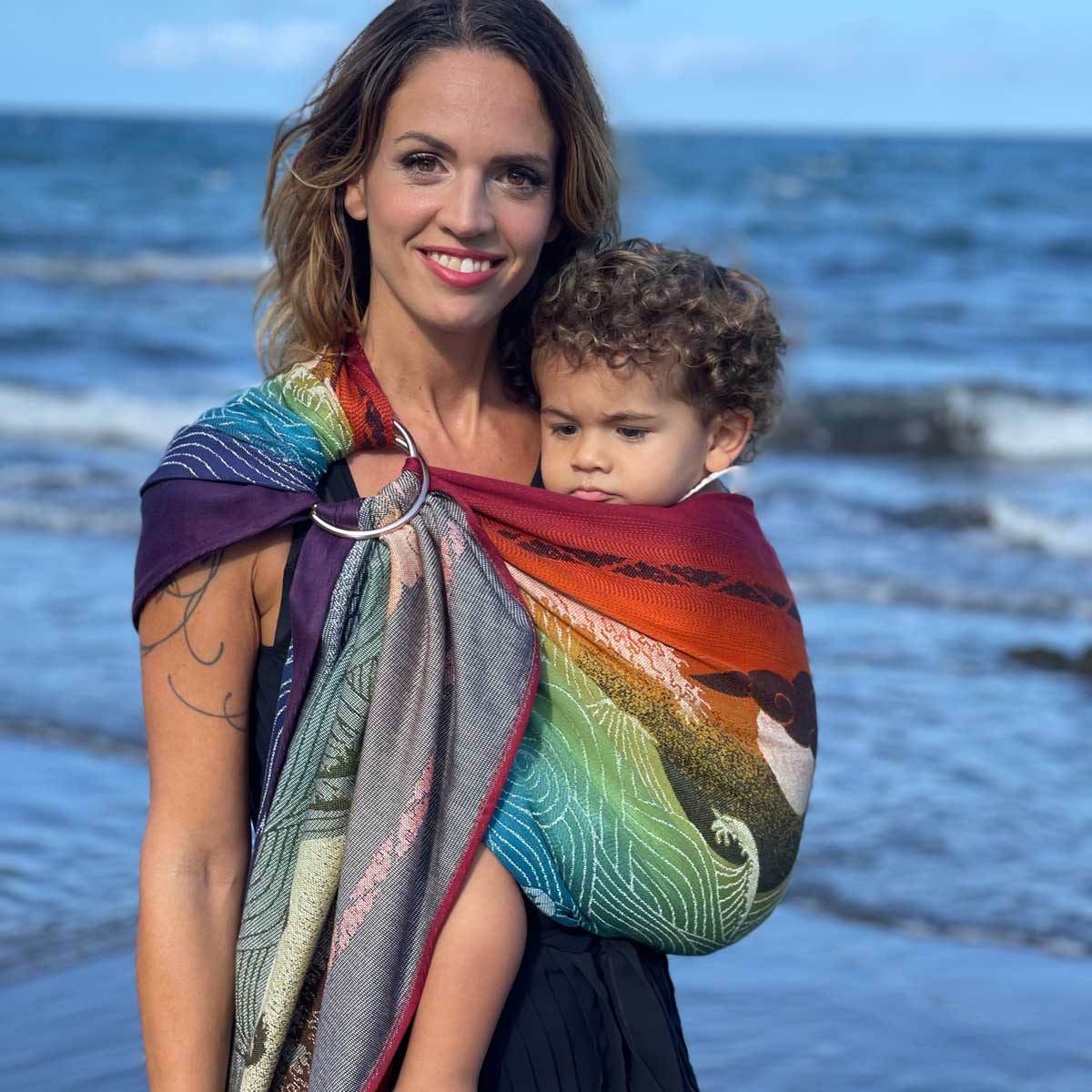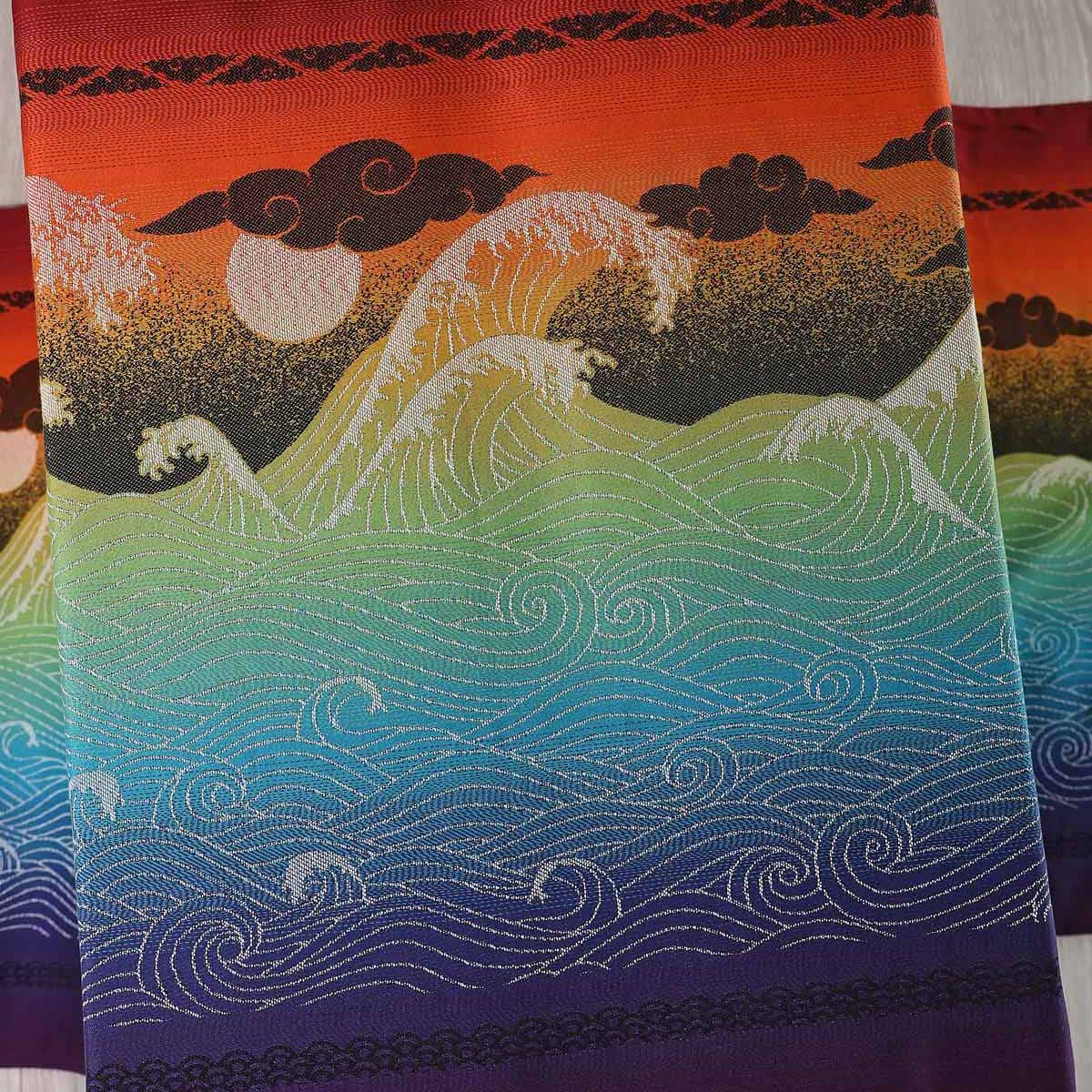 If the pattern doesn't have a right side up you can pick any shoulder, the colours that are at the top and the bottom will simply be reversed from the product images you see when you wear it.
Why are left and right shoulder options not always offered?
Left and Right Shoulder will not be offered if there is not a 'right side up' to the fabric i.e. the fabric does not have a fade of colours and/or the pattern doesn't have a top and bottom, like the Tartan pictured
Read the blog post for more information on left and right shoulder ring slings.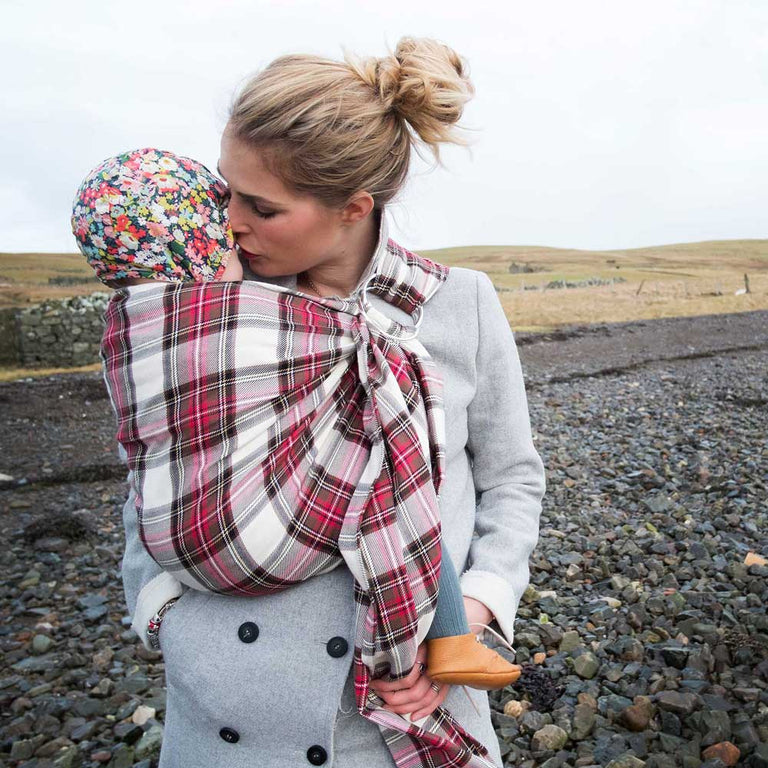 Learn How to Use a Ring Sling
Ring Slings are quick and easy to use. Once you thread them its just a case of popping them on and off. Learning to tighten a ring sling well makes all the difference for your comfort.
Below you can see a tutorial for how to use a ring sling, followed by top tips for getting a really comfy carry.
This video also shows you how to thread a ring sling. Once you have threaded the ring sling you will not have to repeat that step and can just tighten and loosen it as needed.
Tips for Comfy Ring Sling Carries
Ring Sling Troubleshooting
In these videos you can learn how to get the comfiest ring sling carry. From how to create a safe and secure seat, to supporting baby's head in the sling and what to do with the long ring sling tail!
How to Use a Ring Sling with a Newborn Baby
In this video you can learn how to adapt a ring sling to fit your newborn baby perfectly. Including how to create a cushion behind their head to support when they sleep and how to prevent them leaning, as well as safety tips. Check it out to learn everything you need to know about using a r ring sling with a newborn!
Breastfeeding in a Ring Sling
Ring Slings can provide helpful support whilst breastfeeding. Research shows that sling use promotes breastfeeding.
In this video you can learn how to breastfeed in a ring sling, including how to adjust your ring sling to be able to nurse your baby or toddler in both the upright and cradle feeding positions.
Safety while breastfeeding in a sling:

When breastfeeding in a sling ensure that your baby is able to latch on and off. Therefore you should not cup their head with the sling fabric, you should use your hand for head support and respond to your baby's cues if they want to latch off.

If you are nursing in the cradle position, with your baby laying horizontally in the sling, ensure that you return them to an upright position when they have finished breastfeeding.
Learn all about how to carry your baby safely in a sling in the video below. You can also find tips for ensuring the best position for your baby's comfort as well as your own.
Always follow the instructions provided with your sling, you can view a pdf here.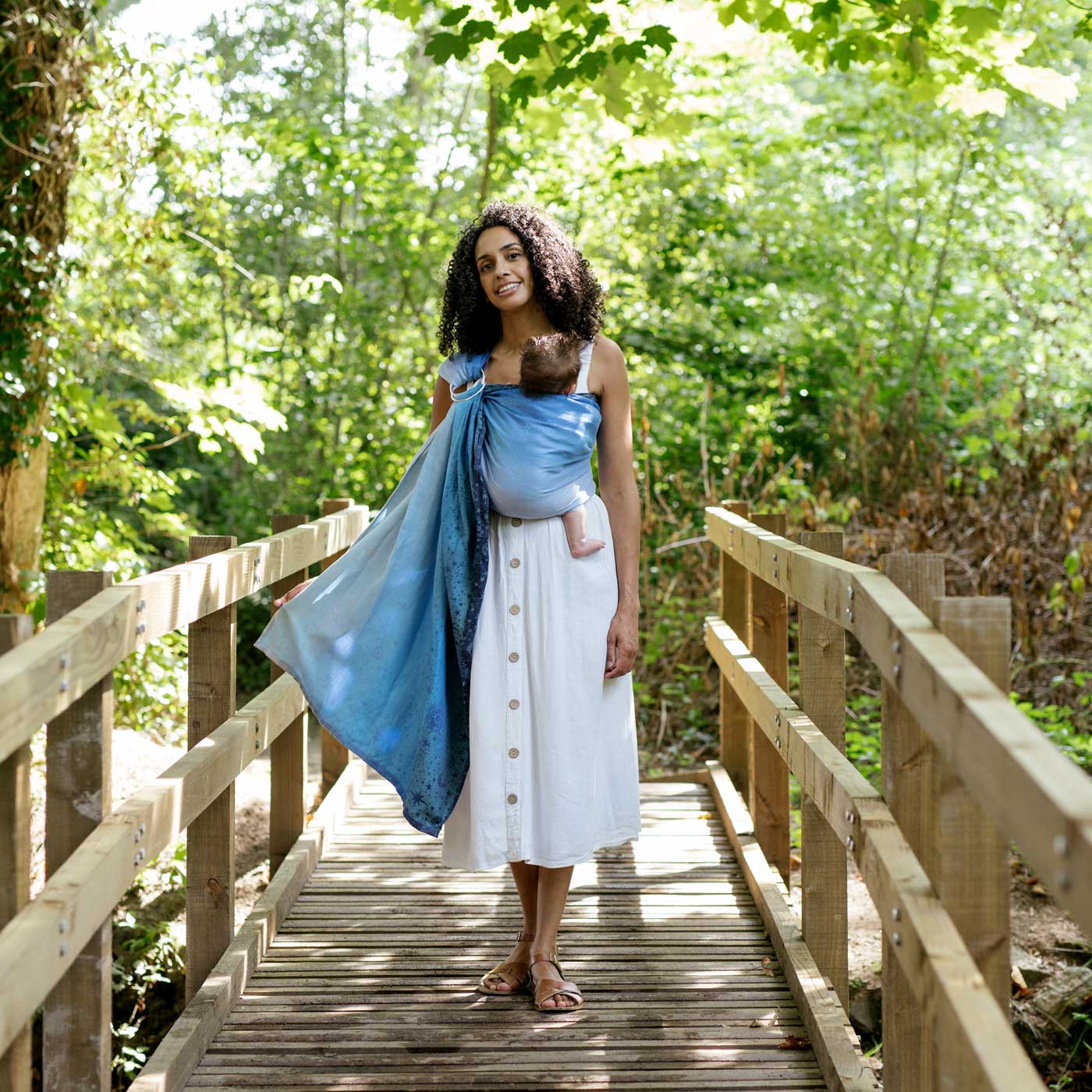 Choosing a Fabric Blend for Your Ring Sling
There are many yarns which will be comfy to use for the whole of your babywearing journey. Most of our fabrics are designed to be great all-rounders, suitable for all climates and children of all ages.
If you are a beginner, a good place to start is our Classic Collection which was designed with beginners in mind.
Learn About Our Fabric Blends
Wondering which fabric blend would be the best to choose for your ring sling baby carrier? In this video we talk you through which options to choose in terms of fabric weight, ease of use and climate.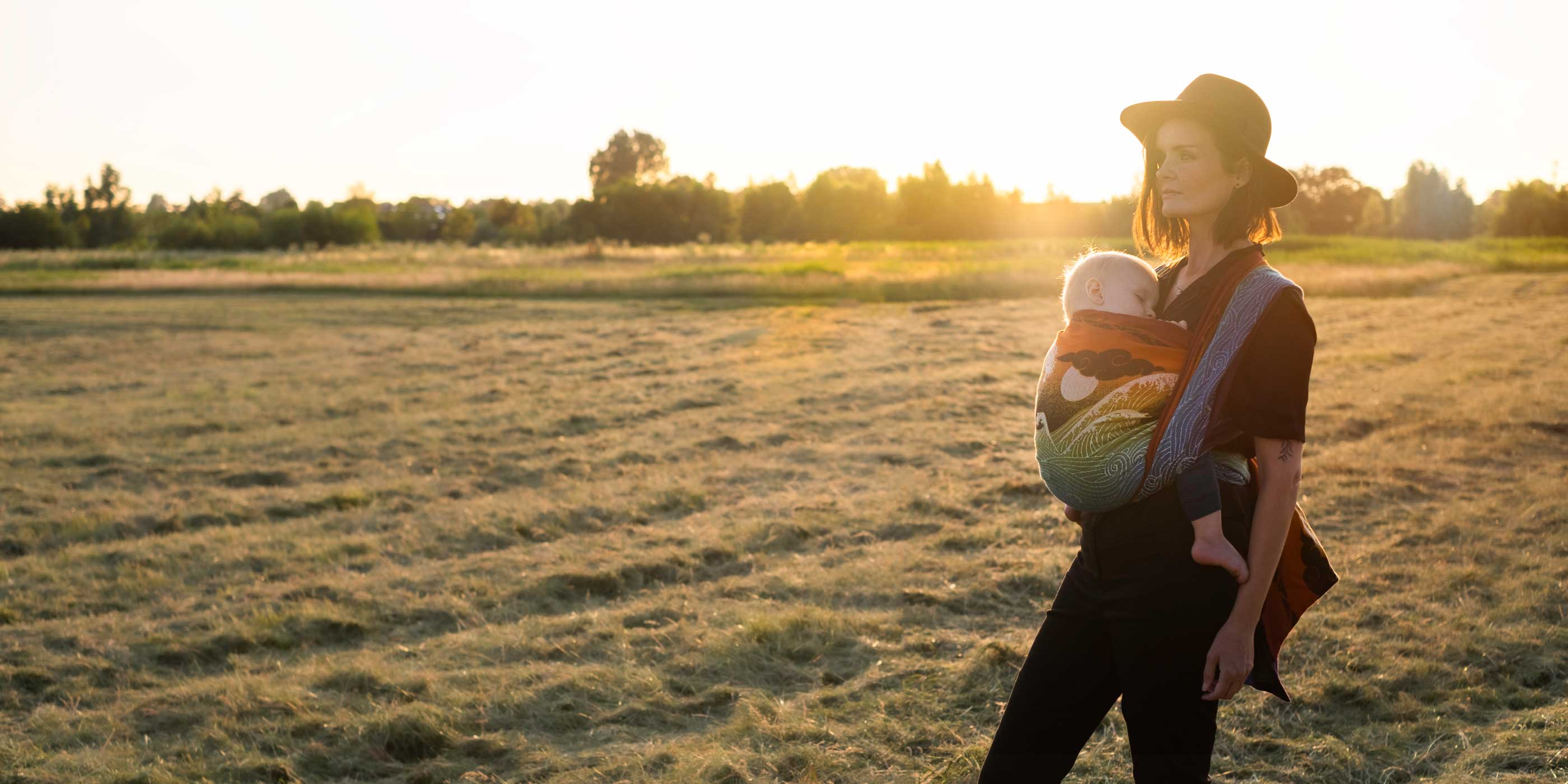 What Makes Oscha Baby Slings Special?
Co-founded by mum Zoe, Oscha began when her love for wrapping became a day to day life-saver after her twin boys were born just 16 months after her daughter. With a passion for slings and for design, Zoe's vision of a wrap company which offers parents elegant, colourful baby carriers quickly became a reality.
Zoe and the Oscha team continue to design unique woven patterns and use innovative weaving techniques to make baby carrying a beautiful and comfortable experience for all. Read the full Oscha Story.