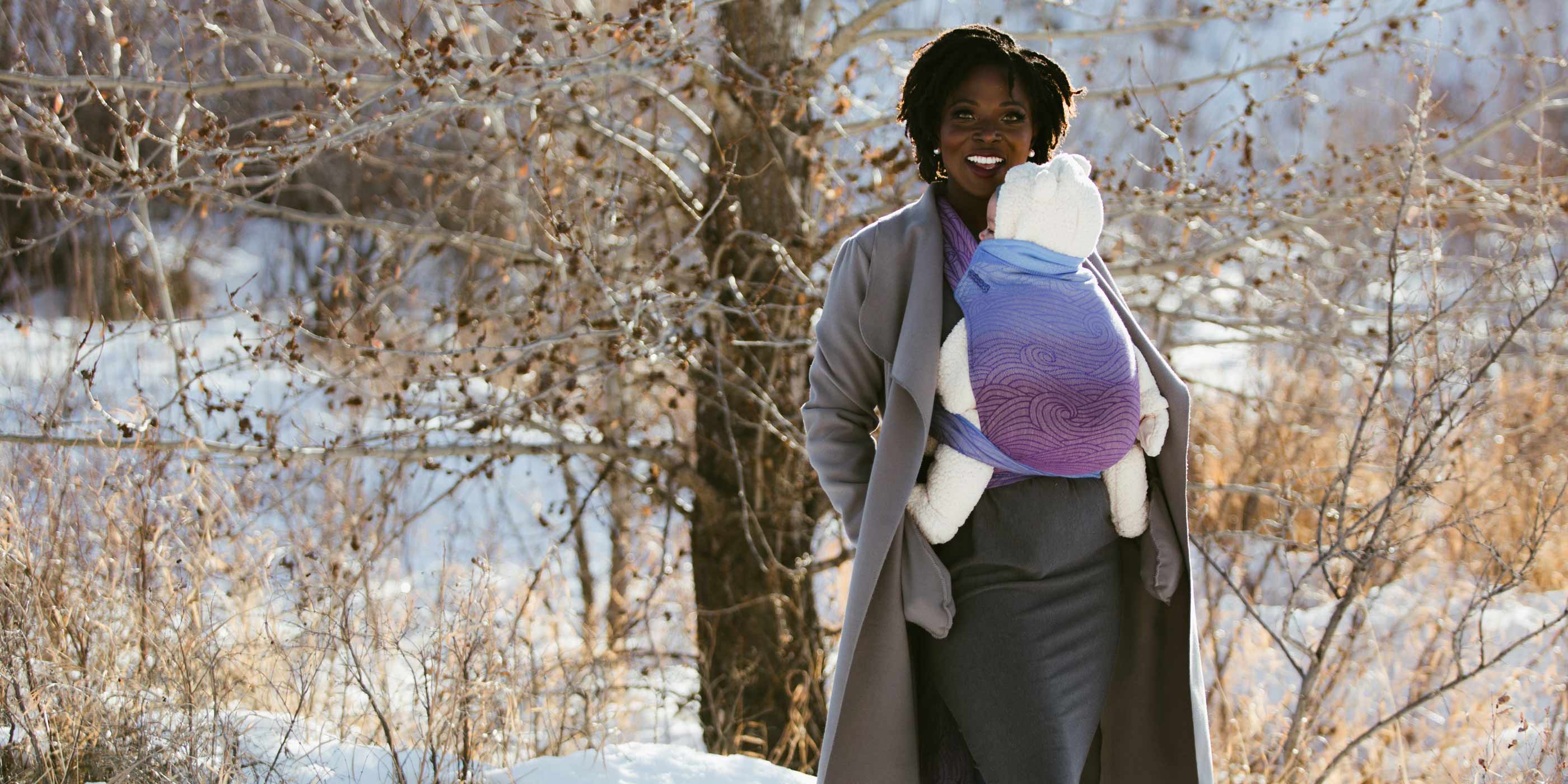 Choosing the Best Sling for Winter Carrying
Carrying your baby in winter can be a great way to get out and about together while easily regulating baby's temperature. There are a few things to consider when choosing a sling and tips to follow to make sure baby is comfortable. Our cold weather wrapping guide will help you choose the perfect sling for your wintertime adventures!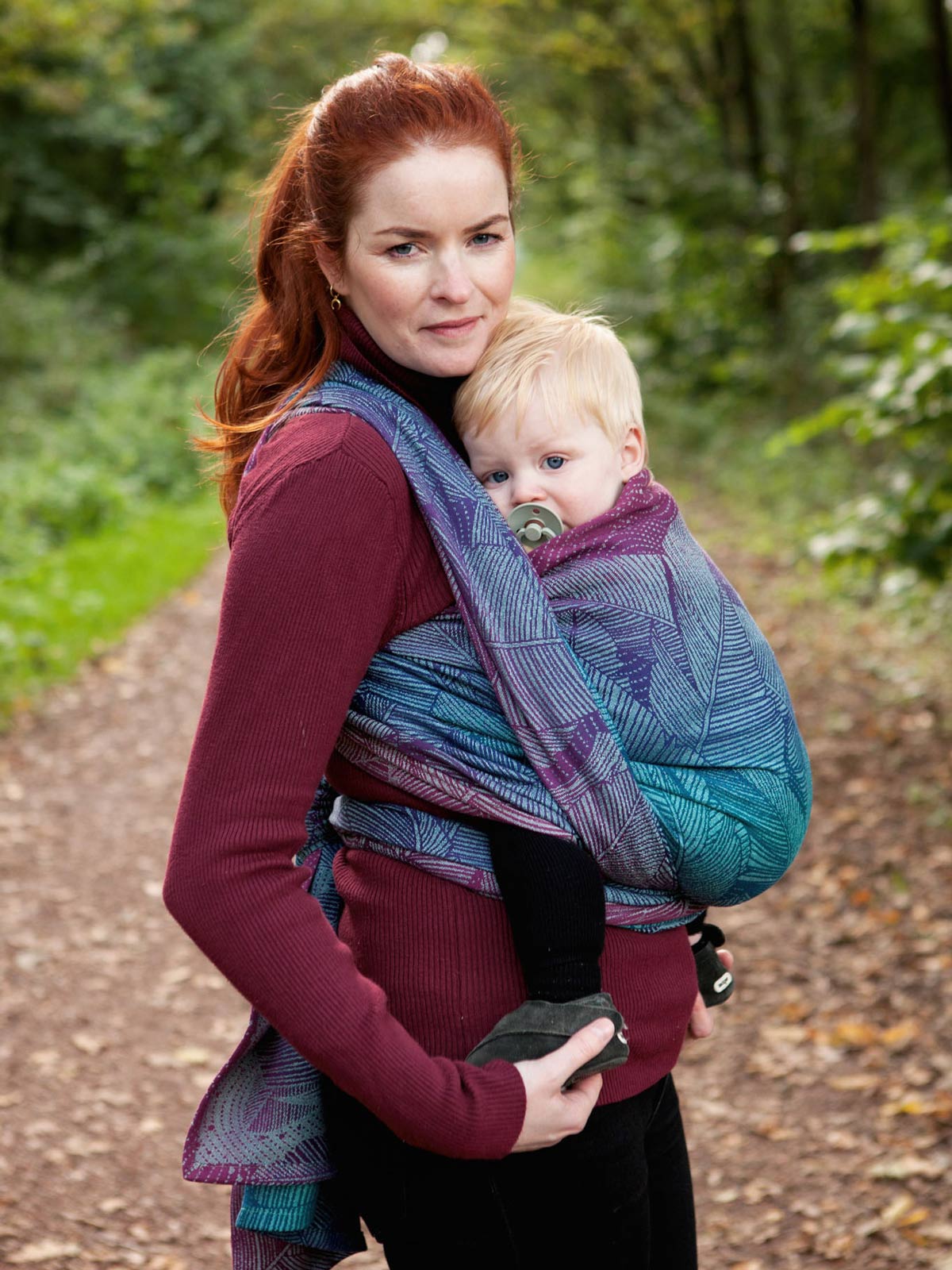 Top Tips for Carrying in the Cold
Keep Airways Clear - Check frequently that your baby's airways and face are not covered by clothing or obscured by scarves. Thick or over-large snowsuits are best avoided, as the excess fabric can bunch up around the face and impact their breathing.

Be Mindful of Positioning -Snowsuits can also affect a child's blood flow and ergonomic positioning. Make sure that your child's legs and movement are not restricted by clothing. Thin, warm layers are a great way to make sure your child is able to breathe easily and is always comfy.

Watch Out for Overheating -Babies find it difficult to regulate their own body temperature. Make sure you are regularly checking them by feeling their chest, if it is very cold or a little sweaty then they are probably not comfy – this should be addressed quickly.
Bigger kids are better at regulating their body temperature and are more able to tell you if they are uncomfortable – check-in with them regularly to make sure all is well.

Before Heading Out - Check if paths are icy, make sure you have grippy shoes and would be comfortable walking alone before deciding to carry your little ones…we recommend detachable shoe grips such as Yaktrax for keeping safe on icy paths!
Which Type of Sling to Choose?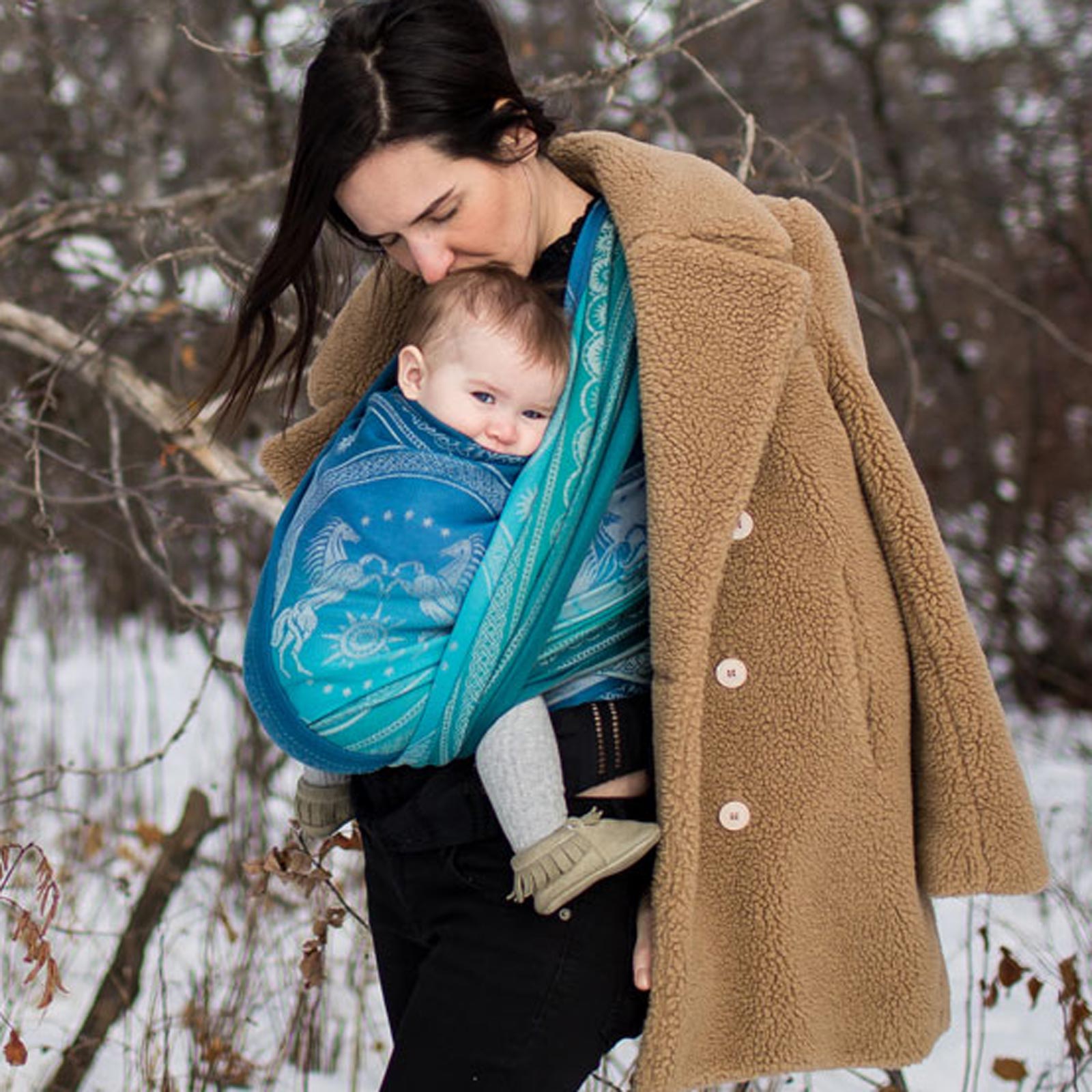 Woven Baby Wraps
Woven wraps are so versatile that you can pick from a huge variety of carries. This is ideal in cold weather when you can choose your method of wrapping to suit the number of passes you'd like and the clothing your wearing.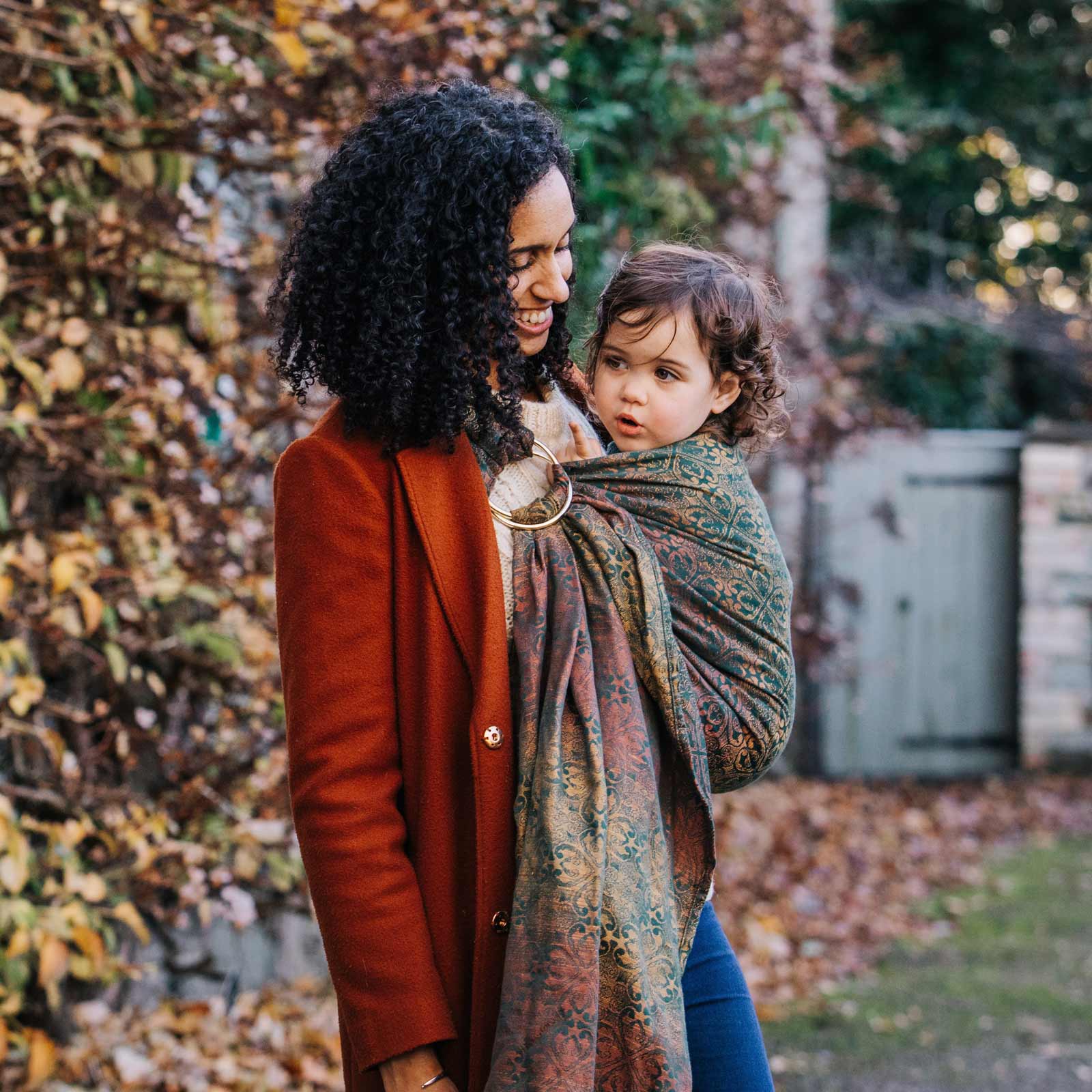 Ring Slings
Ring slings are perfect for carrying toddlers and preschoolers who want up and down often, or for newborns round the house as they allow you to easily add or remove layers of clothing.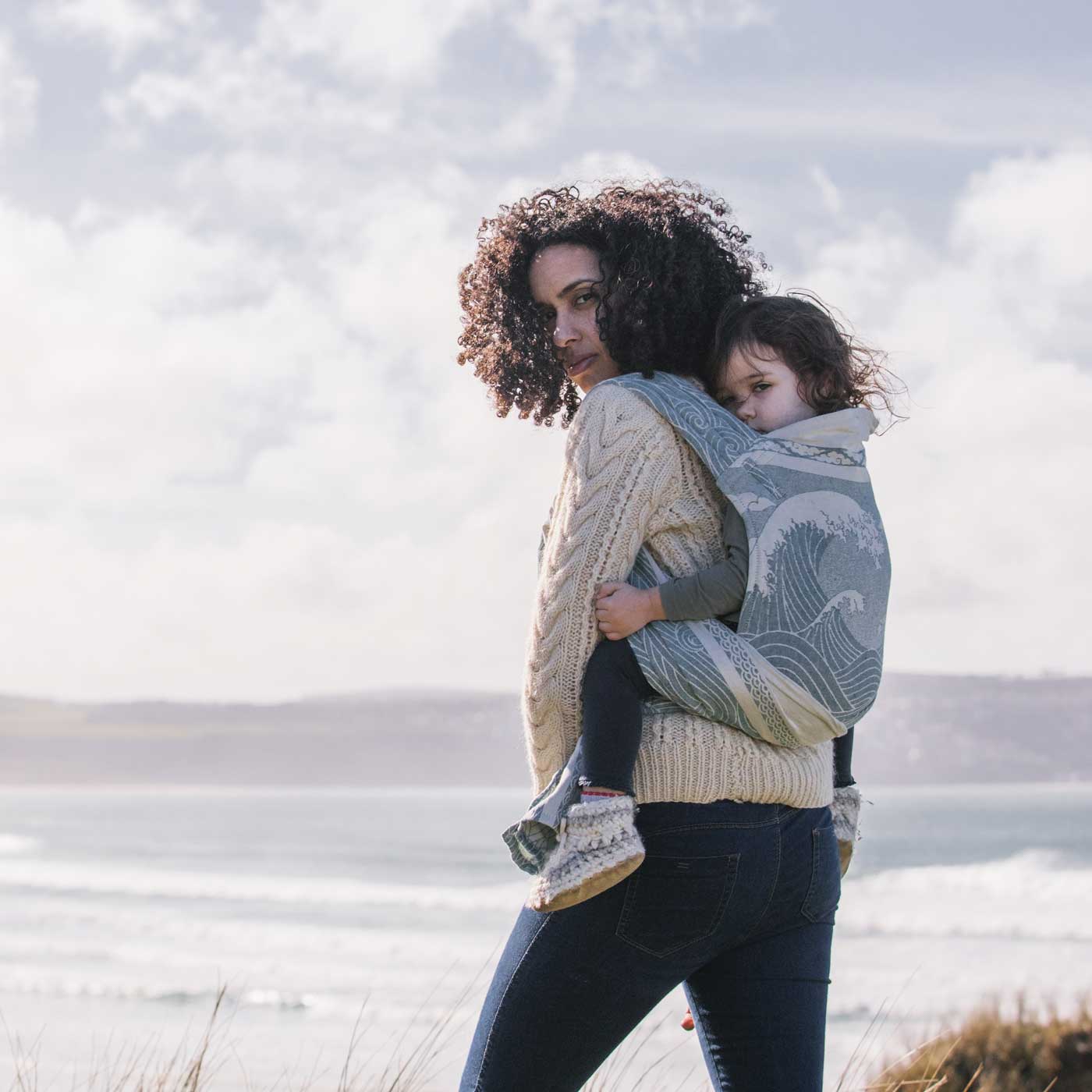 The Cairis Carrier
The Cairis Half Buckle carrier is particularly useful on cold days when you want to be able to carry over the top of bulky winter coats.
Choosing a Blend for Winter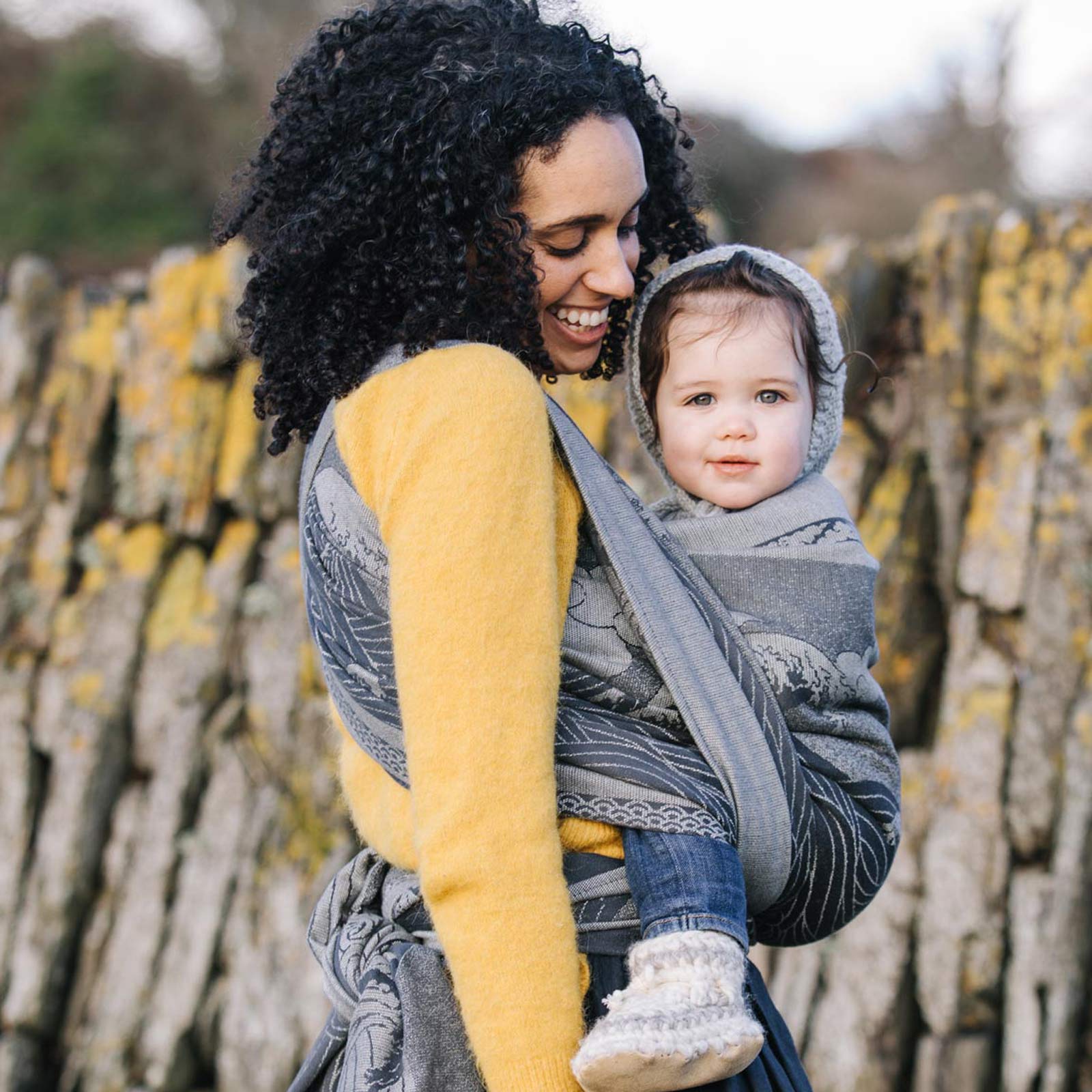 Wool
Ideal for cooler weather as wool has great temperature regulating properties, meaning it will be easier for your child to cool off and keep warm as the weather fluctuates. For those who find regular wool too prickly, cashwool or Superwash wool could be an excellent alternative – all the warmth and breathability of wool with less of the prickle.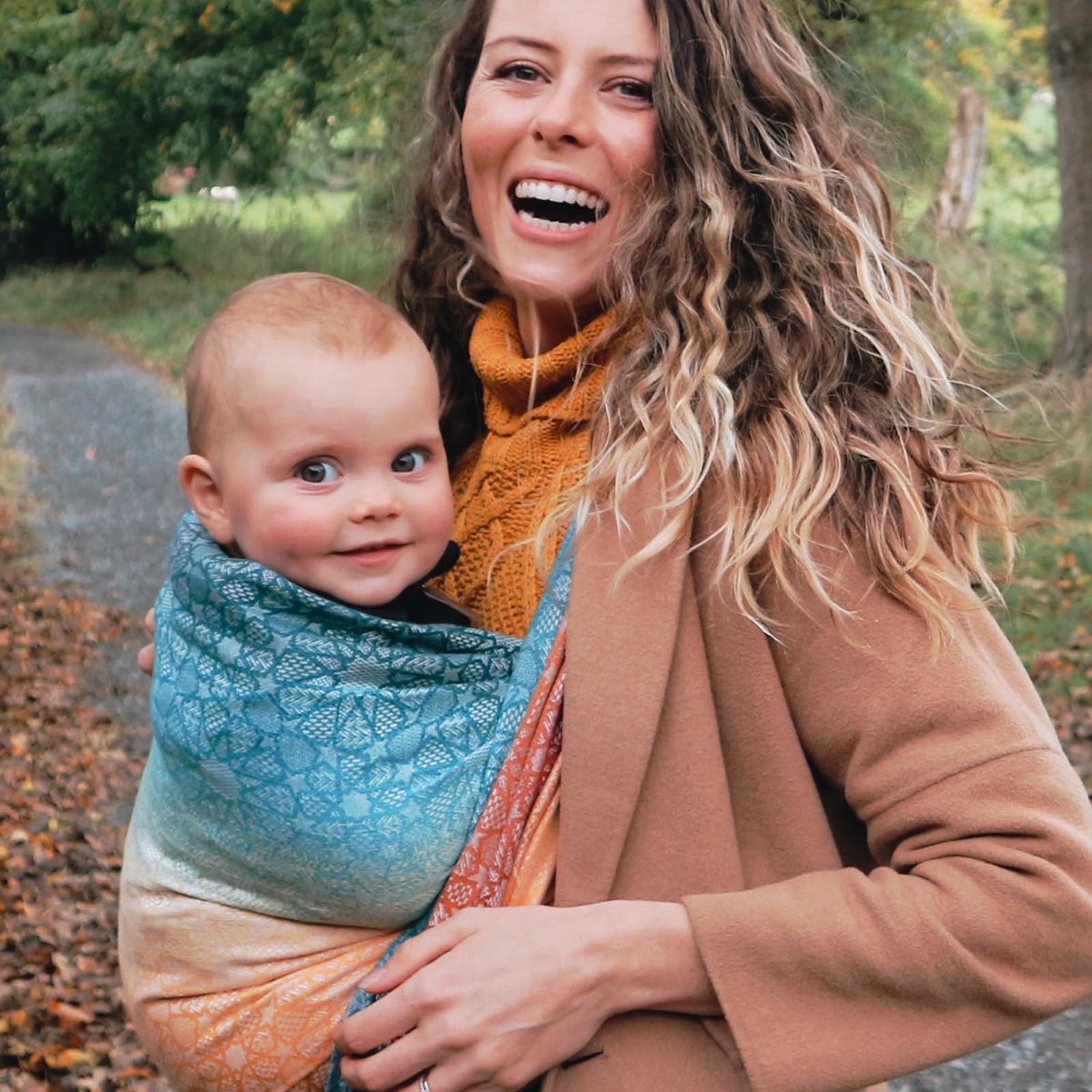 Bamboo Viscose
Pure bamboo blends can also be great in cooler weather, giving wraps a lovely cushy thickness while maintaining a high level of breathability. Bamboo's moisture-wicking properties are also a bonus if you get a little hot with your little one wrapped close.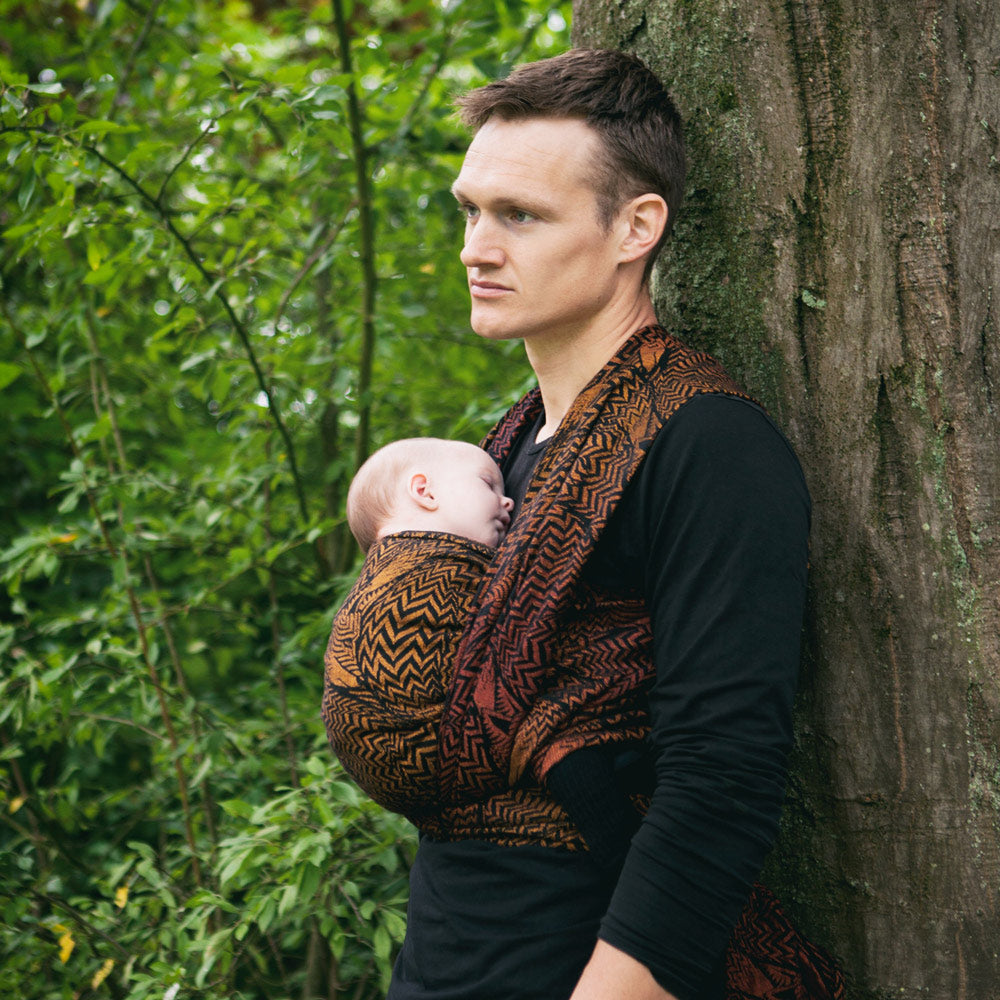 Silk, linen & hemp
These yarns are strong, temperature regulating and breathable making them a great choice for winter carrying.
How to keep warm in the winter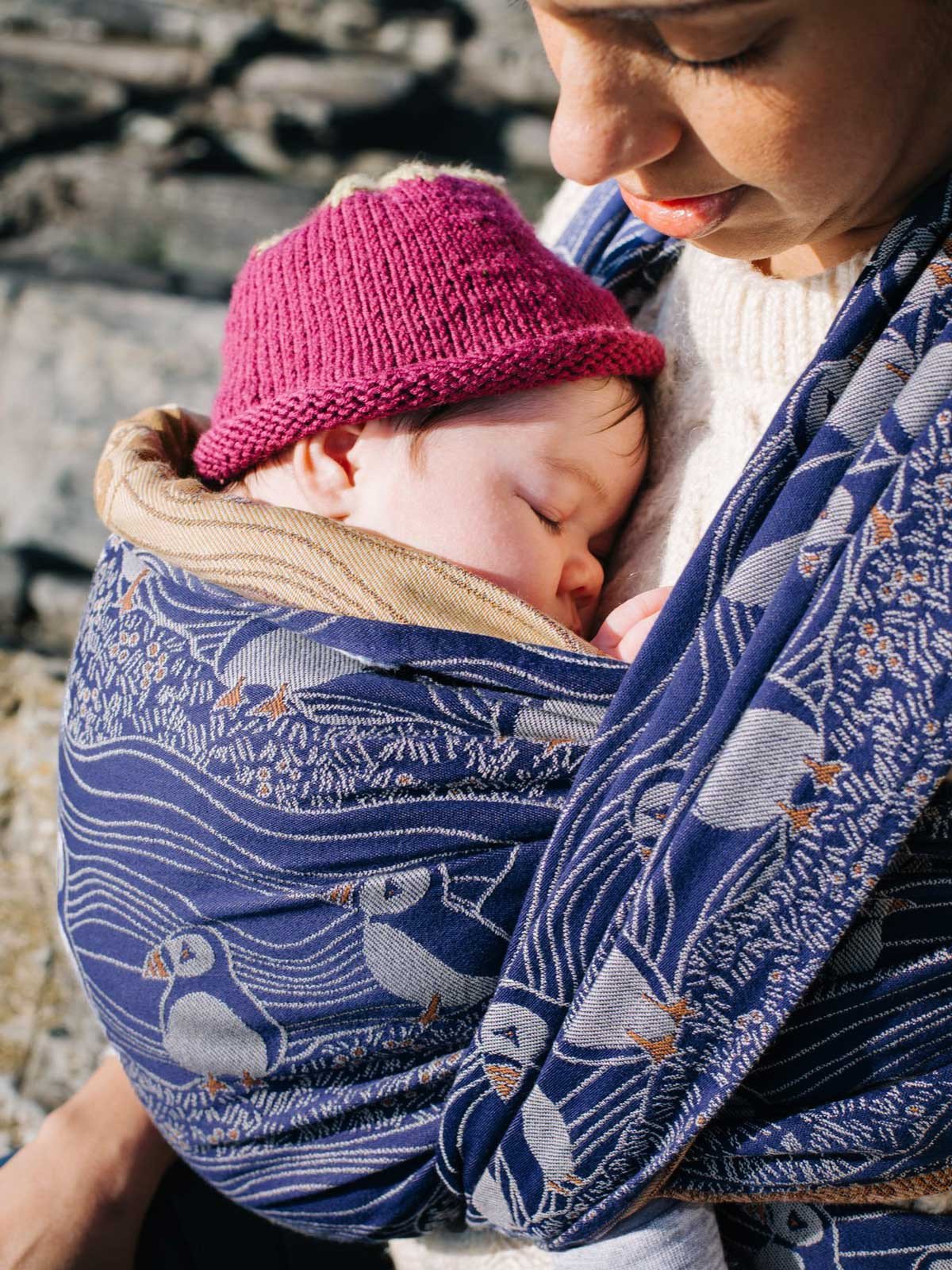 Keeping Your Little One Snug
Keeping your little one's head, fingers and toes toasty is important to consider in winter weather.

Layers are the key to winter wrapping: lots of thin layers for you and your little one will make sure you are both toasty without the bulk. Using layers also means you can quickly and easily remove items of clothing if your child starts to overheat. Similarly, more layers can be added easily if the weather takes a chilly turn.

Hats, gloves, socks and thermal booties are a must for winter carrying – any exposed skin on bitter days should be avoided! Woollen tights are a great way to avoid a gap appearing between socks and shoes … tights can be perfect for boys and girls, especially when they are very small and might not be able to alert you to their chilly ankles!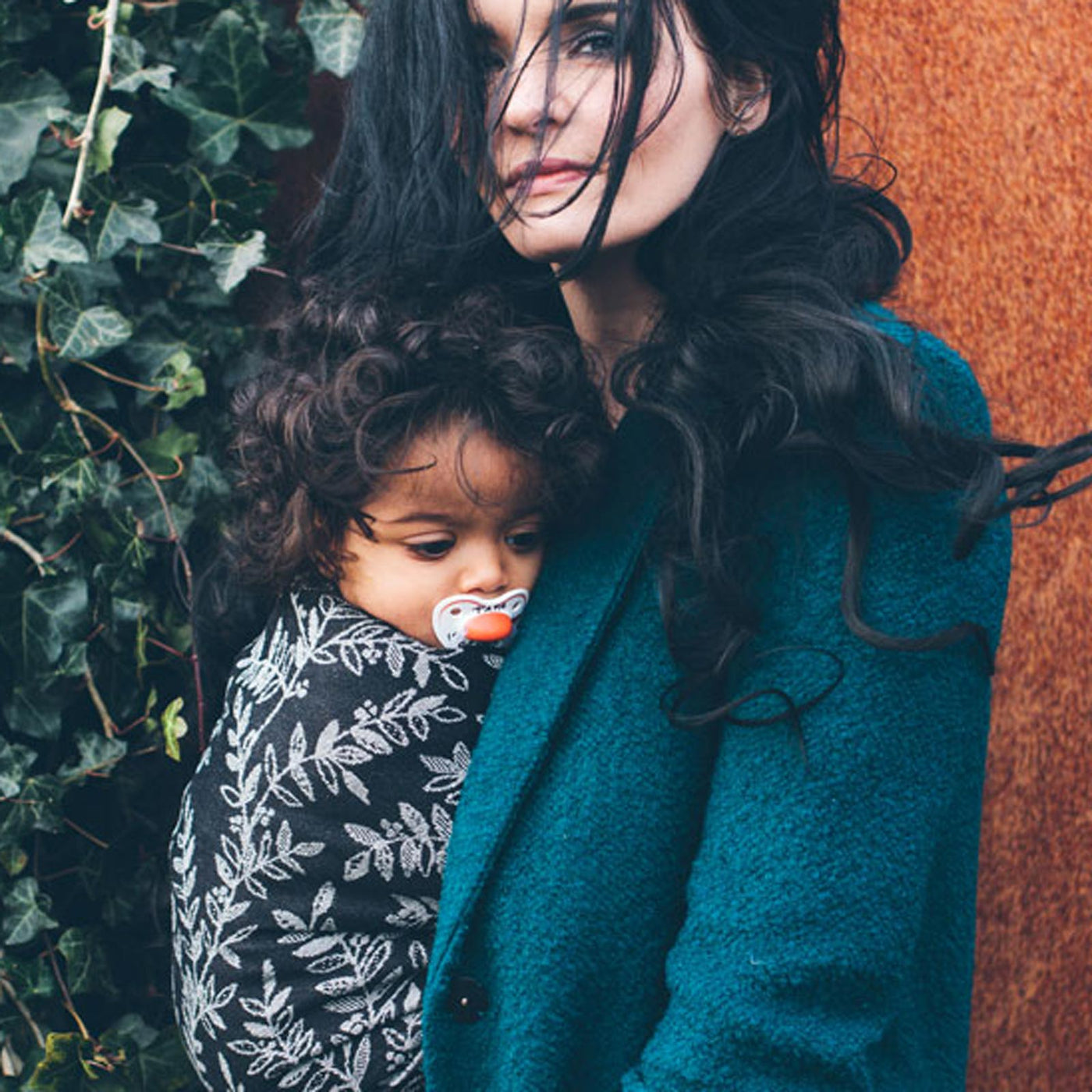 What Should You Wear?
There are many different options for keeping you and your little one toasty in cold weather.
Wrapping Under a Normal Coat
This can be a great option for newborns or very little children. This method has the benefit of keeping your child close to your natural body heat – meaning they will find it easy to regulate their own body temperature and you will soon know if they are overheating.
Top tip: If you choose a double-breasted coat then you can wear it with and without your little one!
Using a Babywearing Coat
This is a very popular option and there are many different styles available. They are generally easy to use and often have a panel that you can insert to make the coat big enough to fit around you both, whilst still having the option to wear as normal when baby is not being carried.  They often function to allow back and front carrying too!
Another approach is a zip-in panel for your existing coat. These can be bought separately, for use in any coat with a zip. This is great for people who would prefer to modify their existing clothing rather than buy a whole new coat! Of course, this wouldn't work for back carrying.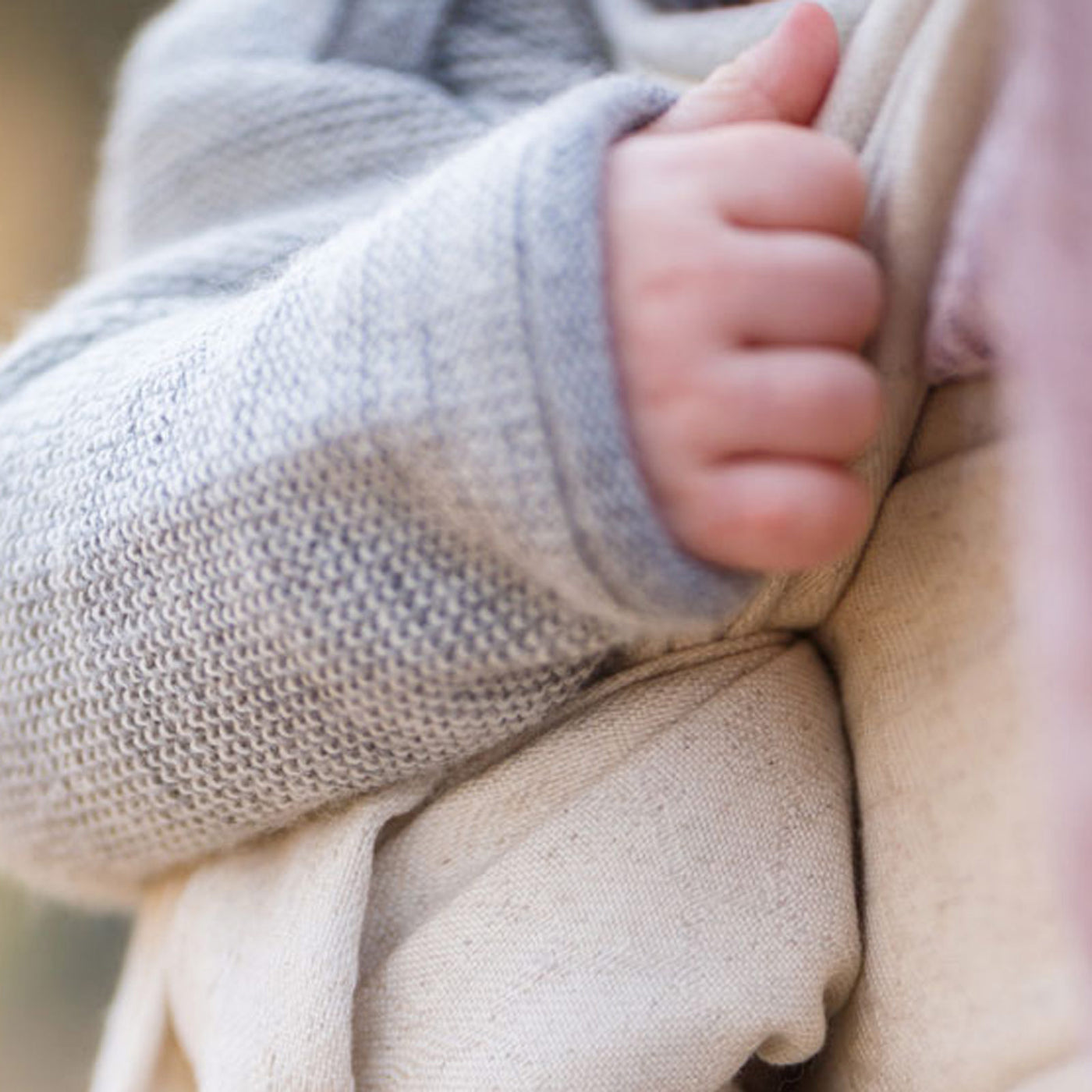 Carrying Over Your Coat
Layering your child up in their warm clothes is essential if you are going to carry this way, as you will be sharing less body heat. This is a really nice option for those with bigger kids who want to be up and down regularly.
A Cairis or ring sling can be a great option when carrying over a coat, as they are easier to tighten and get a snug fit, even with the extra fabric underneath you both.
If you are going to wrap over your coat consider the extra bulk involved in this method. You may need a longer wrap than usual, and it may be harder to get a snug fit for your little one. Do ensure your coat is snug against you to avoid any slipping and take an extra few minutes to check your child's position & comfort before setting off!
Simply Layer Up & Forget The Coat
This was Oscha CEO, Zoe's, favourite method when she was carrying her kids. Making sure everyone is bundled up and cosy, with coats, booties, gloves and hats for the kids.
"I would just put on a cosy jumper along with hat and gloves. I found that using a long (preferably) wool-blend wrap and the heat of my little one was plenty to keep me cosy on long winter walks. It was like having a wee hot water bottle!" - Zoe, Oscha's Founder
A Double Hammock is a nice carry for this method as you get wrapped up too. Again, make sure that you are achieving a snug carry when using this method.
An oversized hoodie or cardigan can be worn over the top of both of you to make this method even more toasty!
Choosing a Carry
Carries with multiple passes are advised for cold weather wrapping, these passes act as an extra layer of support and warmth for your little one!
Why not try a Double Hammock (this one wraps you up too!) or a Front Wrap Cross Carry with spread passes?