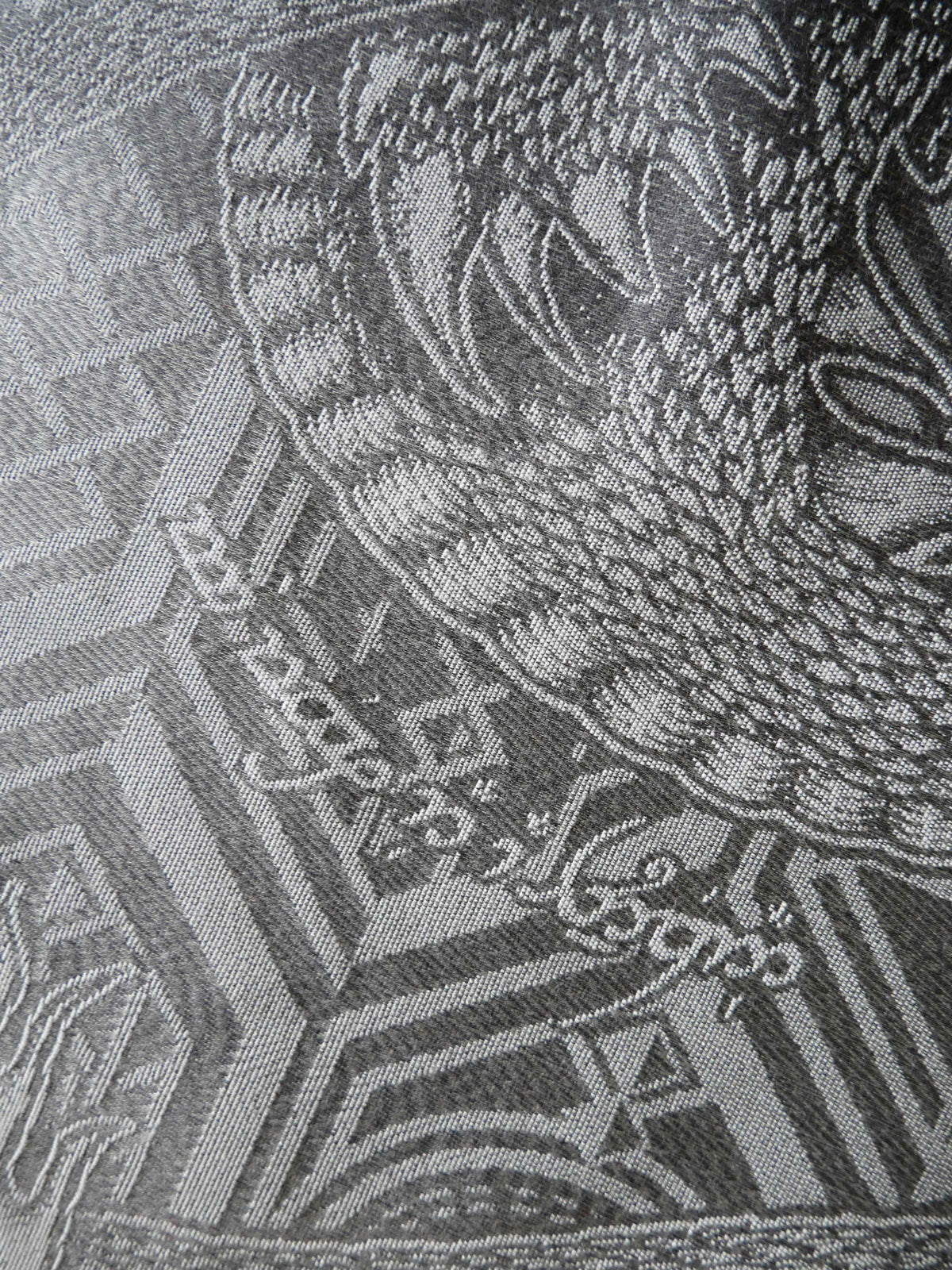 Smaug™ Wings of Steel Fabric Pieces
A fusion of our much-loved Smaug and Oakenshield patterns features on a beautiful Mako... Read more
Only 2 left in stock
Best sellers
Fabric Pieces for Crafting
Jewel Tones
Lifestyle
Middle-earth
Middle-earth™ Fabric Pieces for Crafting
Middle-earth™ Lifestyle
Middle-earth™ New arrivals
Neutral Tones
New arrivals
Not in Sale
Shop All
Smaug
A fusion of our much-loved Smaug and Oakenshield patterns features on a beautiful Mako cotton gradient of silvers. The fearsome dragon is picked out in Bamboo viscose which alternates with wild silk and cotton. The play of these yarns against the smooth shine of Mako cotton provides a delightful contrast which gives the fabric grip and definition.
An intricately detailed, silvery Smaug appears against the steel lustre of Dwarf shields. Beneath the great beast Elven script translates as, "My teeth are swords; my claws are spears! My wings are a hurricane." This iconic quote, spoken by Smaug himself, echoes the dragon's immense power and the unstoppable force he represents and the challenge facing Thorin and his company.
This fabric is incredibly soft and thin in hand. The eye-catching pattern and stunning shine make this a statement piece that's perfect for any Tolkien fan.
CARE INSTRUCTIONS: Hand washing is recommended, although a silk cycle on a known reliable machine may be used at your own risk. Use a suitable silk detergent. Hang to dry, avoiding direct sunlight and iron on a cool setting.
FABRIC COMPOSITION: 49% Mercerised Egyptian Mako Cotton 31% Bamboo Viscose 10% Wild Silk 10% Cotton
FABRIC WEIGHT: 256gsm
Perfect for crafters, this is a fantastic opportunity to purchase a piece of one of our iconic fabrics. 
Why choose Oscha Fabric Pieces?
Perfect for crafters!
Jacquard woven & made with organic, responsibly sourced yarns.
Ethically handcrafted in our solar powered Scottish workshop.
The fabric pieces come unhemmed in either 0.5m, 1m or 1.5m long x approximately 70cm wide (see details and care tab for exact width of each fabric).
*Please note our fabric is only available in the lengths you select, multiple purchases will be sent as separate pieces.
Smaug is the fearsome dragon who ousted King Thrór and the Dwarves of Erebor within the Lonely Mountain. Smaug was "the greatest of the dragons of his day", after driving the Dwarves out of the Mountain he remained for the next 150 years guarding his hoard before the arrival of Thorin Oakenshield and co. to oust him with the help of Bilbo and Gandalf.
This illustrative design was based on the wonderful descriptions of Smaug in The Hobbit, with his fiery red scales and magnificently menacing features. Intricate scales cascade down Smaug's back as a fireball erupts from his awesomely powerful jaws, falling across his wings in an incomparable depiction of the mighty beast slain by the Bard at Laketown.
"My armour is like tenfold shields, my teeth are swords, my claws spears, the shock of my tail is a thunderbolt, my wings a hurricane, and my breath death!" - Smaug.