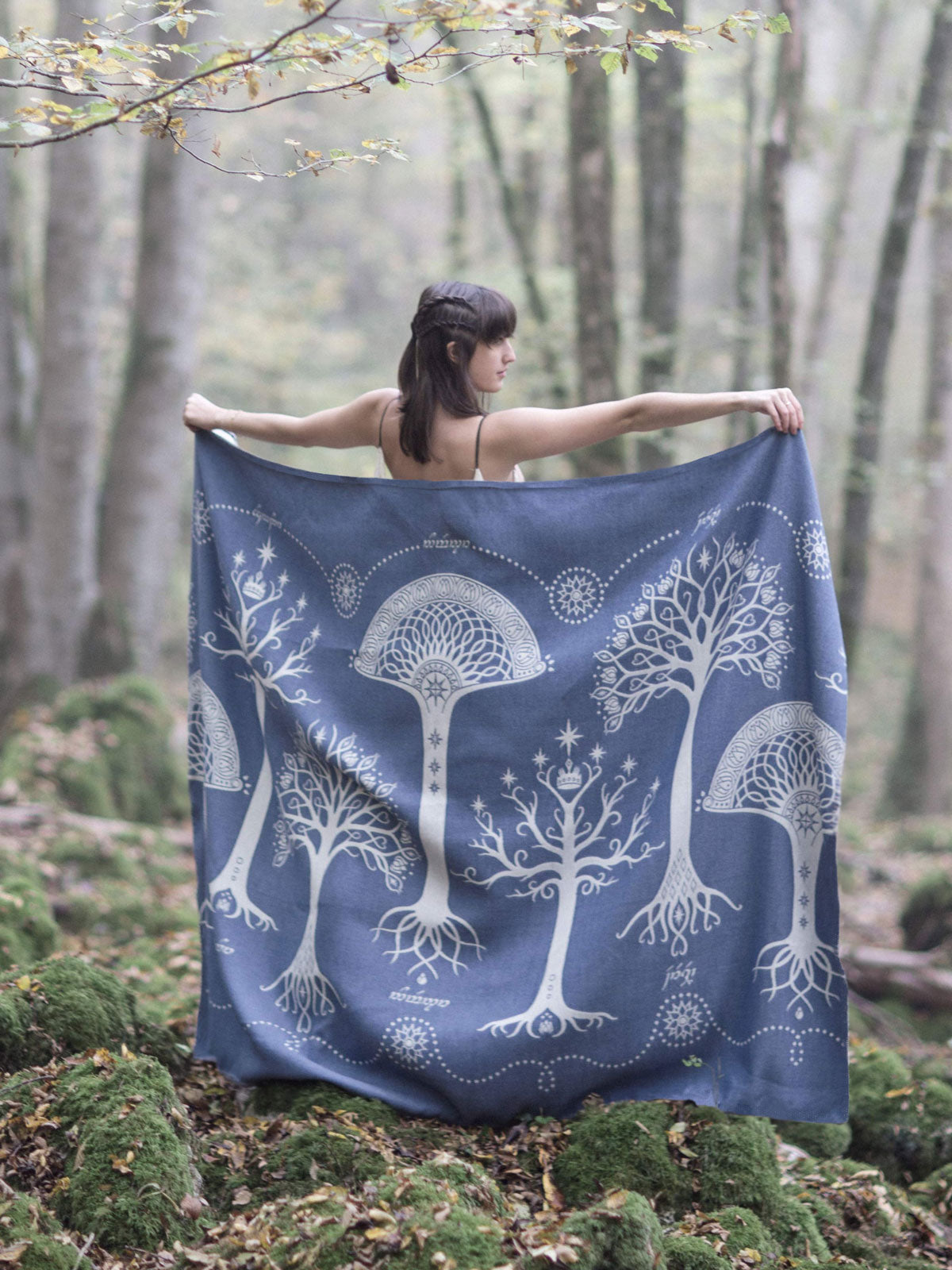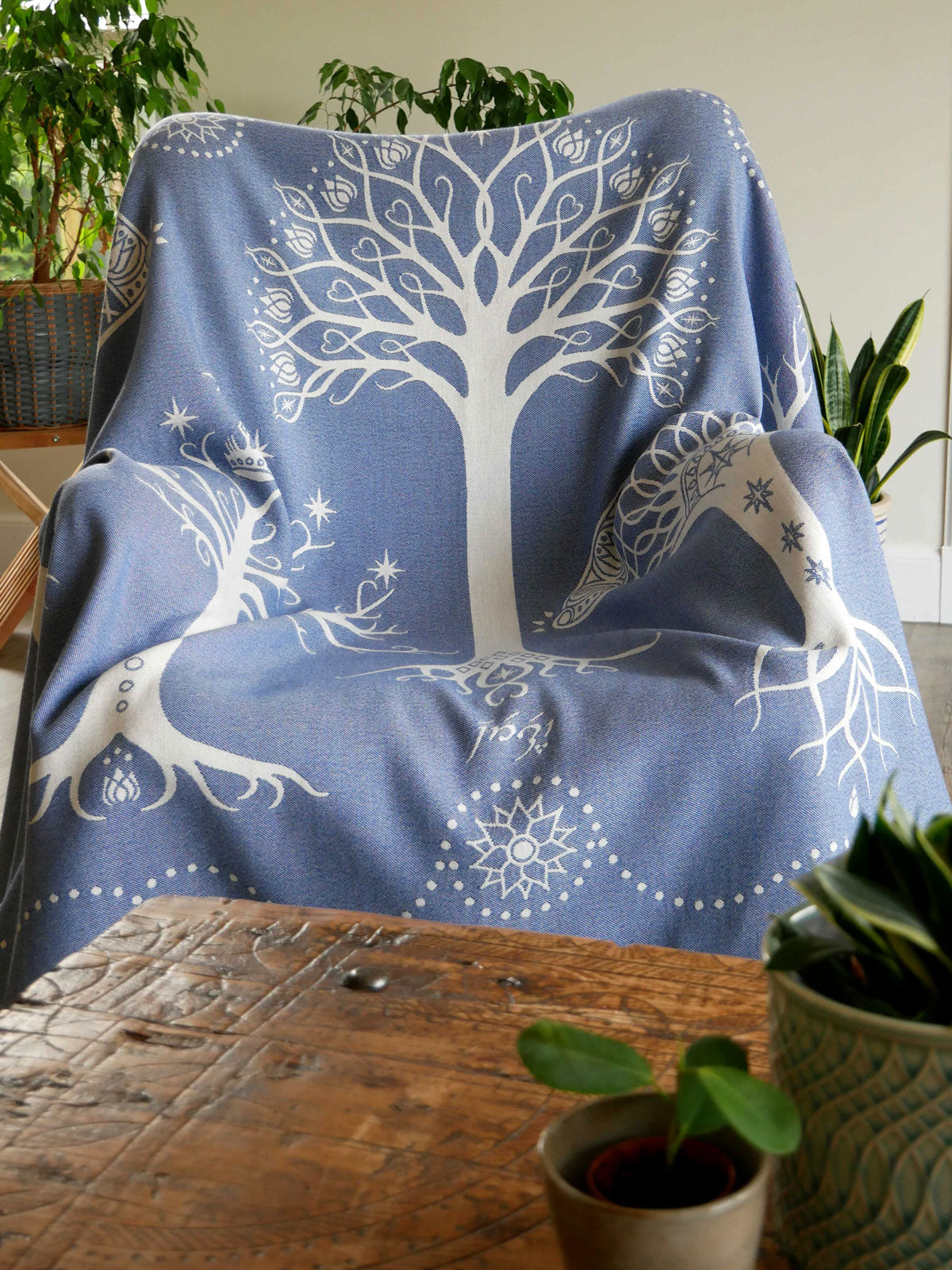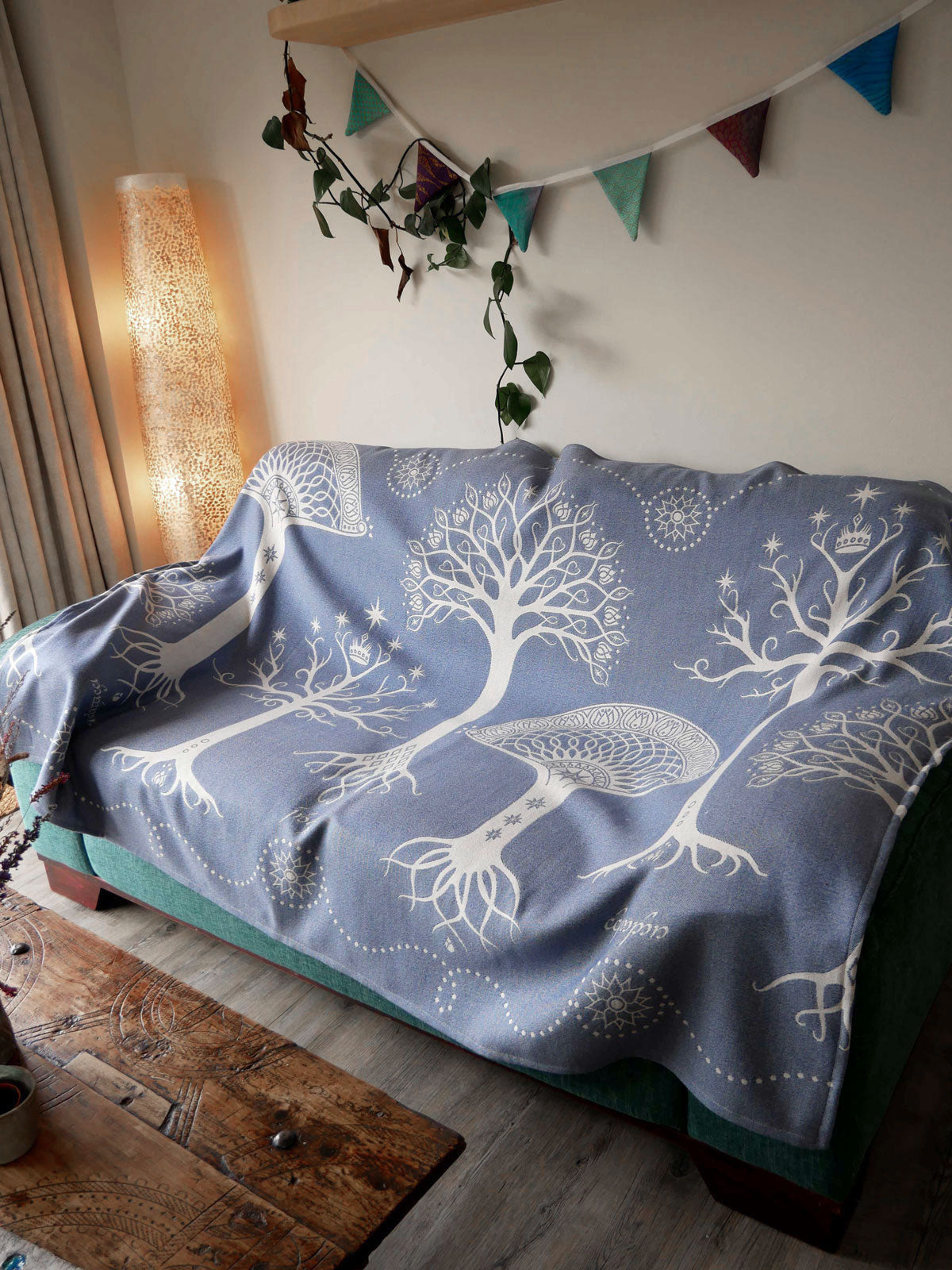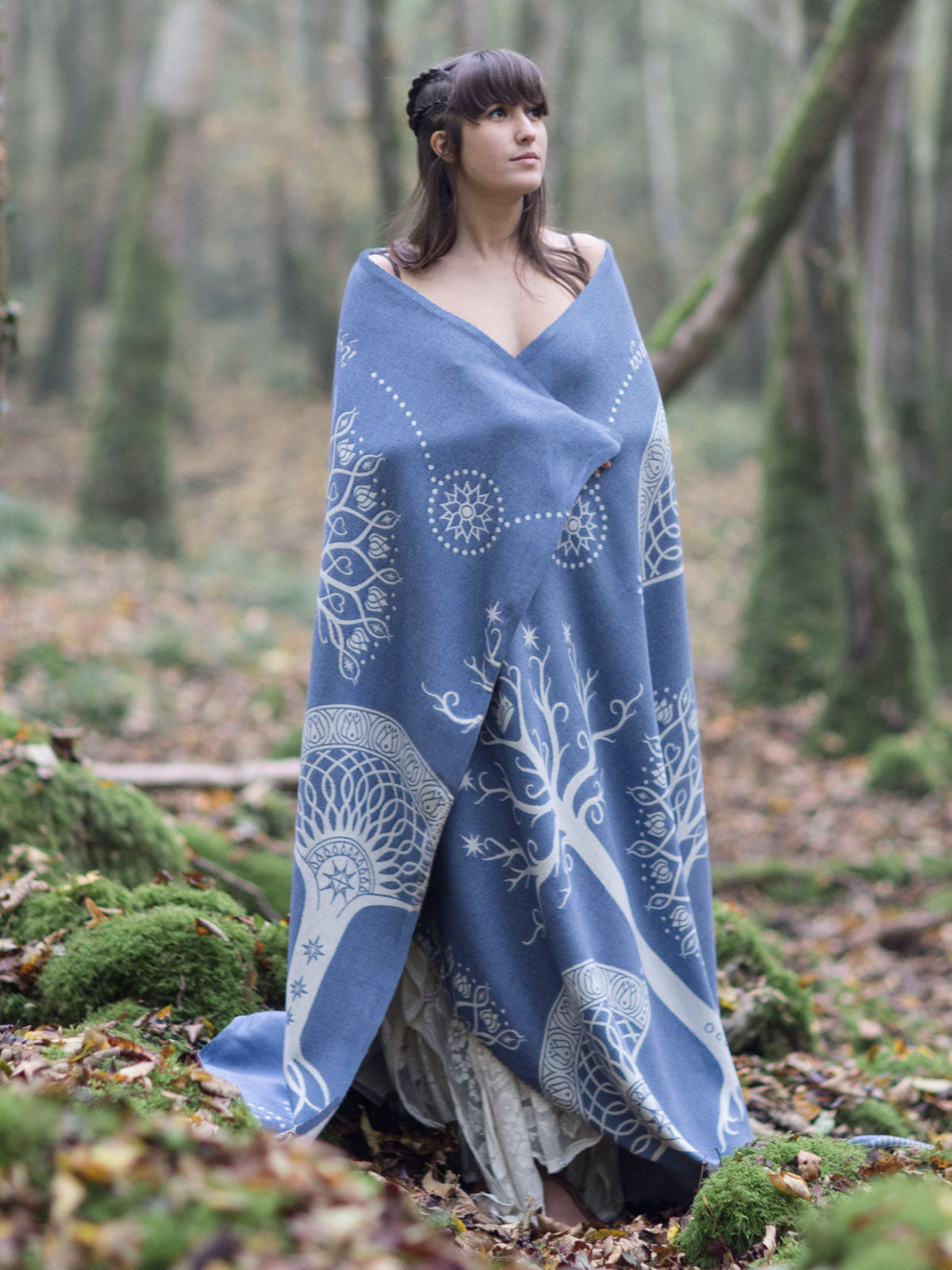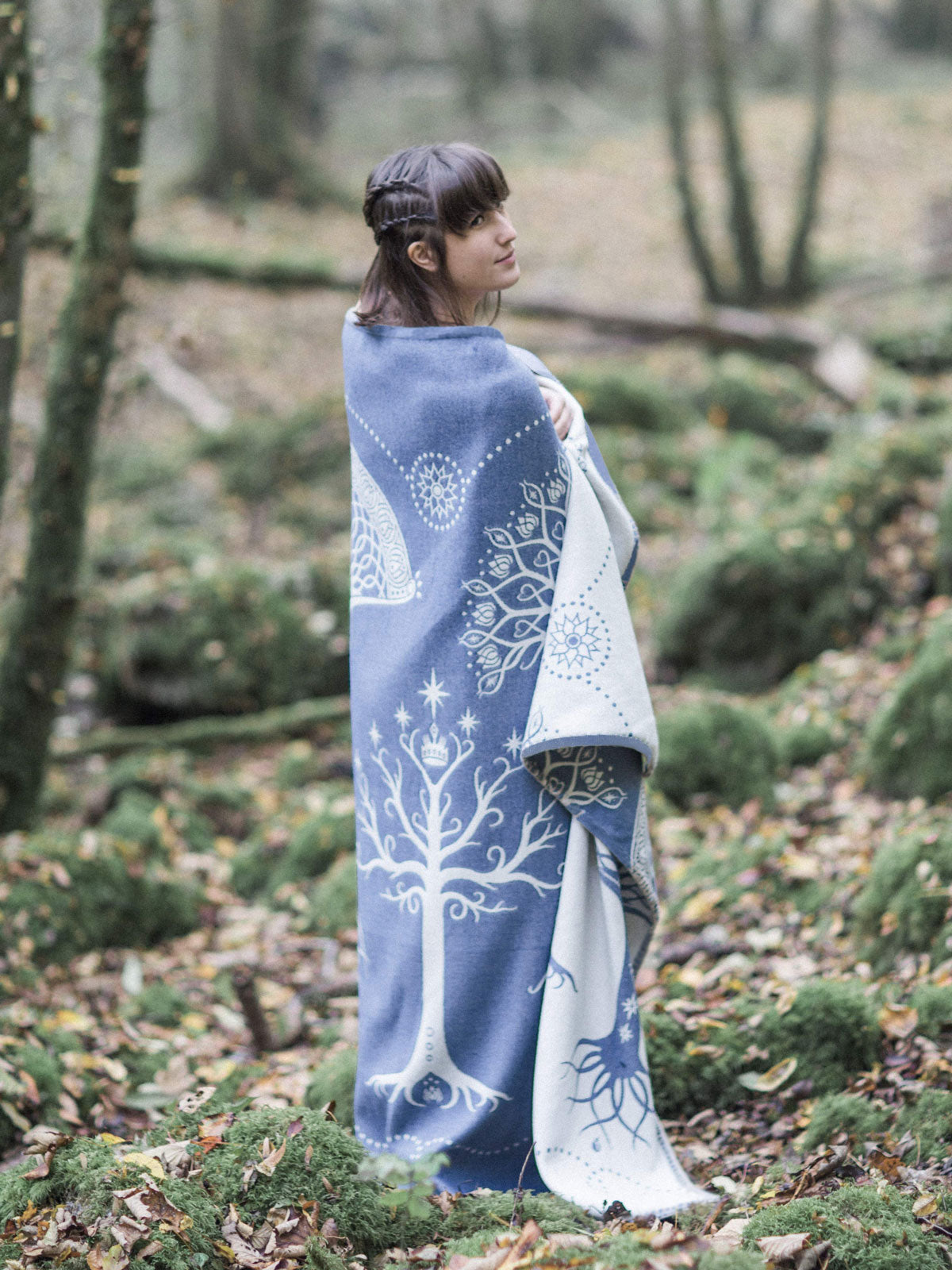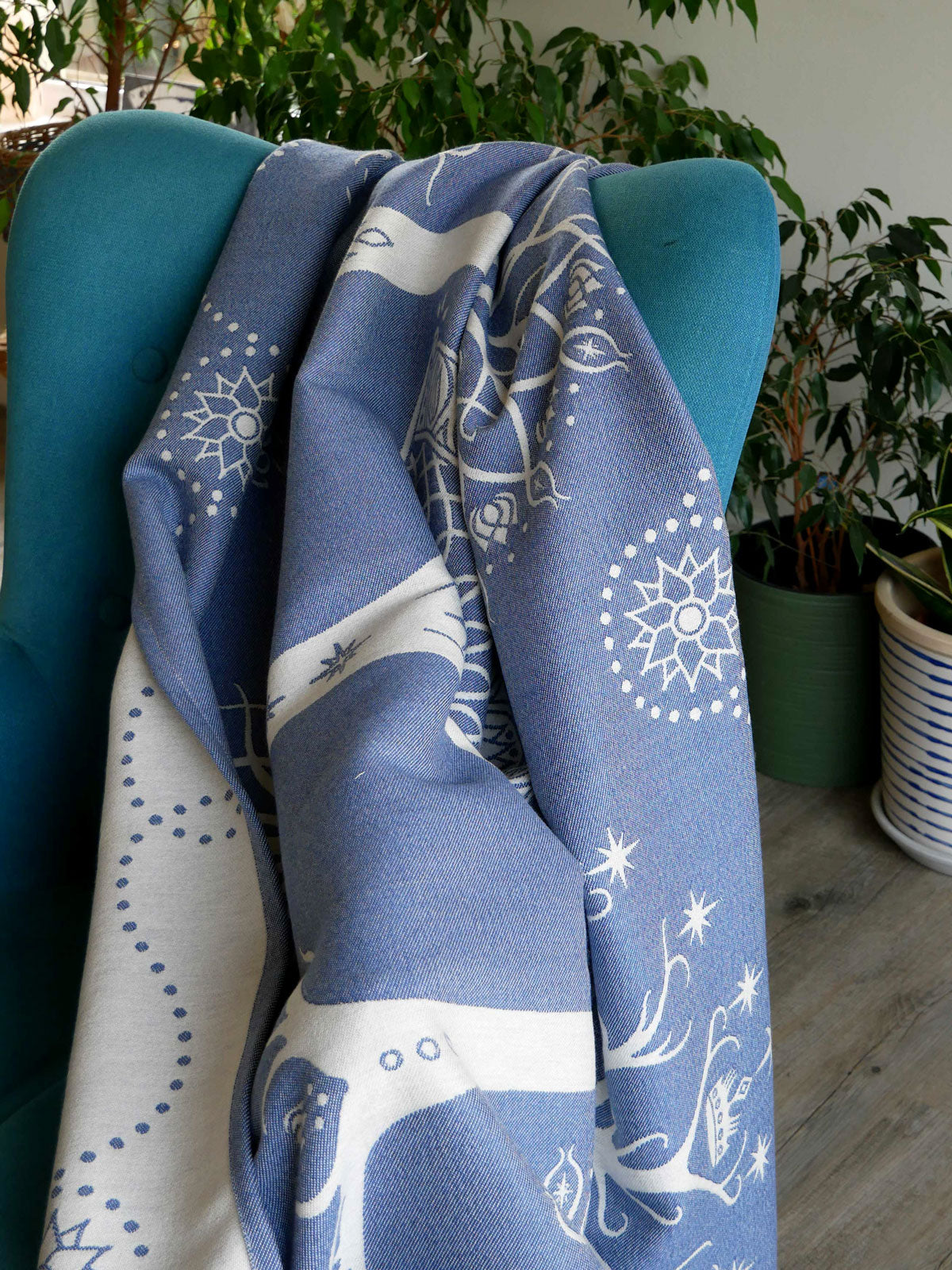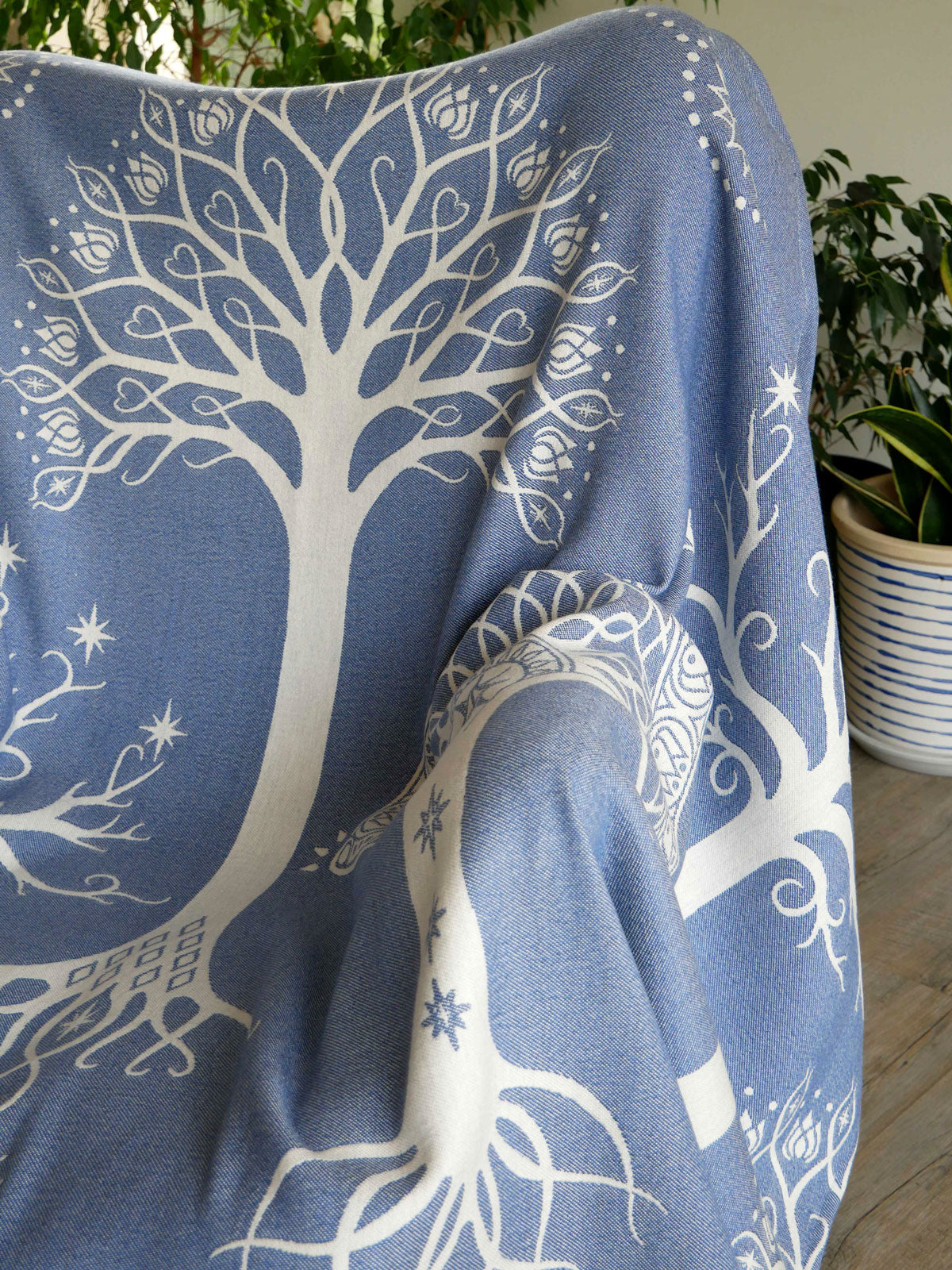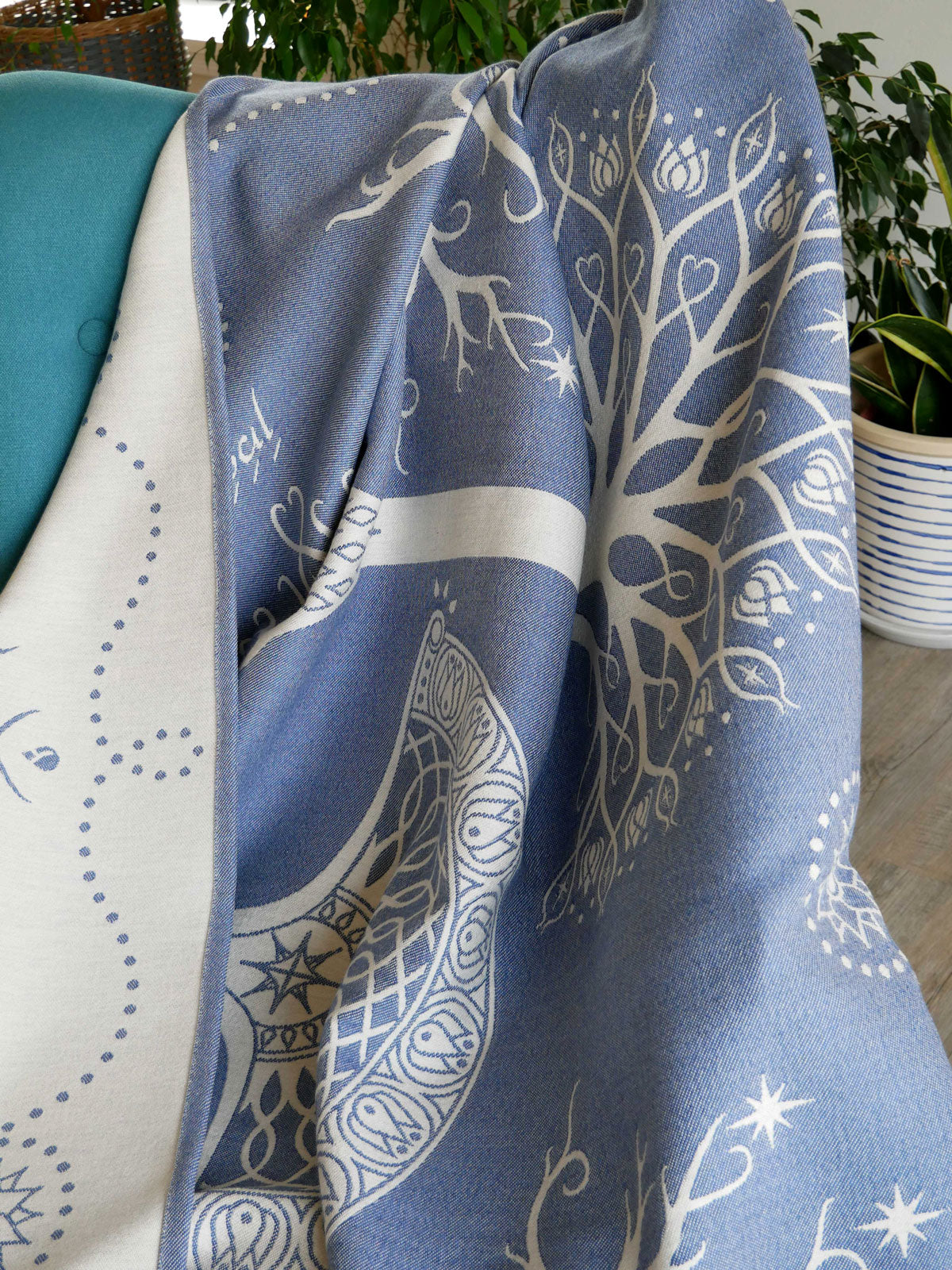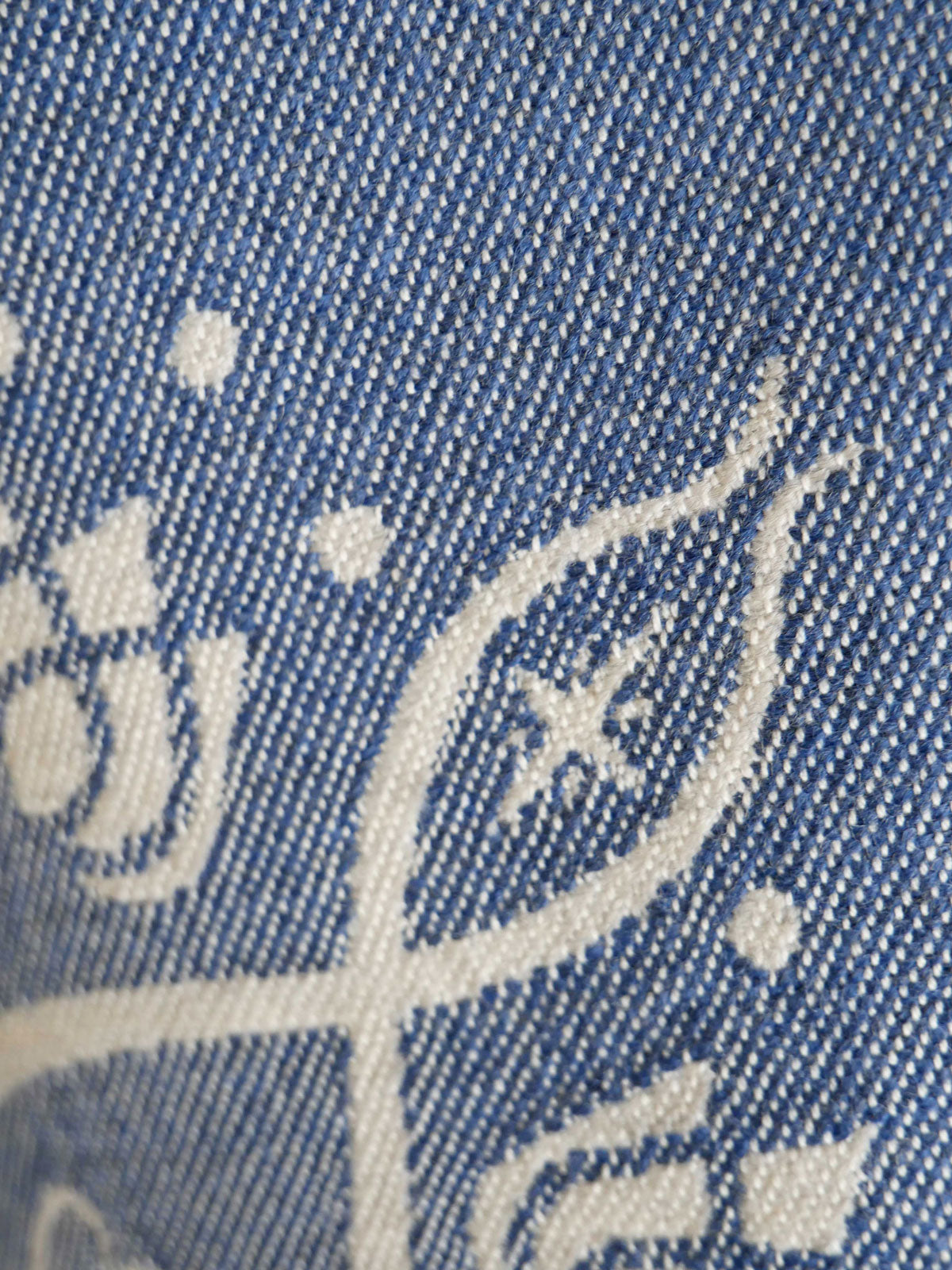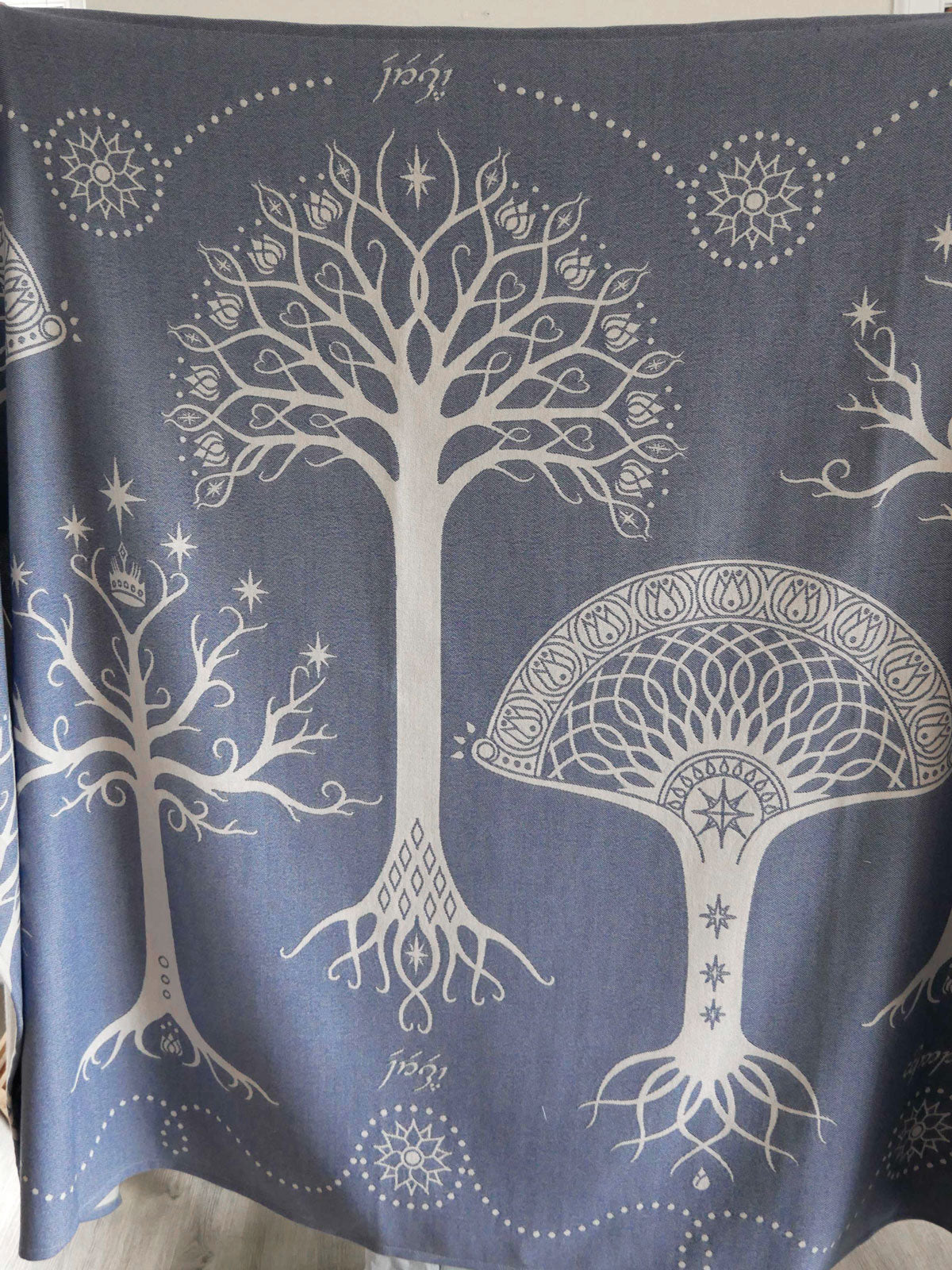 Ancients of Gondor™ Hîth Cashwool Throw
✔ Cosy throw
✔ Cashwool & organic cotton blend
A beautiful slate blue and soft white... Read more
Ancients of Gondor
Best sellers
Christmas Shop
Classics
Gifts for Middle-earth Fans
Lifestyle
Middle-earth
Middle-earth Classics
Middle-earth Mother's Day Shop
Middle-earth Throws, Baby Blankets & Cushions
Middle-earth™ Lifestyle
Neutral Tones
Not in Sale
Shop All
Teals/Blues/Greens
Throws, Baby Blankets & Cushion Covers
✔ Cosy throw
✔ Cashwool & organic cotton blend
A beautiful slate blue and soft white Cashwool throw with the iconic Tree of Gondor motif. This merino wool blanket design is inspired by the world of Middle-earth in The Lord of the Rings™. 
Cashwool is a superfine mulesing-free merino wool yarn that is soft to the touch. This beautiful blanket is temperature regulating and will keep you cosy in the cooler months. G
The trees in this pattern each represent part of the lineage of the White Trees of Gondor in the works of J.R.R. Tolkien. The original White Tree was much beloved by the Elves, it emanated silver light, and it is said the Moon was formed from its last silver flower and each tree thereafter symbolises divine qualities of goodness, wisdom and purity.
Snuggly and cosy, this throw is the perfect addition to any home - great for having over the sofa ready to cuddle up under on cool evenings or use as a runner on your bed. It will make a wonderful present for any Middle-earth & The Lord of the Rings™ fan. 
Temperature regulating merino wool throw
Beautifully soft - Cashwool is spun to be as soft as cashmere
Hand drawn design based on the world of J.R.R. Tolkien
CARE INSTRUCTIONS: Hand wash in cold water or dry clean. Do not tumble dry. Cool iron is recommended.

FABRIC CONSTRUCTION: 70% Cashwool, 30% Organic Combed Cotton.
FABRIC WEIGHT: 437gsm
Oscha Throws, Children's & Baby Blankets have been specially woven to make thick, cosy blankets, they feature our exclusively adapted patterns and are made from premium quality yarns. Our elegant throws are the perfect addition to any home. 
Why choose an Oscha Throw or Baby Blanket?
Cosy & snuggly, perfect for any home.
Feature iconic Oscha designs.
Woven in Great Britain from the finest yarns either velvety brushed organic cotton or softest Cashwool
Finished without the use of any nasties.
Throws - approx. 190cm x 135cm
Children's Blankets - approx 92cm x 124cm
Baby Blankets - approx. 90cm x 55 cm
Weight - about 400 gsm. See 'details and care' tab for specific weight information.
The White Tree is the emblem of Gondor, symbolising rebirth and the lineage of the Kings. Yet it also connects back to the very creation myths of the Middle-earth universe. Our Ancients of GONDOR pattern represents the long lineage of the White Trees leading up to and including the Tree of Gondor, as described in the Lord of the Rings and the Hobbit.
Stylised, flowing tree forms, reminiscent of Celtic knots, are bordered by a simple meandering line of dots, interspersed with the Elvish script, naming each tree in turn.
Learn more about the design in our blog post.