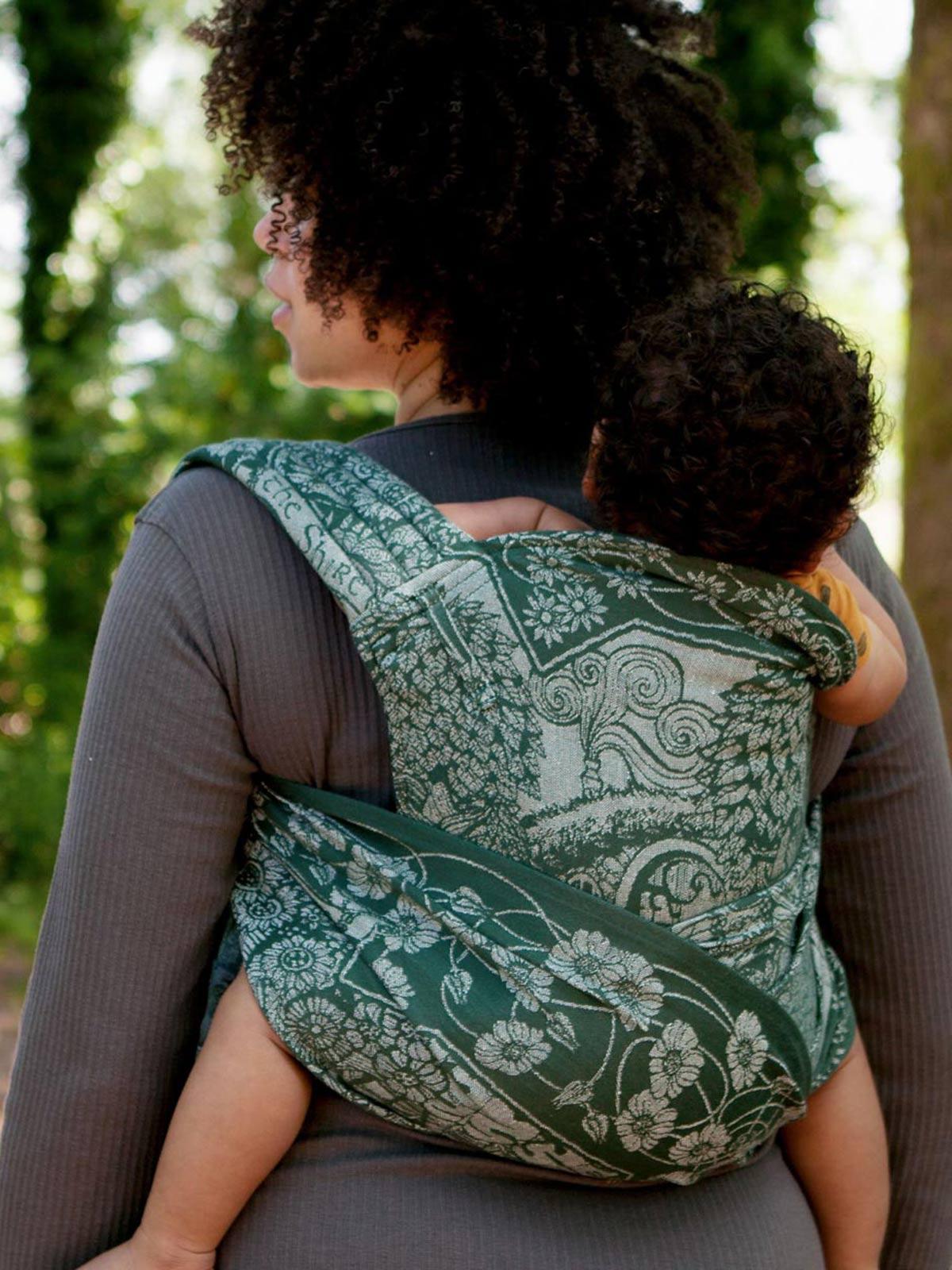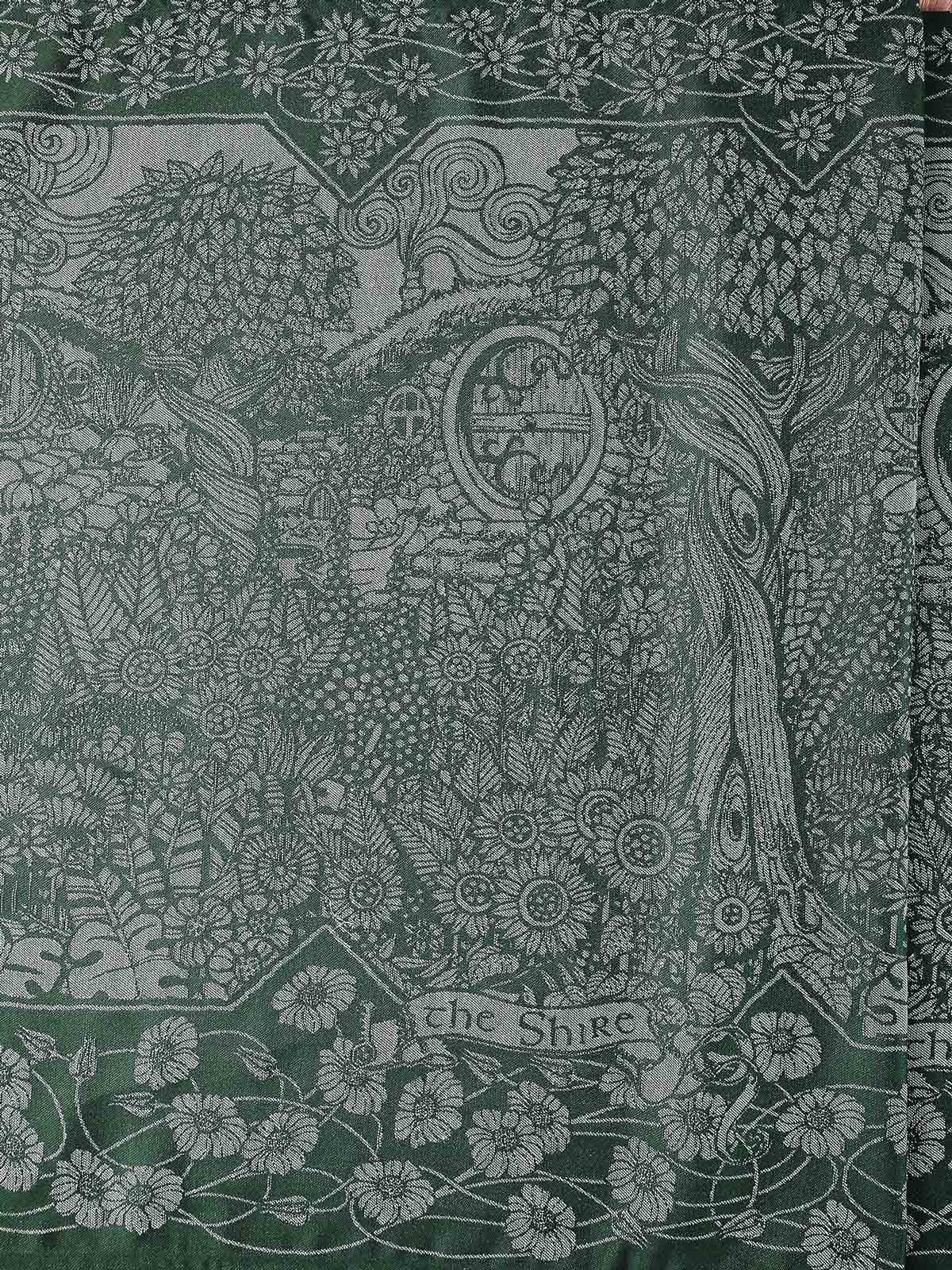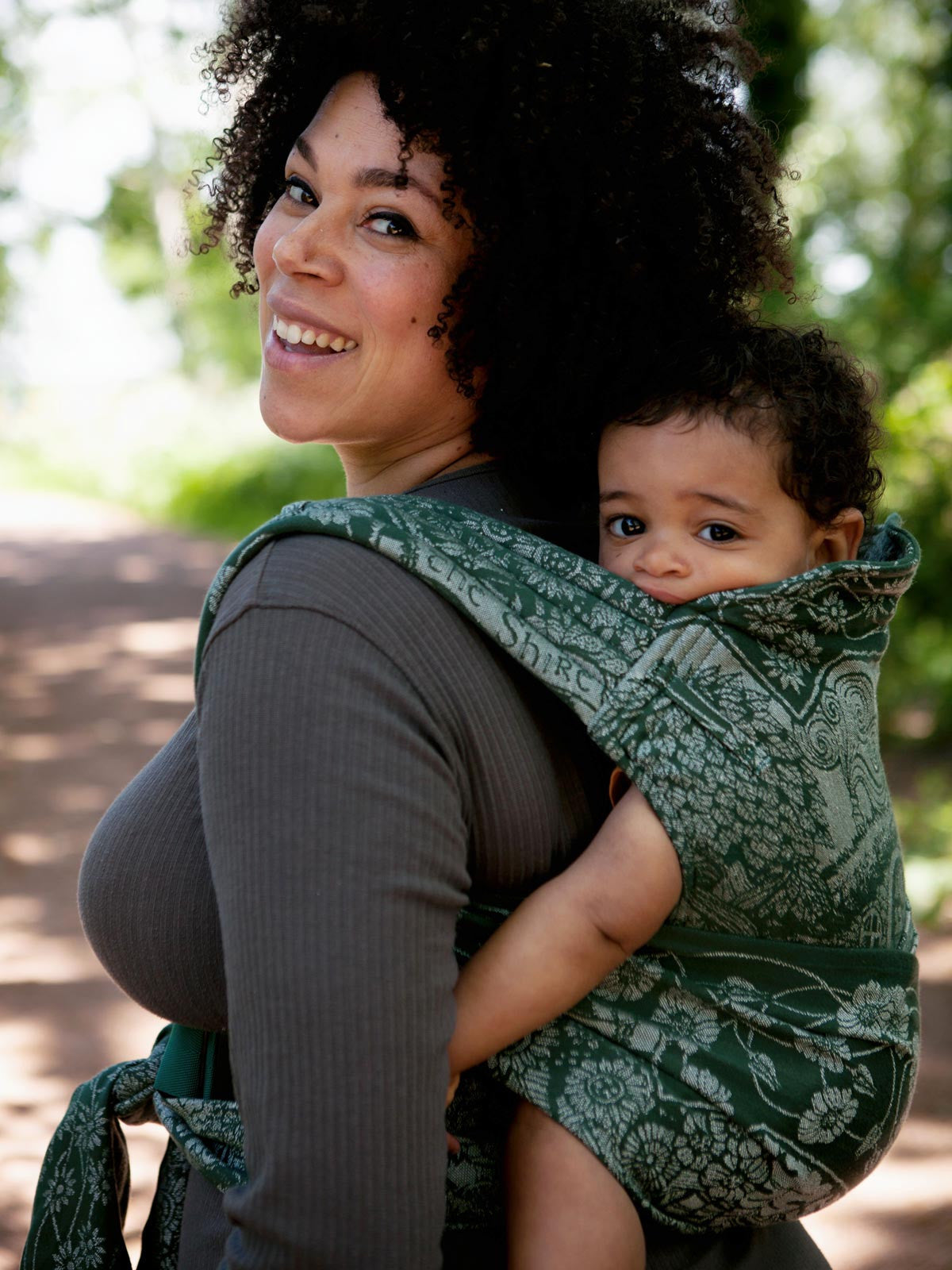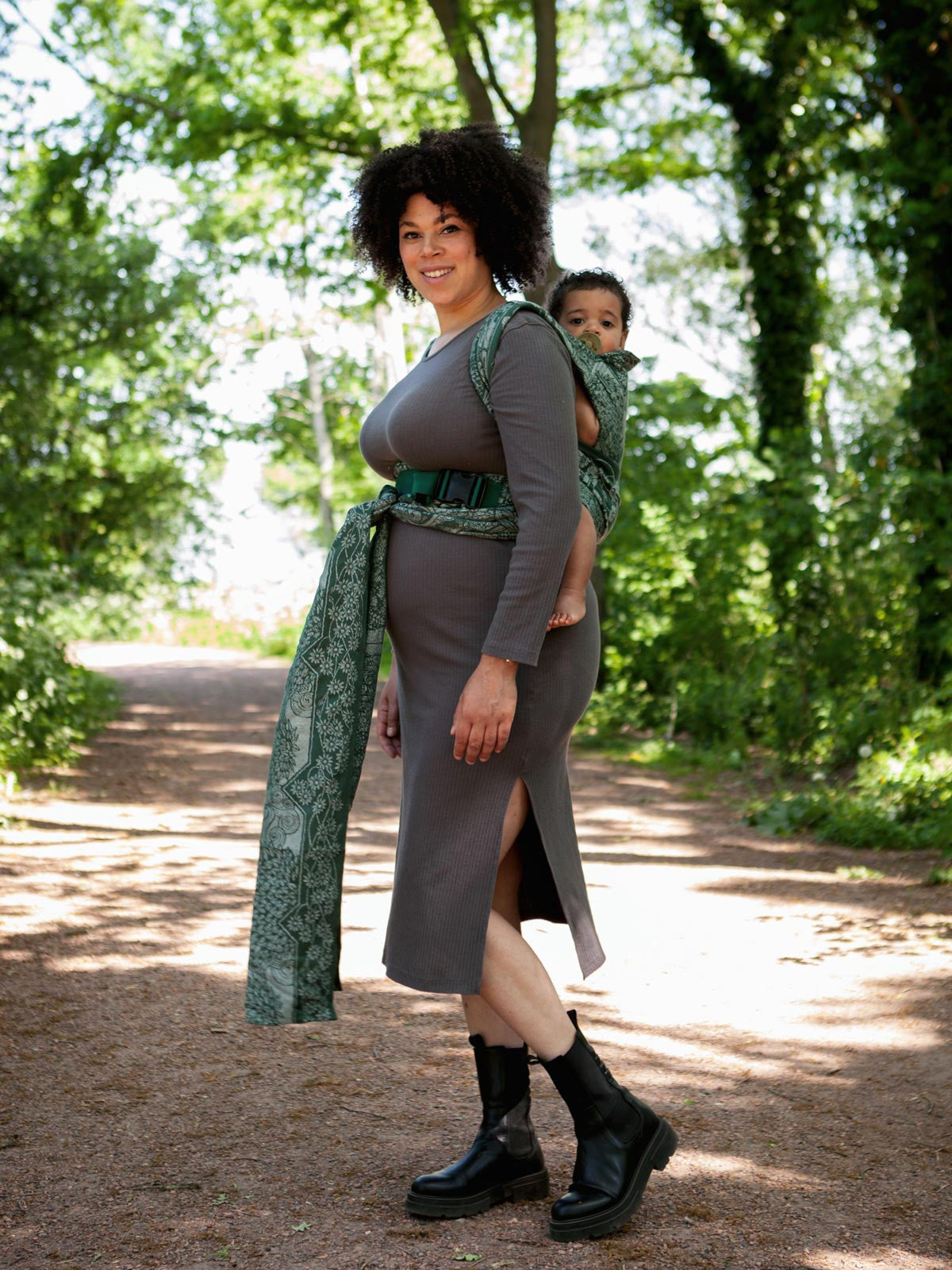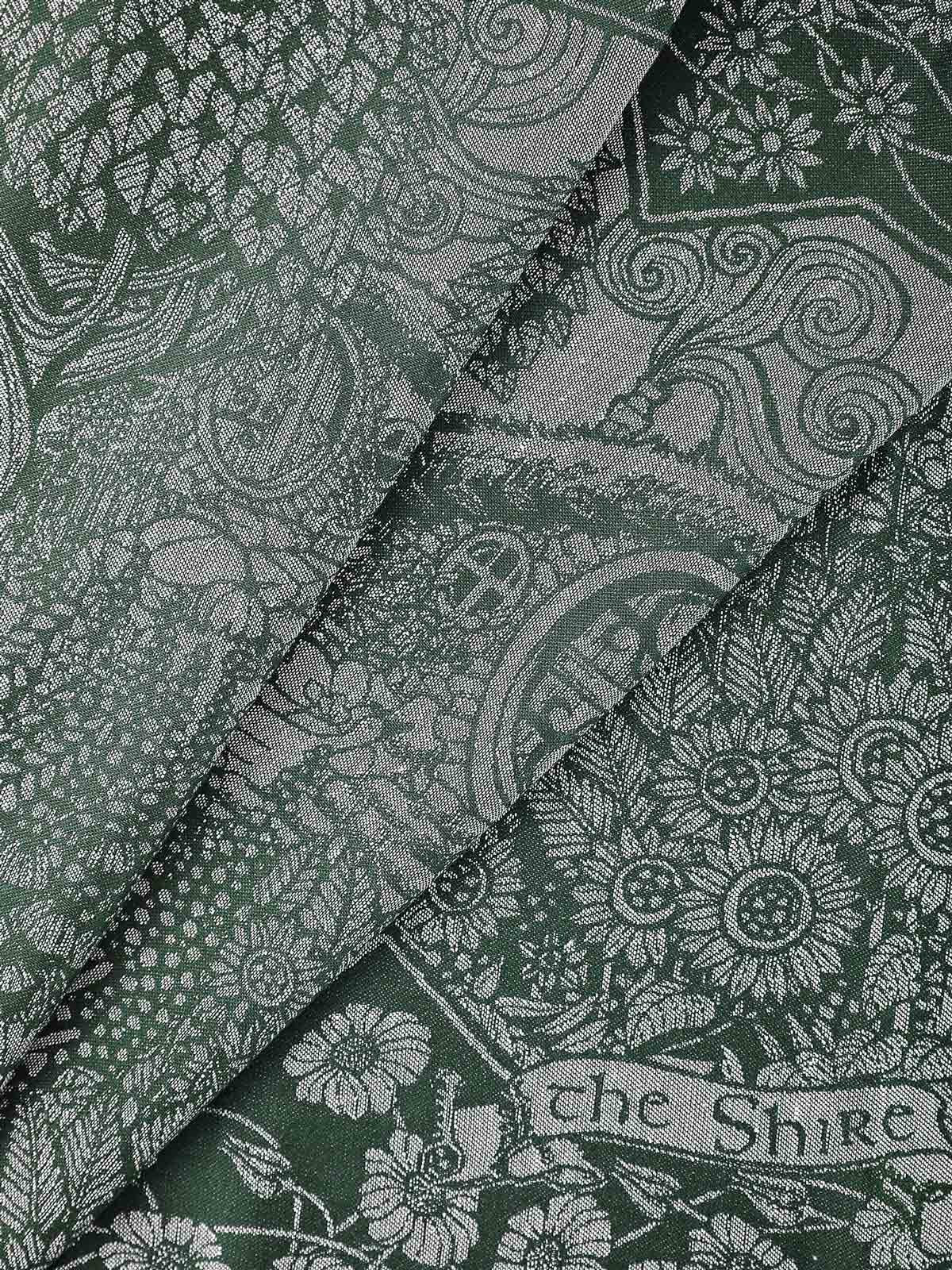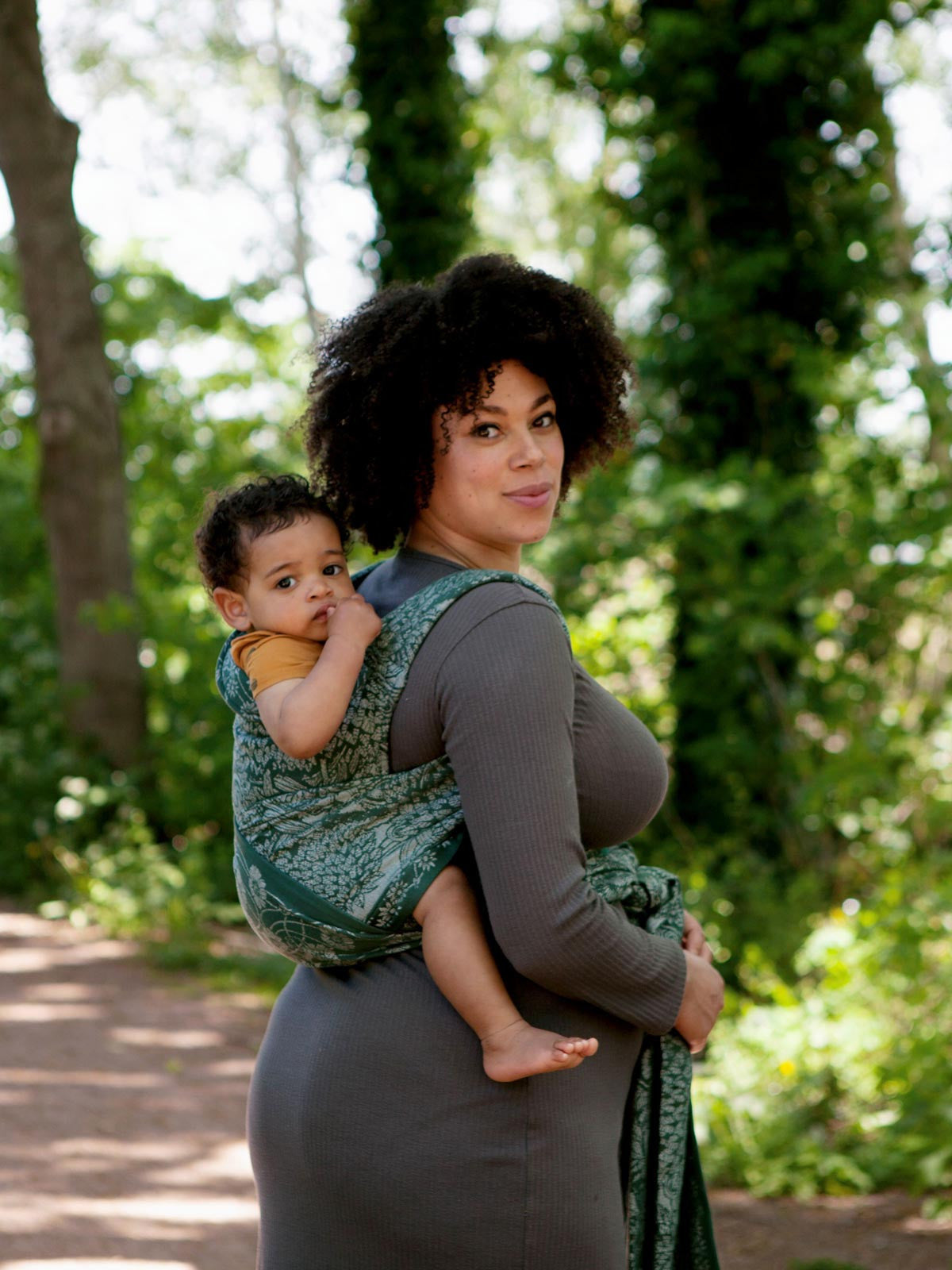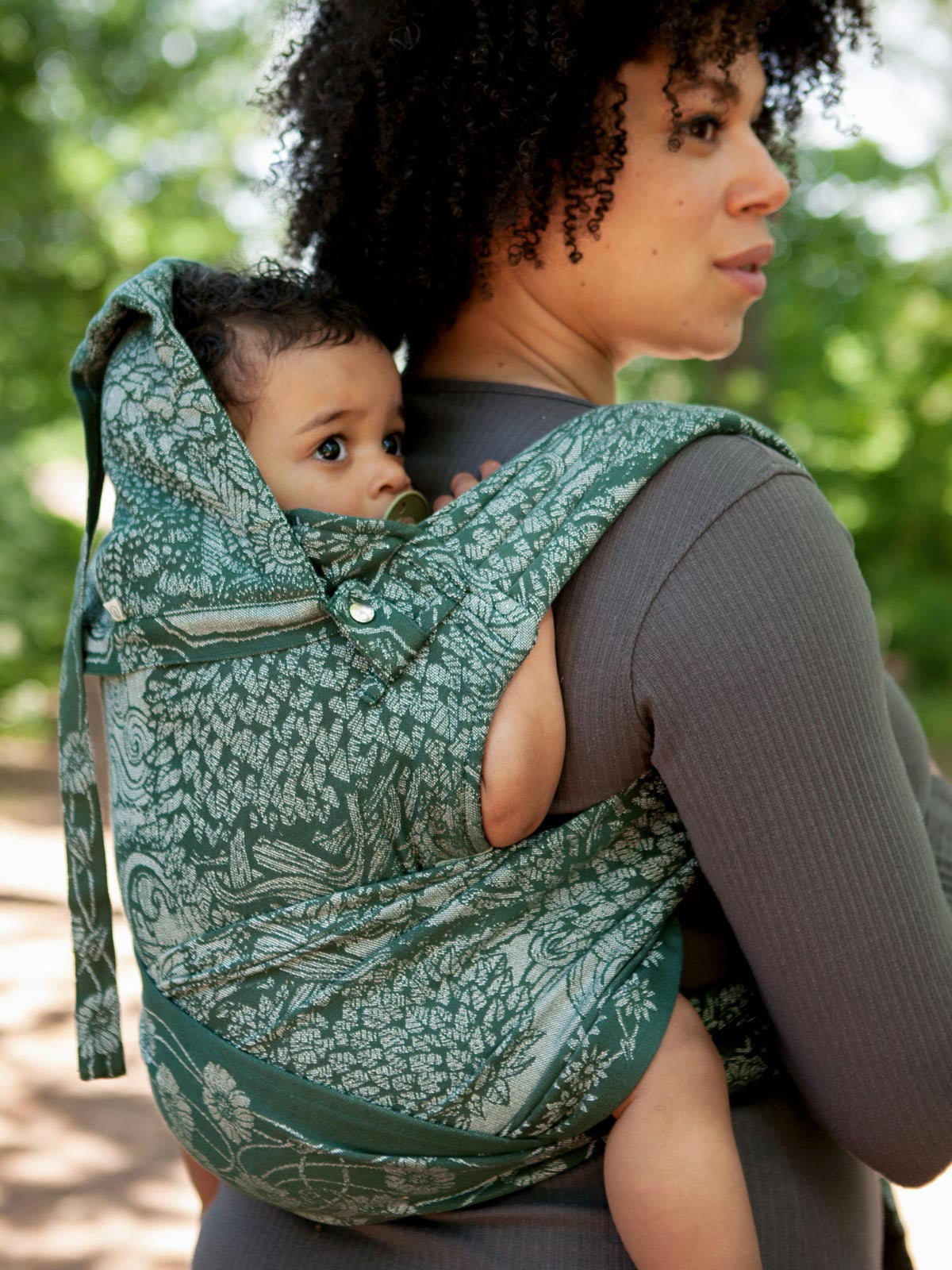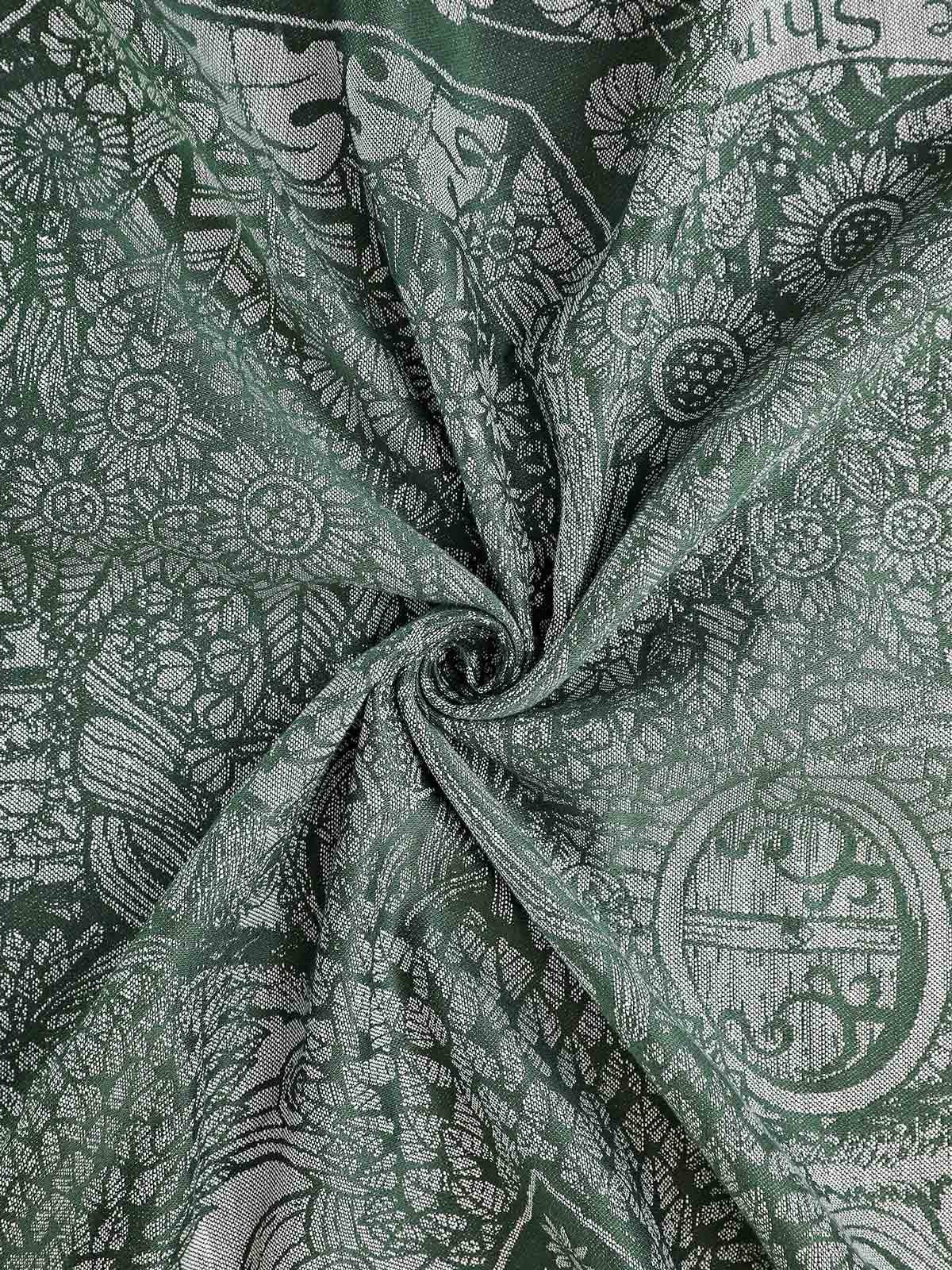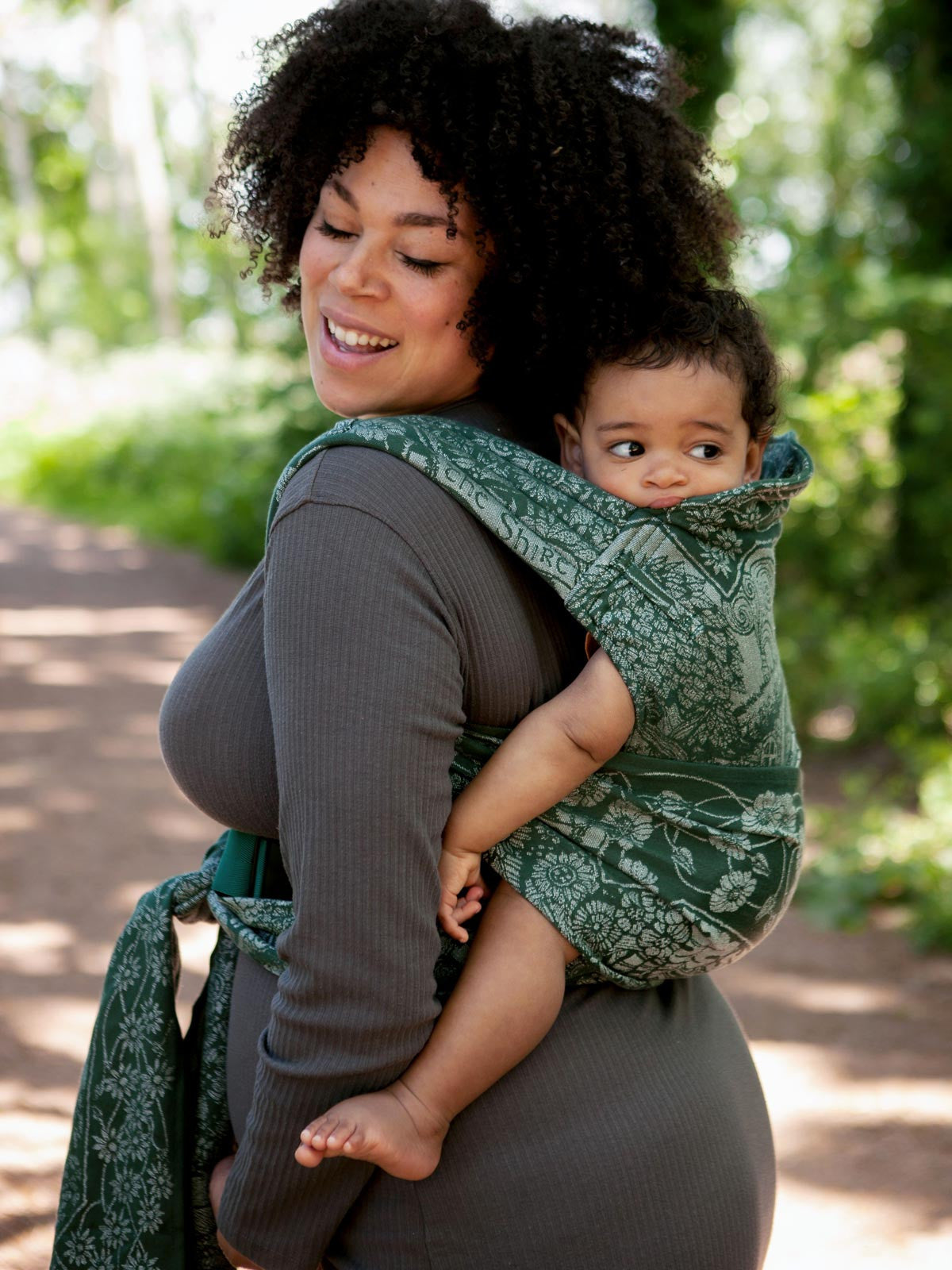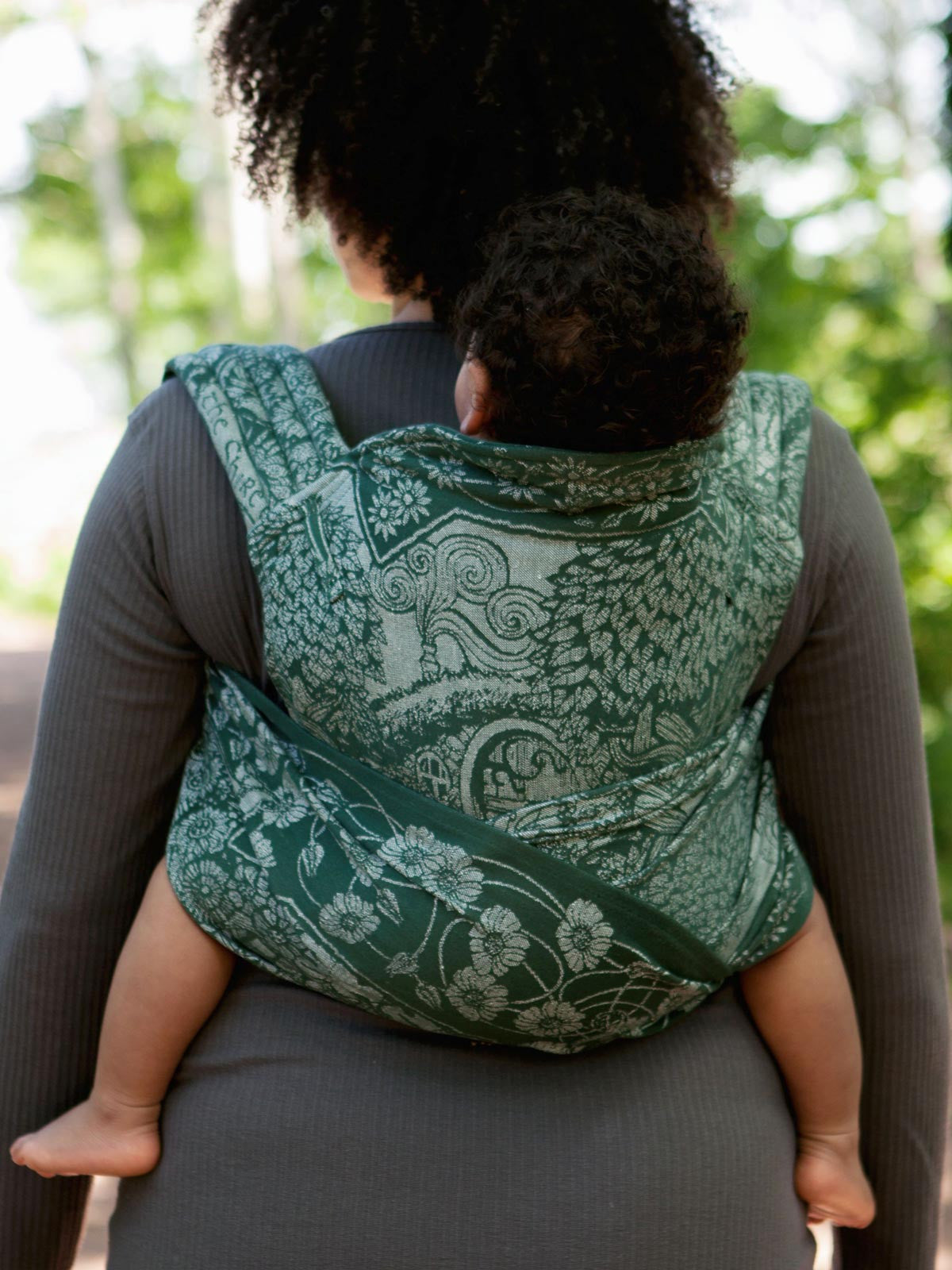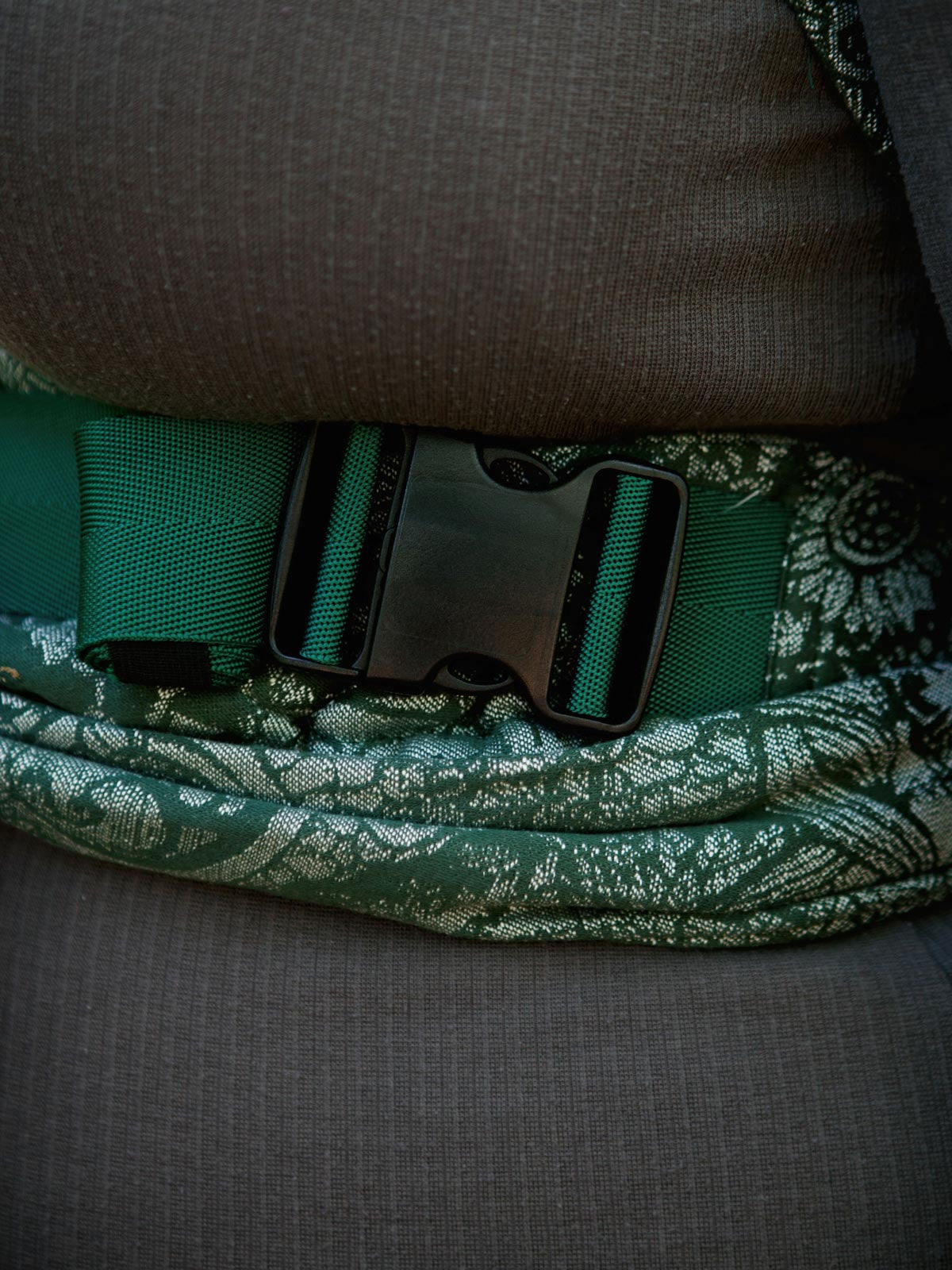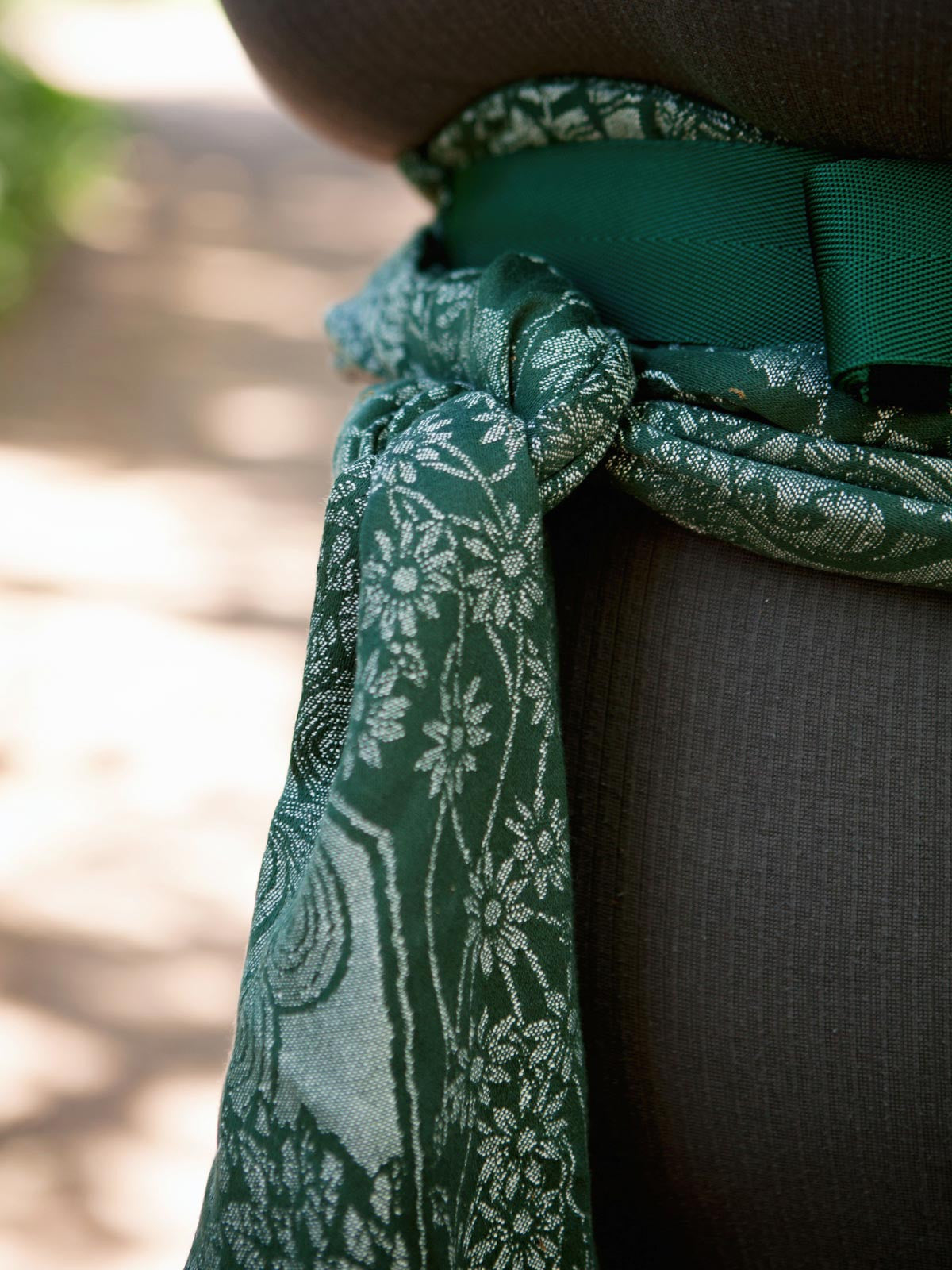 Shire™ Westfarthing Cairis Carrier
Named after the Westfarthing, one of the four Farthings of the Shire and the centre of Hobbit authority, this beautiful... Read more
Babywearing
Best sellers
Best Slings for Cold Weather
Cairis Baby Carrier
Classics
Fathers Day Shop
Gifts for New Parents
Middle-earth
Middle-earth Classics
Middle-earth Gifts for New Parents
Middle-earth™ Babywearing
Middle-earth™ Cairis Carrier
Newborn Friendly Slings
Not in Sale
Shire
Shire Westfarthing
Shop All
Tag Test
Teals/Blues/Greens
Named after the Westfarthing, one of the four Farthings of the Shire and the centre of Hobbit authority, this beautiful Cairis carrier is woven on a deep forest green organic cotton backdrop. The bustling Shire pattern is picked out in alternating Tencel and hemp yarns in white.
Perfect for The Lord of the Rings™ fans, this design features the iconic circular doorway, smoke rising from a warm hearth and well-tended gardens teeming with life and activity: all of which tells the whimsical tale of the Hobbit home. Our homely scene is set between beautiful flowering borders, evoking the pages of a classic storybook. The Westfarthing was known for being the home of the beloved characters, Bilbo Baggins and Frodo Baggins, as that is where the village Hobbiton was located.
Our organic cotton is softer and stronger than most cottons, produced ethically this cotton is grown with care and without chemicals keeping the land, and farmers, healthy.
Oscha Slings are ethically handcrafted in Scotland and come with a Peace Of Mind Guarantee
CARE INSTRUCTIONS: Spot clean your Oscha carrier and hang to dry where possible. Avoid labels when ironing.
FABRIC COMPOSITION: 56% Organic Combed Cotton, 27% Tencel, 17% Hemp, 66cm wide.
FABRIC WEIGHT: approx. 302gsm
Simple and stylish, the Cairis is a lightweight half-buckle baby carrier that gives you the comfort of wrapping and the ease of buckles. Learn all about the Cairis.
Why choose the Oscha Cairis baby carrier?
Available in Baby, Toddler & Preschool sizes.

Strata-linea padded, buckle waistband - for supreme comfort.

Adjustable tie straps.

Front & back carries, ergonomic position.

Unique hand drawn designs in beautiful colours.

Jacquard woven with organic, responsibly sourced yarns in our solar powered Scottish workshop.
Check out the videos to see how quick and east the Cairis is to use. 
Learn all about the wonderful babywearing benefits.
The Cairis carrier has been safety tested to BS EN 13209-2:3005 & ASTM:F2236-14 and are in the International Hip Dysplasia Institute's list of "hip healthy" products.
Comes in two sizes: Baby and Toddler. Baby is suitable from 0-30 months (7-45lbs). Toddler is suitable from 2-5 years (25-45lbs). Learn more or see 'Size Guide' link above.
The Shire is the quiet, secluded home of Hobbits as described in The Hobbit and The Lord of the Rings. It is a lush green countryside of rolling hills where the Hobbits make their homes, 'Hobbit Holes', which are cosy and filled with comforts. There are many gardens:
'for all Hobbits share a love of things that grow.' 
Our detailed Shire design depicts this homely description with classic round Hobbit doors, it evokes the pages of a storybook as smoke rises from warm hearths and well-tended gardens teem with life.