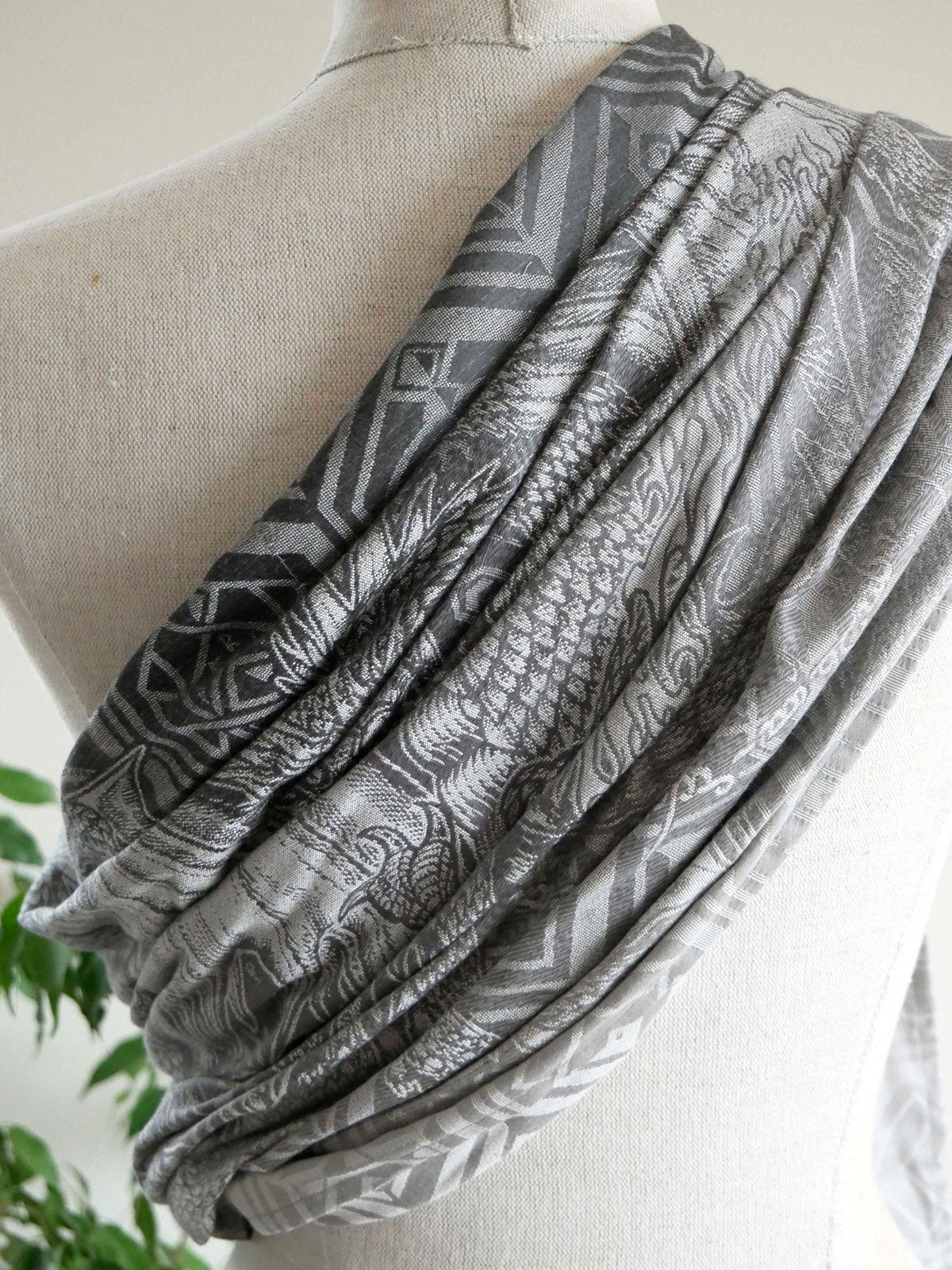 Smaug™ Wings of Steel Ring Sling
✔ Exciting blend - Egyptian Mako cotton, Bamboo viscose, wild silk & cotton
✔ Unique texture & pattern definition
✔ Light &... Read more
These are items with small blemishes - 2nd grade will be less visible, 3rd grade slightly more so, all are safe for use. Enjoy a discount and know you're doing your piece to help prevent landfill. Weaving and making is a complex process and the result often isn't perfect, most companies throw out items because of these small issues even though they are perfectly good to use and still beautiful. 
Only 1 left in stock
Jewel Tones
Last Chance
Middle-earth™ Last Chance
Middle-earth™ Woven Seconds
Neutral Tones
Not in Sale
Woven Seconds
✔ Exciting blend - Egyptian Mako cotton, Bamboo viscose, wild silk & cotton
✔ Unique texture & pattern definition
✔ Light & breathable
✔ Soft & Mouldable
A fusion of our much-loved Smaug and Oakenshield patterns features on a beautiful Mako cotton gradient of silvers. The fearsome dragon is picked out in Bamboo viscose which alternates with wild silk and cotton. The play of these yarns against the smooth shine of Mako cotton provides a delightful contrast which gives the fabric grip and definition.
An intricately detailed, silvery Smaug appears against the steel lustre of Dwarf shields. Beneath the great beast Elven script translates as, "My teeth are swords; my claws are spears! My wings are a hurricane." This iconic quote, spoken by Smaug himself, echoes the dragon's immense power and the unstoppable force he represents and the challenge facing Thorin and his company.
This wrap is incredibly soft and thin in hand, providing a satisfying wrapping experience as it moulds into place with an ideal amount of grip and glide. Lovely to use with younger babies, it can also be used to wrap bigger children in multi-layer carries. The lightness and breathable qualities make it great for warm climates, but this fabric will lend itself to any occasion. The eye-catching pattern and stunning shine make this a statement piece that's perfect for any Tolkien fan.
*Ring slings will feature silver rings.
Oscha Slings are ethically handcrafted in Scotland and come with a Peace Of Mind Guarantee.
CARE INSTRUCTIONS: Hand washing is recommended, although a silk cycle on a known reliable machine may be used at your own risk. Use a suitable silk detergent. Hang to dry, avoiding direct sunlight and iron on a cool setting.
FABRIC COMPOSITION: 49% Mercerised Egyptian Mako Cotton 31% Bamboo Viscose 10% Wild Silk 10% Cotton
FABRIC WEIGHT: 256gsm
Oscha Ring Slings are elegant and quick to use, perfect for short trips and for children who like to be up and down often. Learn all about Ring Slings here.
Why choose Oscha Ring Slings?
Unique hand drawn designs in beautiful colours.
Jacquard woven & made with organic, responsibly sourced yarn.
Newborn to preschool.
Available in two unique shoulder styles.
Quick & simple to use with an elegant look.
Ethically handcrafted in our solar powered Scottish workshop.
Packing up small and light, our beautiful baby slings are an amazing tool for the busy parent. Check out the video below to see how quick and easy our Ring Slings are to use. 
Which shoulder style should I choose?
Our stylish Ring Slings come in two shoulder options: Highland Pleated and Gathered. Visit our Size Guide for more information.
All of our fabrics are weight tested up to 45lbs (or about 5 years old).
Our comfortable baby carriers bring many wonderful benefits to parents and children. Learn more about the benefits of carrying.
This is a natural product with an organic scent, no chemical agents are used in the manufacture of the item or its packaging.  
Smaug is the fearsome dragon who ousted King Thrór and the Dwarves of Erebor within the Lonely Mountain. Smaug was "the greatest of the dragons of his day", after driving the Dwarves out of the Mountain he remained for the next 150 years guarding his hoard before the arrival of Thorin Oakenshield and co. to oust him with the help of Bilbo and Gandalf.
This illustrative design was based on the wonderful descriptions of Smaug in The Hobbit, with his fiery red scales and magnificently menacing features. Intricate scales cascade down Smaug's back as a fireball erupts from his awesomely powerful jaws, falling across his wings in an incomparable depiction of the mighty beast slain by the Bard at Laketown.
"My armour is like tenfold shields, my teeth are swords, my claws spears, the shock of my tail is a thunderbolt, my wings a hurricane, and my breath death!" - Smaug.