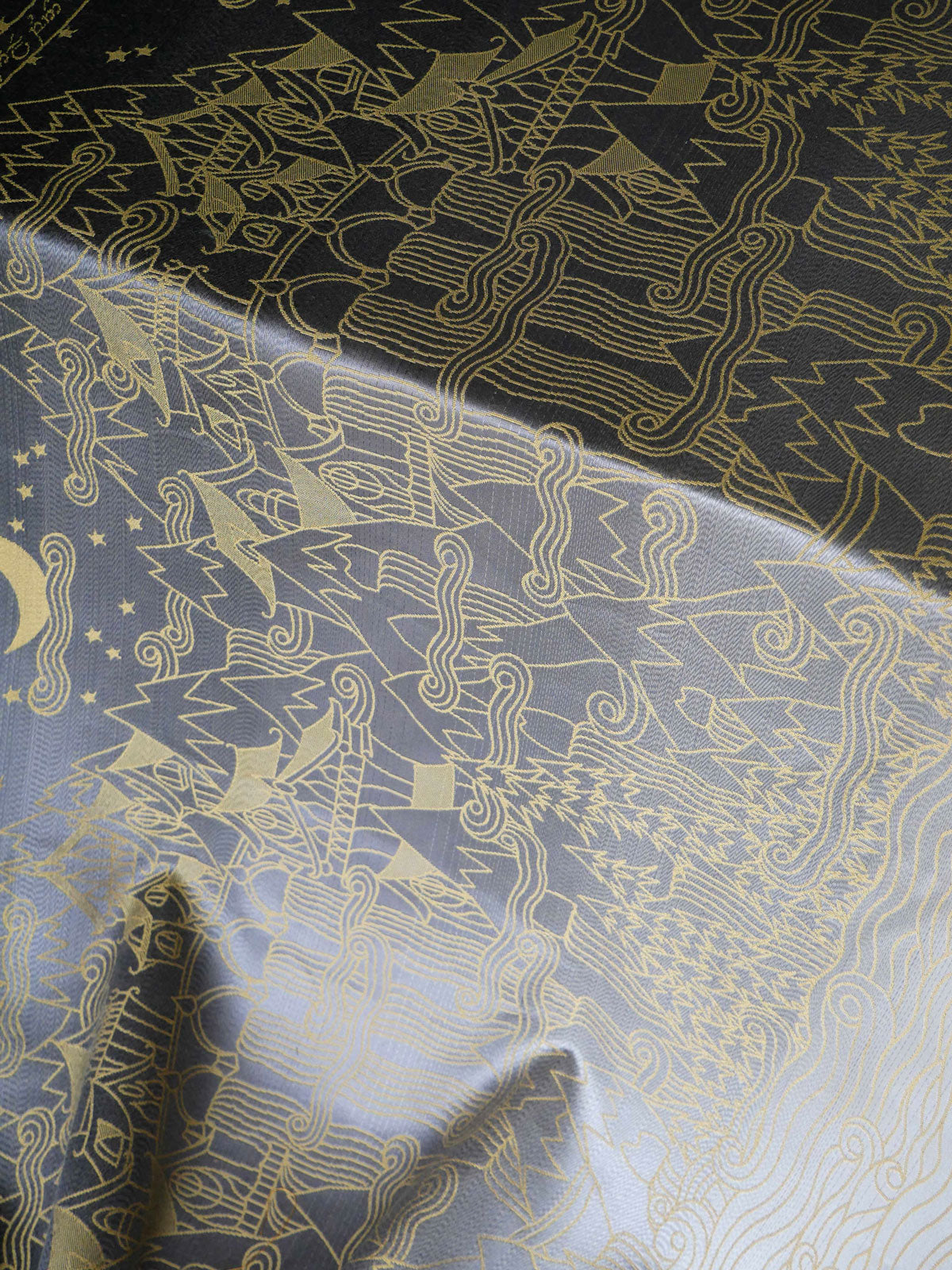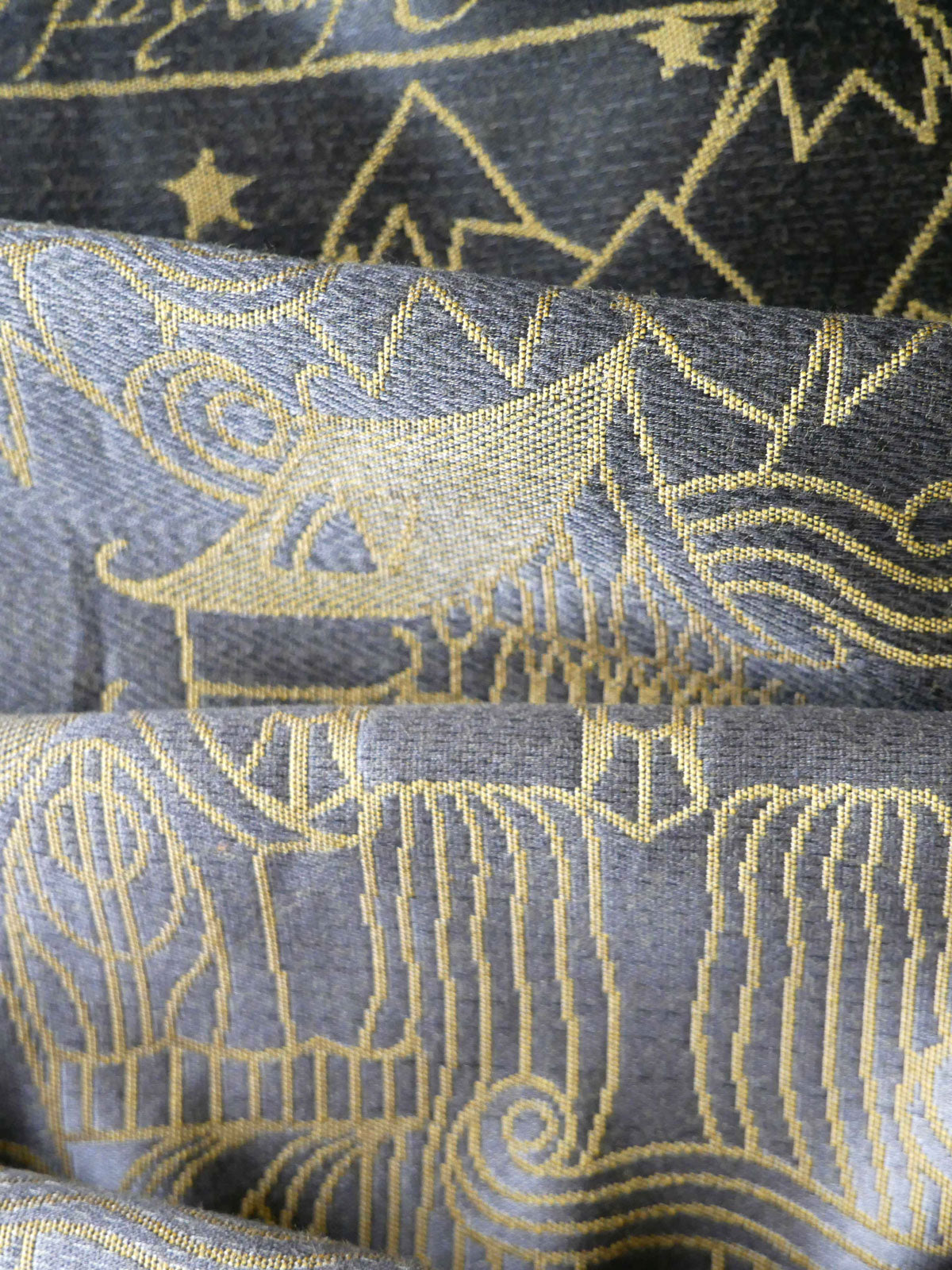 Imladris™ Argent Shawl
The silvery Elven valley is bathed in golden moonlight on a beautiful, shimmering Mako... Read more
Only 2 left in stock
Best sellers
Christmas Shop
Gifts for Middle-earth Fans
Imladris
Jewel Tones
Last Chance
Lifestyle
Middle-earth
Middle-earth™ Last Chance
Middle-earth™ Lifestyle
Middle-earth™ New arrivals
Middle-earth™ Scarves, Shawls, Infinity Loops & Cowls
Neutral Tones
New arrivals
Not in Sale
Scarves, Shawls, Infinity Loops & Cowls
Shop All
The silvery Elven valley is bathed in golden moonlight on a beautiful, shimmering Mako cotton background. Featuring a gradation of silver hues, this is the first time we've featured Mako cotton on a 3 colour warp.  Gold Cashwool picks out the intricate aspects of Rivendell in an Art Nouveau style and gives the fabric a wonderfully soft and malleable quality. The lightness of the fabric adds to the sumptuous feel. Silky soft, the Mako cotton is reminiscent of molten silver making it a versatile and elegant fabric.
We advise washing this fabric before use due to the lightweight nature of this fabric. Washing, as per the care instructions, will tighten the weave and allow the yarns to bloom.
CARE INSTRUCTIONS: Hand washing is recommended, although a wool cycle on a known reliable machine may be used at your own risk. Use a suitable wool detergent. Lay flat to dry and iron on a cool setting.
FABRIC COMPOSITION: 54% Mercerised Egyptian Mako Cotton 46% Cashwool
FABRIC WEIGHT: 230gsm
Oscha Shawls are made of the same finest quality, natural fabric as our baby slings allowing you to wear these beautiful and striking designs, in wonderfully tactile fabrics, whether you are carrying your baby or not. These shawls can be used casually as an extra wide scarf or as elegant evening and wedding wear.
Why choose an Oscha Shawl?
Elegant & versatile, suitable for any occasion.

Jacquard woven & made with organic, responsibly sourced yarns.

Ethically handcrafted in our solar powered Scottish workshop.
Approx. 2.12m x 70cm
This is a natural product with an organic scent, no chemical agents are used in the manufacture of the item or its packaging.  
Imladris (the Elvish word for Rivendell) is another design inspired by descriptions of 'The Last Homely House'. This version is in the illustrative style similar to Misty Mountains, together with Art Nouveau inspiration.
The Elvish border quote reads: "Rivendell, upon whose house the stars of heaven most brightly shone."