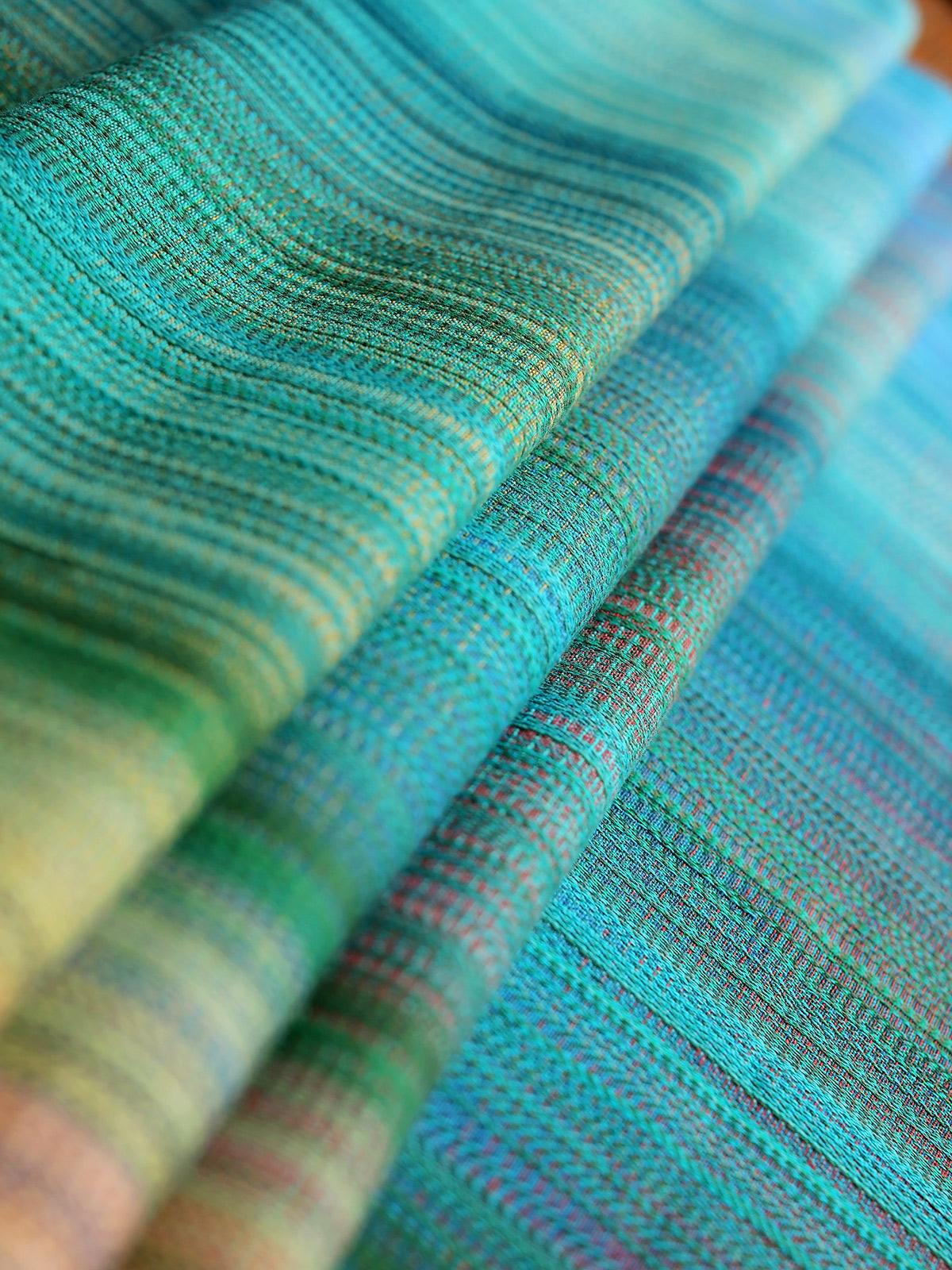 Matrix Chromatic Fabric Pieces
✔ Vegan yarns: hemp, organic cotton &... Read more
Only 1 left in stock
Autumnal Tones
Best sellers
Bright Colours
Fabric Pieces for Crafting
Jewel Tones
Lifestyle
Not in Sale
Pinks/Purples/Reds
Shop All
Teals/Blues/Greens
Wholesale Catalogue
✔ Vegan yarns: hemp, organic cotton & Seacell
✔ Super Eco-fabric - woven with leftover yarns that will otherwise go to landfill
✔ Textural weave patterns


The Matrix pattern features fine, traditional weave patterns which chop and change along the length giving a modern, hand-woven feel. Here a multicolour warp and rainbow fade weft mix and are picked up in unique ways by the weave patterns. This fabric features hemp, organic cotton and Seacell (a yarn infused with seaweed) for a luxurious touch.
This warp has been created using a wide range of leftover yarns in multiple colours creating a truly unique, one-off fade. Learn more about how we prevent yarns and fabric going to landfill, a common practice in the textile industry.
Oscha Slings are ethically handcrafted in Scotland and come with a Peace Of Mind Guarantee.
CARE INSTRUCTIONS: Machine wash medium 30º, no bleach, no tumble-dry, cool iron.
FABRIC COMPOSITION: 88% BCI Organic Combed Cotton 6% BCI Cotton 4% Hemp 2% Seacell, 68cm wide
FABRIC WEIGHT: 290gsm
Perfect for crafters, this is a fantastic opportunity to purchase a piece of one of our iconic fabrics. 
Why choose Oscha Fabric Pieces?
Perfect for crafters!
Jacquard woven & made with organic, responsibly sourced yarns.
Ethically handcrafted in our solar powered Scottish workshop.
The fabric pieces come unhemmed in either 0.5m, 1m or 1.5m long x approximately 70cm wide (see details and care tab for exact width of each fabric).
*Please note our fabric is only available in the lengths you select, multiple purchases will be sent as separate pieces.