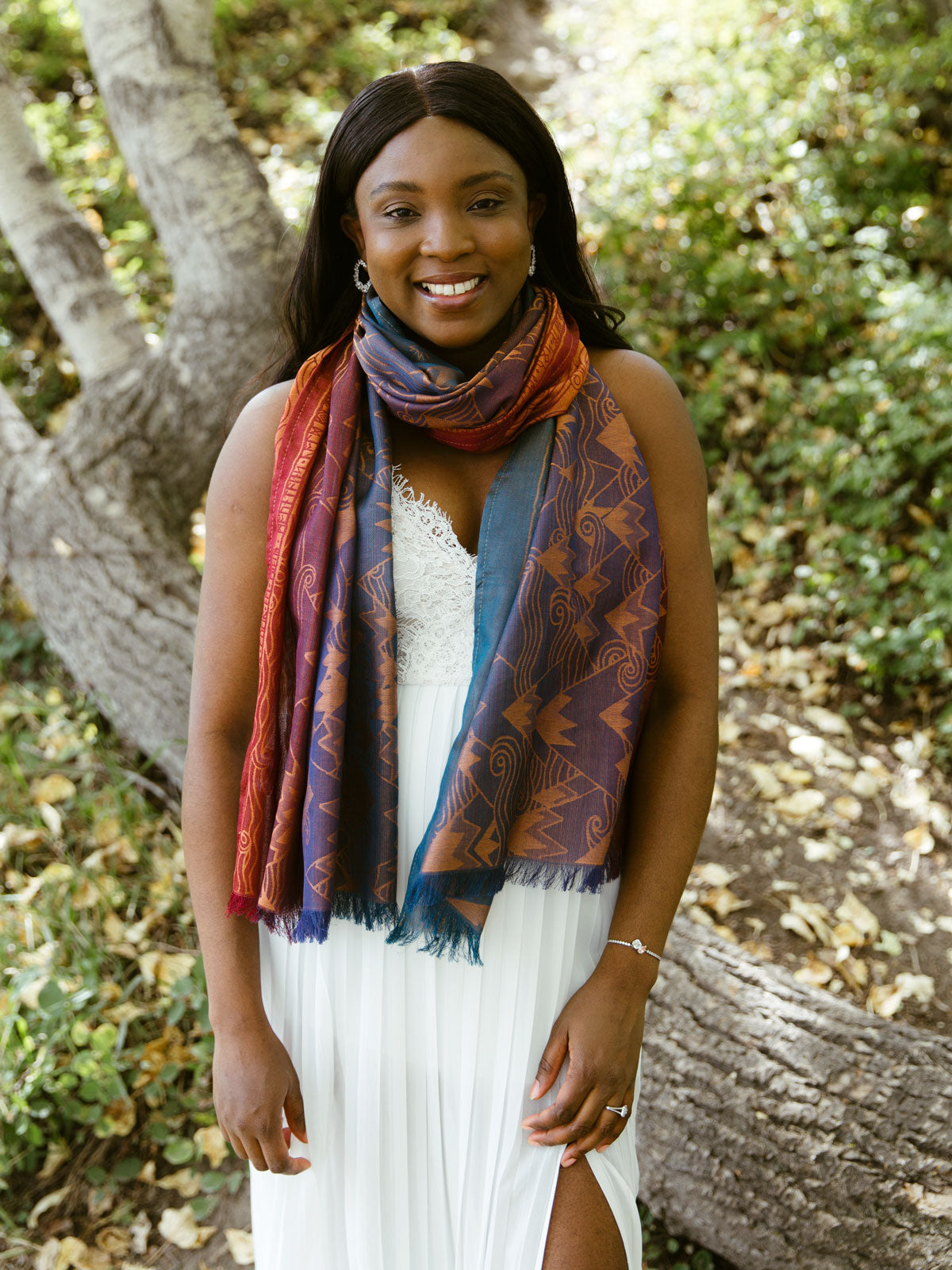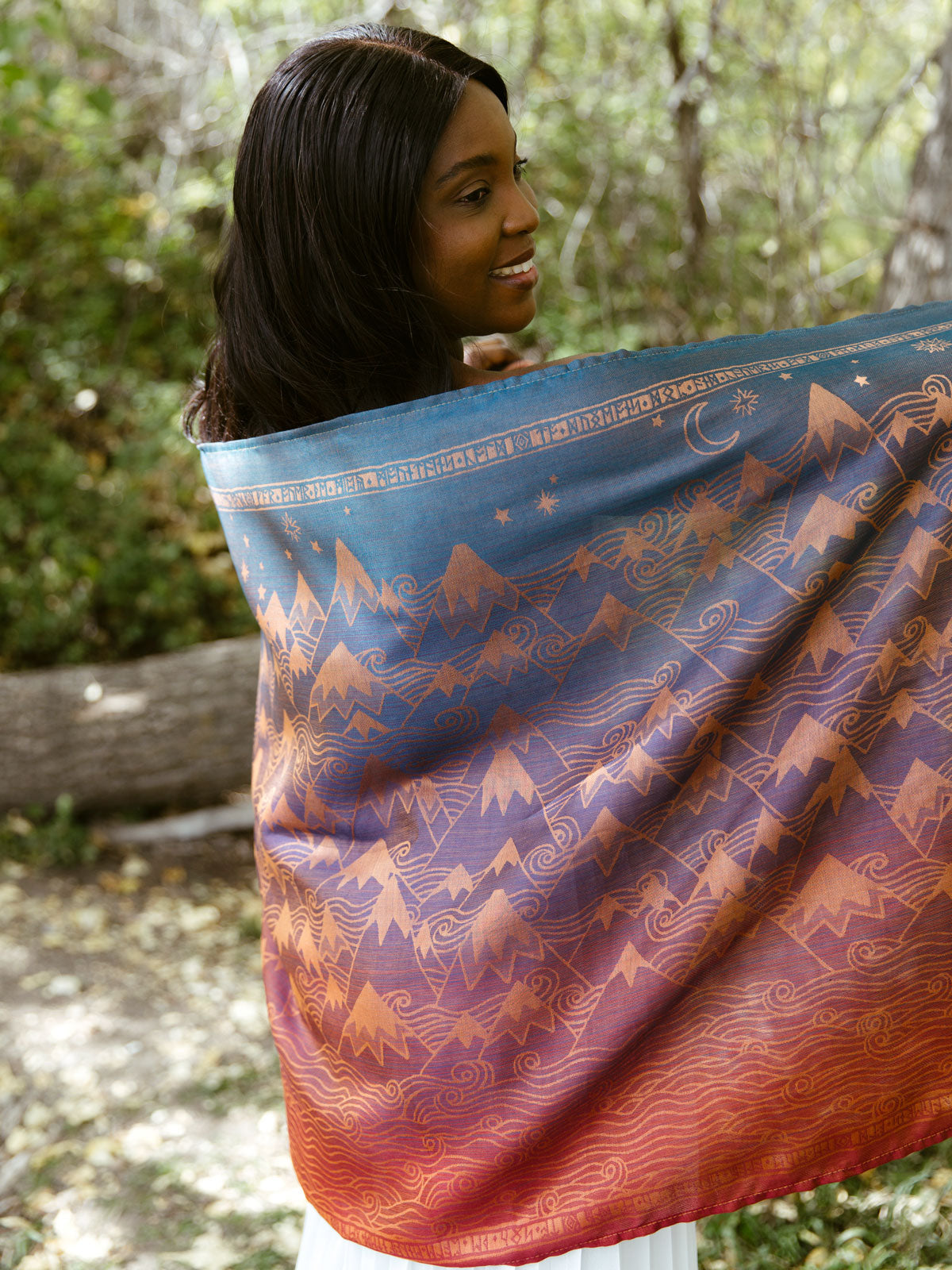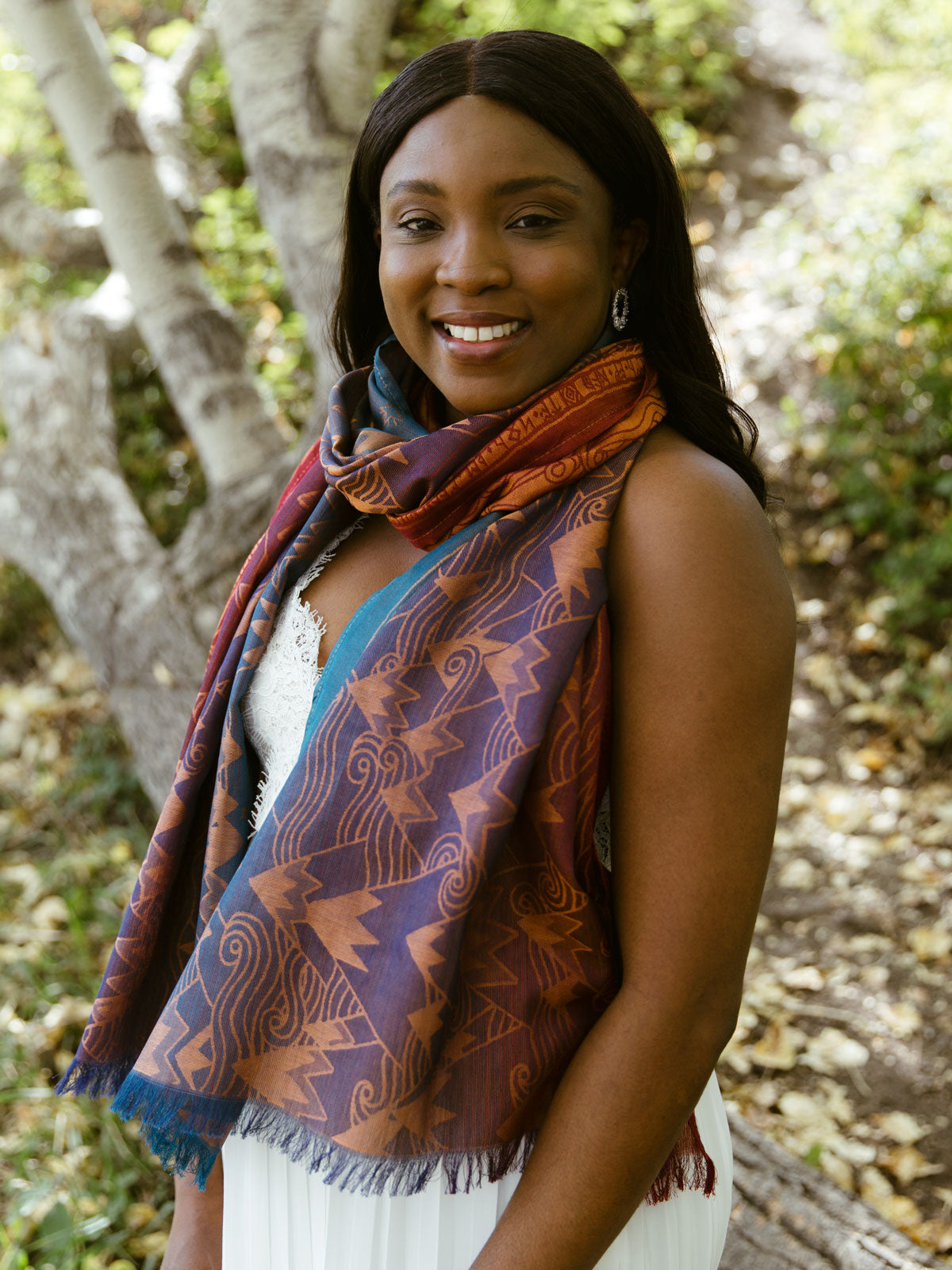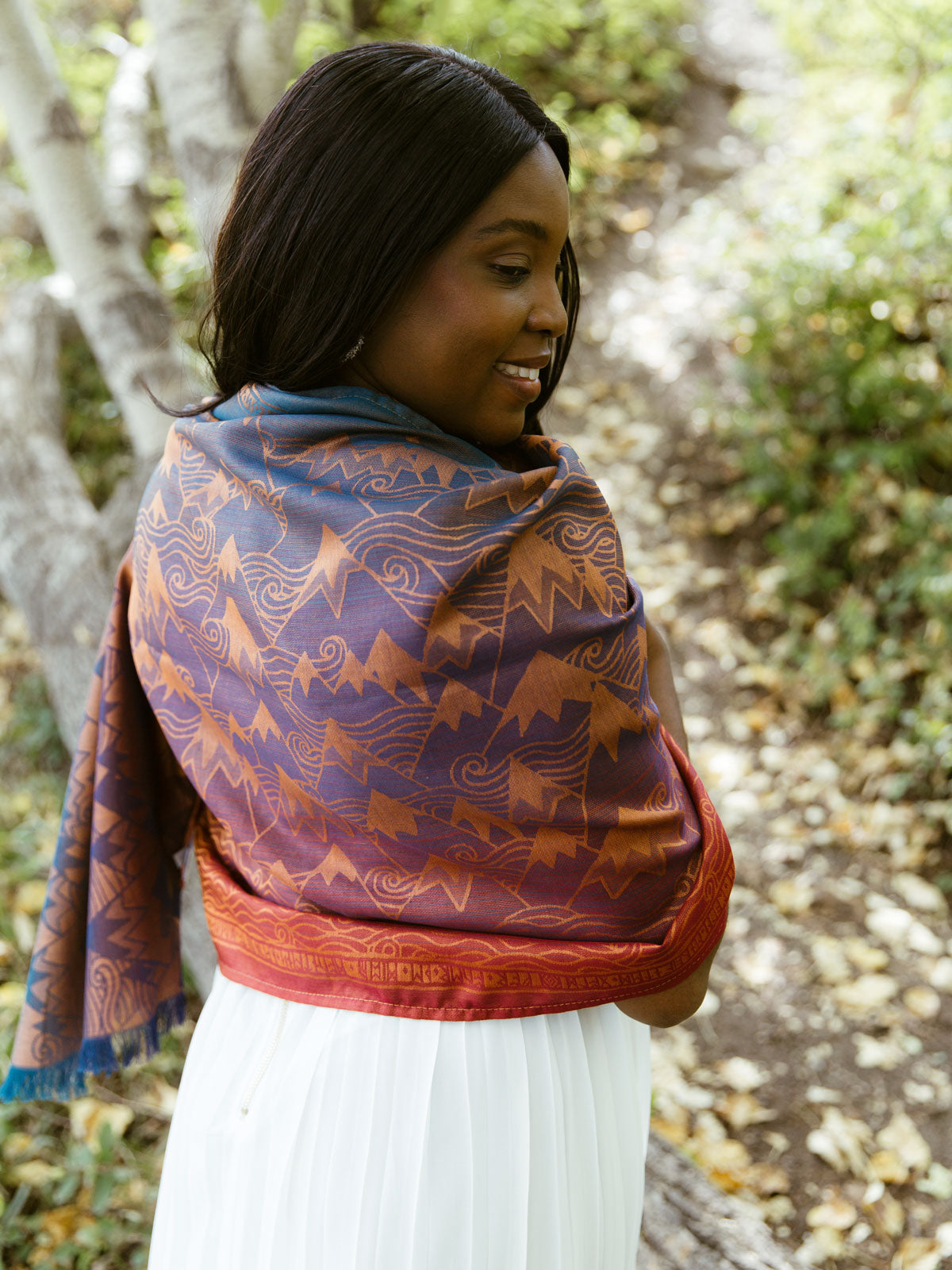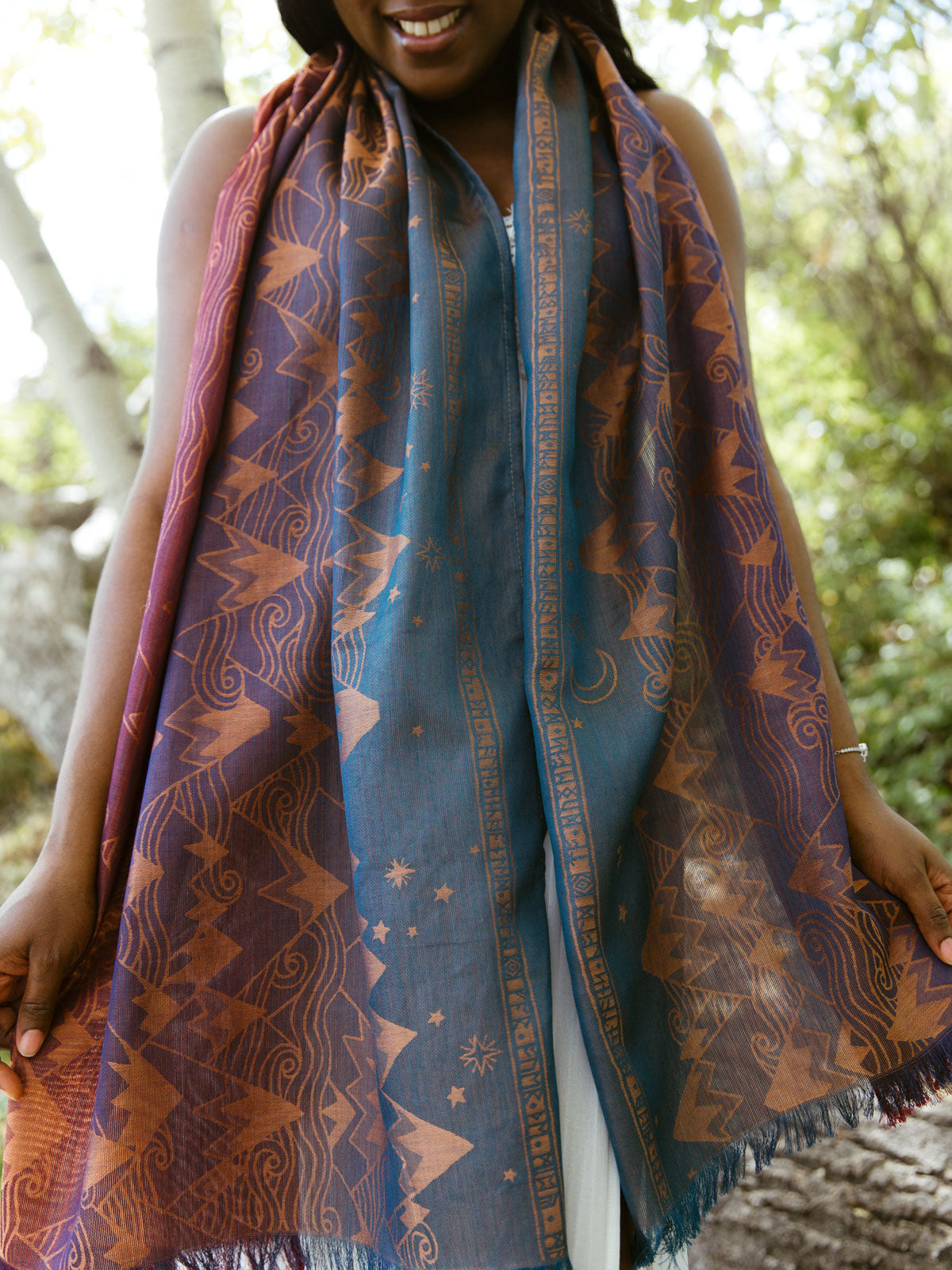 Misty Mountains™ Passage Scarf
✔ Lightweight Ceò scarf  
✔ Luxurious yarns - Mercerised Egyptian Mako cotton
✔ Mesmerising jewel tones
✔ Soft & drapey  
The... Read more
Best sellers
Christmas Shop
Gifts for Middle-earth Fans
Jewel Tones
Lifestyle
Middle-earth
Middle-earth™ Lifestyle
Middle-earth™ Scarves, Shawls, Infinity Loops & Cowls
Misty Mountains
Not in Sale
Scarves, Shawls, Infinity Loops & Cowls
Shop All
✔ Lightweight Ceò scarf  
✔ Luxurious yarns - Mercerised Egyptian Mako cotton
✔ Mesmerising jewel tones
✔ Soft & drapey  
The Misty Mountains of Middle-earth are showcased in warm coppery tones, creating a vivid contrast against the jewel toned background, highlighting and accentuating this mythical and breathtaking landscape.
This beautiful lightweight scarf is woven with luxurious Mercerised Egyptian Mako cotton, a fine premium quality yarn that has a smooth and shimmery aesthetic. Our scarves are specially woven to be lovely to the touch, with a gorgeous drape. Each scarf is beautifully finished with a fringe.

This stunningly floaty scarf is a statement piece that will delight you with its play of colours, stylish elegance and captivating landscape of Middle-earth.

By using BCI cotton we ensure that our cotton meets the Better Cotton Initiative's high standards of environmental, economic and social responsibility. Our BCI cotton is also organic, meaning it is grown with care and without chemicals keeping the land, and farmers, healthy.
CARE INSTRUCTIONS: Wash at 30 degrees. Do not use bleach or fabric softener. Tumble dry warm. Ironing is recommended.
FABRIC COMPOSITION: 100% Mercerised Egyptian Mako Cotton
FABRIC WEIGHT: 103gsm
Intricate weaves in premium quality blends, these fine, voluminous scarves beautifully display striking patterns in a stunning range of seasonal colours - an effortless, chic accent to any outfit.
Sumptuous & versatile, our scarves are completed with an on-trend fringed edge.
Drape as a shawl over your evening wear to add easy glamour or layer over everyday outfits as a statement scarf.
Dimensions
Scarves- approx. 200cm x 70cm
Cowls - approx. 70cm wide x 74cm joined to form a loop
Infinity Loops - approx. 70cm wide x approx. 150cm joined to form a long loop
The formidable mountain range, which cuts across Middle-earth is shown in a lovely illustrative story-book style with flowing mist and a starry sky. The verse sung by Thorin Oakenshield & Co. in The Hobbit™ runs along the borders in runes:
"Far over the misty mountains cold
To dungeons deep and caverns old
We must away, ere break of day,
To find our long-forgotten gold."